Back to selection
Panasonic Announces a Sub $10,000 Large Sensor, Inter-Changeable Lens Camera – the AU-EVA1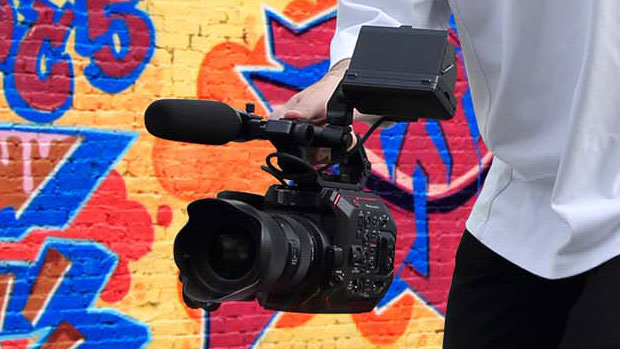 At NAB Panasonic hinted at a camera that would fit between the GH5 and their Varicam models, and now they've announced the AU-EVA1, which will ship in the fall.
Back in 2010 Panasonic was one of the first companies to release a sub-$10,000 "large-sensor" video camera with interchangeable lenses. Remember that Canon had only released the 5D Mark II in late 2008 and had — much to their surprise — unleashed HD video with large-sensor cameras.
Above I put the large-sensor in quotes because Panasonic's AG-AF100 used the micro 4/3 lens mount. This gave you a larger sensor than you got in typical video cameras of the time, but it wasn't as large as a Super35 sensor, and certainly wasn't as large as the Canon 5D Mark II's full-frame sensor.
Panasonic had some success with AG-AF100. It was based on the GH2, a mirrorless DSLR which itself was popular with documentary filmmakers due to its low cost and high image quality. The micro 4/3 lens mount does provide a savings in lens size and weight, as well as camera size, and the GH line continues to be popular; they announced the DC-GH5 at the beginning of the year. The AG-AF100 gave users a few more video camera features — audio inputs!– but Panasonic never bothered to update the AG-AF100 or to come out with a replacement.
Meanwhile, most people migrated to the Sony and Canon's Super35 cameras, or continued buying GH cameras.
But now, here comes the AU-EVA1. Don't think of this as a simple repackaging of the GH5. Panasonic says that it's positioned between the GH5 and the VariCam LT, but it appears to be much closer to the Varicam than it is to the GH5.
What's interesting about this camera is that it adopts the more popular Super 35 sensor size, which is also found on their Varicam models. Even more intriguingly, it uses the Canon EF mount.
The sensor is an all-new 5.7K resolution Super 35 sensor, and Panasonic says that it will support Dual Native ISOs, which means that it will have two different ISOs that will be considered "native" and produce the best color image. In short, this should provide a high and low ISO that have lower noise and artifacts. Panasonic has not announced what those two ISO's will be.
The body incorporates Electronic Image Stabilization, but Panasonic seems unsure if the camera will support the lens stabilization in Canon's IS lenses. Panasonic says that the camera communicates with the lens — which it would need to do to adjust f-stop — but they aren't clear about what auto-focus support, if any, the camera will include.
The AU-EVA1 has a built-in ND filter with two, four and six stops, and will record 10-bit 4:2:2 at 400 Mbps to SDVC cards. It has dual card slots and you will be able to record continuously. It will also output RAW to external recorders. Frame rates up to 60fps in 4K DCI or UHD and 240fps in 2K or HD, and there's also support for Panasonic's Vlog.
The body is similar in shape to the Sony FS, the Blackmagic URSA, and Canon C100-C300 series cameras, and will obviously compete with those cameras. It has a removable handgrip and an attached LCD, but there's no EVF. For audio there's two XLR audio inputs
The camera will ship in the fall for $8,000, body only, though I'm assuming that includes the LCD.
Meanwhile at Sony…
At CineGear Expo in LA Sony this weekend hinted at a new high-end CineAlta camera that will incorporate a full-frame sensor. That is, it will have a sensor the same size as the Canon 5D cameras (i.e. ~36 x 24mm), rather than a Super 35 sensor (~24 x 14mm), which is currently common on large-frame video cameras.
Not a whole lot else about the camera was announced, so there's no word on release date or price, but it's assumed this camera will sit at the top of the CIneAlta range, will cost an arm and a leg, and be competition for cameras like the ARRI 65, which has a staggering 54 x 25mm sensor.
Increasing sensor size does a number of things, not just increase the number of pixels and the weight and cost of your lenses. It can increase the number of pixels, but it can also enable an increase in the size of the pixels, providing a more sensitive sensor (larger pixels capture more light.) Just as importantly, increasing the sensor size changes the field of view and it also decreases depth of field for the same f-stop. So if you like bokeh you'll like larger sensors, though you'll pay for it with larger lenses and you'll have to work harder to keeps things in focus!