Back to selection
The Good Son, The Piano Teacher and Night Moves: Jim Hemphill's Home Video Recommendations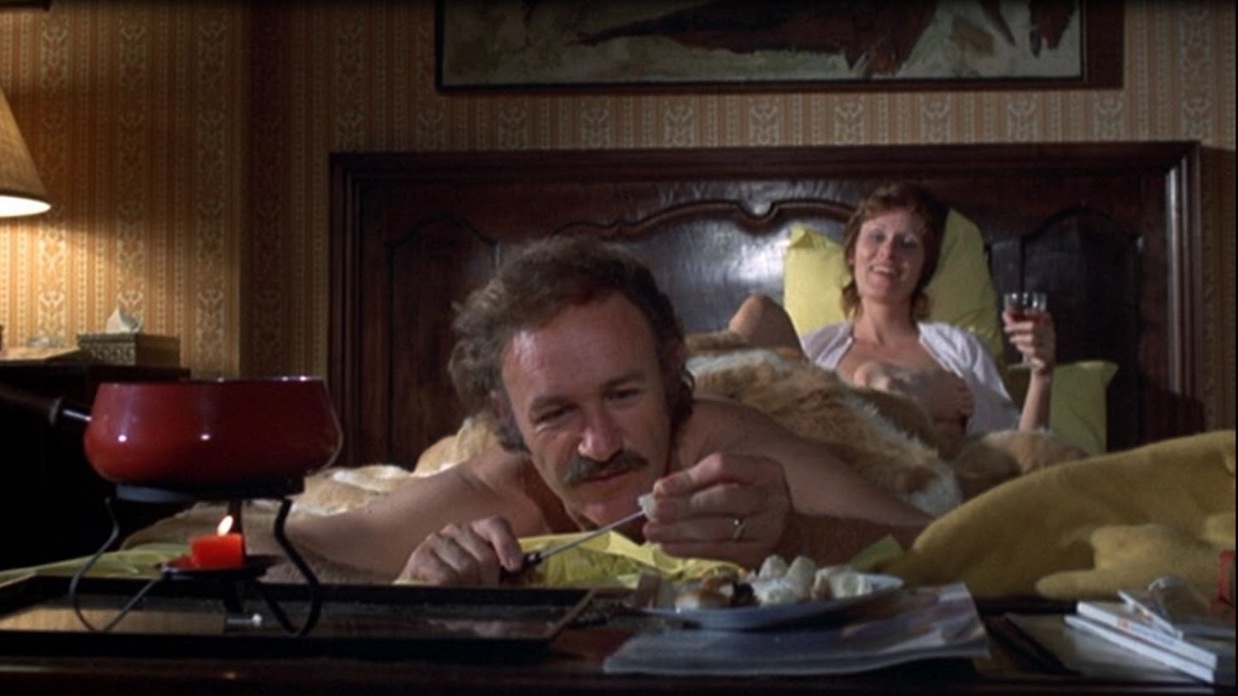 Night Moves
When Dave Kehr reviewed director Joseph Ruben's The Stepfather in the Chicago Tribune on the occasion of its initial theatrical release, he wrote, "Watching The Stepfather, with its near-perfect command of the entire vocabulary of filmmaking, it's hard to believe that Joseph Ruben isn't one of the best-known directors working today." That was over 30 years ago, and while Kehr's hope that Ruben would be universally recognized as one of the greats never quite came to pass, it should have — the critic was 100% correct in his assessment of Ruben's mastery. The Stepfather was an extraordinary film, a low-budget shocker with the soul of a dense novel and the visual precision and expressiveness of a Polanski or Hitchcock masterpiece. A razor-sharp satire of patriarchy and American "family values," it delivered the goods as a terrifying horror film while also balancing humor, poignancy, and the keen everyday observation of a Jonathan Demme or John Sayles picture without ever making a misstep. Six years later, Ruben made an equally fine thriller working within the confines of the Hollywood studio system when he directed Ian McEwan's script The Good Son, which has recently been released on Blu-ray by Kino Lorber Studio Classics. While The Stepfather explored the fine line between comforting stability and destructive repression at the heart of the American family, The Good Son gets a lot of mileage out of the fact that much of what is considered normal "boys will be boys" rambunctiousness among children is just a step or two away from truly sociopathic behavior. Elijah Wood plays a kid whose mother has recently died; when he goes to live with his cousin's family, he discovers that the cousin — Macaulay Culkin, stomping his beloved Home Alone persona into the ground and grinding it with his heel — is a truly disturbed individual who may have drowned his own little brother in the bathtub. By the time Wood realizes that Culkin's juvenile pranks have turned into something more dangerous, the escalation has been so slow and subtle that he can't get any of the adults in his life to believe what's going on, and his attempts to do so make him a target for his psychotic playmate. This could all have been rather ridiculous in other hands, but Ruben modulates the tones so skillfully that The Good Son is not only genuinely suspenseful but darkly funny and ultimately almost unbearably affecting when it takes a wrenching turn for its finale. A lot of this is inherent in McEwan's elegantly structured script, but through subjective camerawork and invisible but vigorous editing, Ruben takes the material that extra step and turns it into a classic. In terms of merging personal expression with popular forms, he deserves to be ranked with masters like Hitchcock and John Ford; the only advantage they have over him is that the system in which they worked gave them many more opportunities to develop their craft and voice than Ruben and his peers in the 1980s and '90s were ever allowed. Yet the four thrillers Ruben made between 1987 and 1993 — The Stepfather, True Believer, Sleeping with the Enemy, and The Good Son — are all perfectly constructed and thematically dense works that represent the best the Hollywood cinema has to offer. The new Kino disc, which contains interviews with Ruben, cinematographer John Lindley, and various cast members, is essential.
A Hitchcockian thriller of a different sort, Michael Haneke's deceptively chilly 2001 sensation The Piano Teacher, is available in a new special edition package from the Criterion Collection that contains great new interviews with the director and his star (Isabelle Huppert) and a transfer as meticulous as the film's demanding heroine. Huppert plays Erika, a piano teacher who inspires terror among her sensitive students, contempt in the mother with whom she lives, and devoted adoration from a young fan and protege, Walter (Benoit Magimel). Controlling and exacting in nearly every aspect of her life, Erika is also a secret masochist who manipulates young Walter into facilitating her degradation against his will — ultimately raising questions about who is really the sadist in the relationship, and who is really in control. Haneke approaches the sexually and psychologically fraught material (adapted from a novel by Elfriede Jelinek) with a visual restraint that oddly exacerbates the movie's more provocative effects; camera movement is kept to a minimum, as is the cutting — when Erika and Walter engage in a lengthy bout of interrupted and repressed sex during one unbroken seven-minute take, the camera's unblinking eye simultaneously creates a distance and an intimacy reminiscent of the best of Hitchcock and De Palma. Yet Haneke has none of those directors' heat… he seems to find their engagement with sex and violence to be immoral in some way, and refuses to give his audience the kinky rush one gets from Marnie or Body Double. The result is an extremely unsettling experience, one which has not lost any of its impact in the 16 years since The Piano Teacher made Haneke an international celebrity among cinephiles. Speaking of Hitchcock, by the way, Criterion's other noteworthy recent release is an exemplary two-disc reissue of Rebecca, a title that had long been out of print from the label but which is back and better than ever. Like Haneke's film, Hitchcock's endlessly fascinating meditation on both male and female insecurity and jealousy only improves with age, and the Criterion edition contains hours and hours of supplementary features devoted to its analysis. My personal favorite is a new conversation between film scholars Molly Haskell and Patricia White in which they address Rebecca's concern from a contemporary feminist perspective; it alone justifies the purchase of the disc, even if you own one of the numerous other DVD incarnations that have dropped over the years.
If Joseph Ruben and Michael Haneke aren't dark enough for you, I highly recommend the new Warner Archive Blu-ray of Arthur Penn's 1975 film noir Night Moves, one of the bleakest and most cynical films of the bleakest and most cynical era in the history of Hollywood movies. Gene Hackman plays Harry Moseby, an ex-football player turned private eye who takes a case looking for a missing runaway (Melanie Griffith, spectacular in her first major role) and stumbles onto an increasingly complicated mystery. In keeping with a film that explicitly references Watergate and both Kennedy assassinations, Night Moves is a mystery in which the real mystery — not the what or the how but the why — gets more rather than less confusing the more clues the detective solves. Hackman is devastatingly broken as Harry, a man disillusioned by his cheating wife, by people he thinks are his friends, and by the times in which he lives; the movie's key line comes when Harry's wife catches him watching a football game and asks who's winning — his response: "Nobody. One side's just losing slower than the other." That line and the many others that are just as good were all written by Alan Sharp, one of the smartest and most talented screenwriters who ever lived. Sharp wrote a pair of extraordinary Westerns right before Night Moves, The Hired Hand and Ulzana's Raid, both of which share Night Moves' angry weariness and engagement with Nixonian America; his script for The Last Run is also excellent, and he had a hand in Sam Peckinpah's unjustly maligned final film, The Osterman Weekend. Night Moves remains Sharp's crowning achievement, a Swiss watch of narrative construction that's also full of soul, humor, and dense philosophy; it was exactly the sort of thing director Penn specialized in throughout the '60s, '70s, and early '80s, and it's every bit as good as his better known movies like Bonnie and Clyde and Little Big Man — better, in fact. The subtle, gritty cinematography by the great Bruce Surtees hasn't always been well served on home video, but Warner's new high-definition transfer is flawless and serves as a great way to discover — or rediscover — a cinematic treasure that deserves to be talked about and revived more often than it is.
Jim Hemphill is the writer and director of the award-winning film The Trouble with the Truth, which is currently available on DVD, iTunes, and Amazon Prime. His website is www.jimhemphillfilms.com.