Back to selection
"We Digitized Every Frame": Andrew Sherburne on Saving Brinton and Film Preservation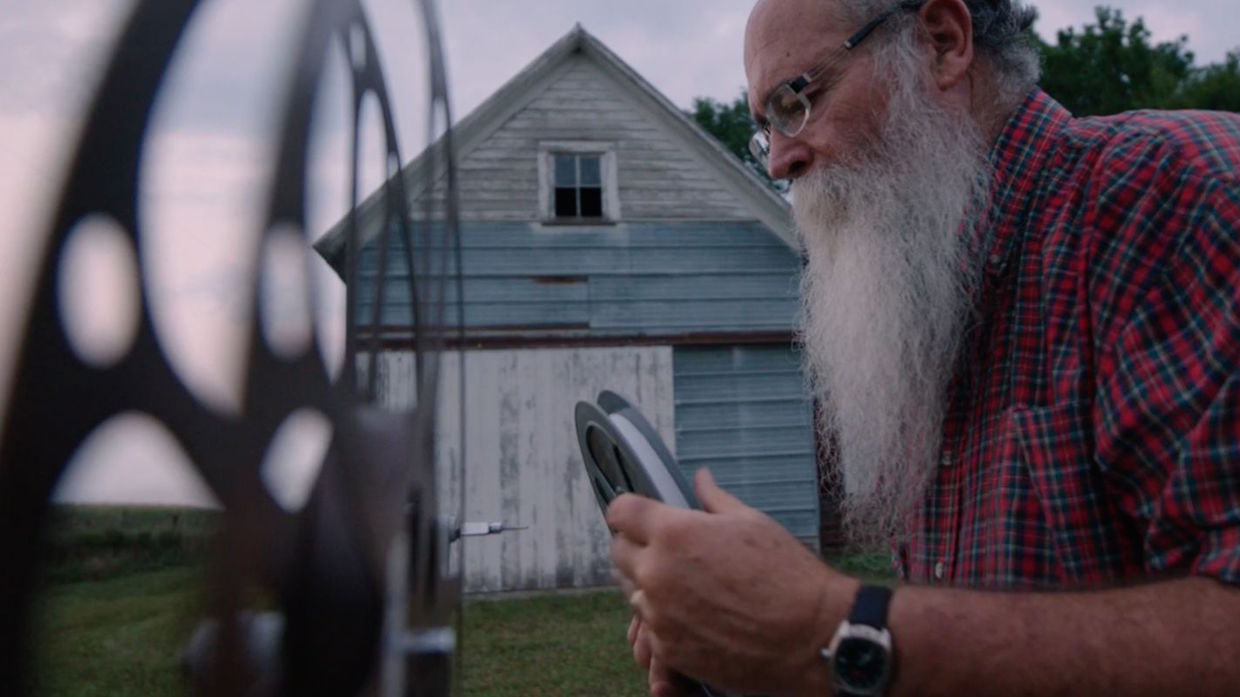 Mike Zahs in Saving Brinton
"I like to save things," Mike Zahs says in the opening seconds of Saving Brinton, "especially if they're too far gone." He's referring, in the moment, to the stray animals that have hobbled onto his property over the years: a lost cat that birthed 11 kittens, a rotund dog named Tuesday. He's also alluding to his great passion project, which originated at an estate sale in 1981. Zahs found a cache of mysterious boxes from the estate of Frank Brinton, a showman who traveled the country with his wife from 1895 to 1909 to project films and other pre-cinema entertainments for crowds in the Midwest and South. The boxes had such promising labels as "Brinton crap." Zahs took them all home–three truckloads, all told. Once there, he found 16 silent films, early film projectors, glass slides, posters and other memorabilia. The boxes held roughly 10,000 artifacts, including a previously lost film by Georges Méliès.
Without Zahs, all of these materials would have gone to the landfill.
The story of an accidental film preservationist, Saving Brinton premiered earlier this year at the AFI Docs Film Festival. A film by a film by Tommy Haines, John Richard and Andrew Sherburne, Brinton follows Zahs as he holds his own multi-media shows to highlight early cinema, the Brinton collection and the cultural history of Washington, Iowa, where he resides. Zahs kept the collection in his shed for decades until he donated it in its entirety to the University of Iowa in 2014. Saving Brinton unfolds as part profile of an eccentric collector, part glimpse into the worlds of early film exhibition and modern-day film preservation.
Filmmaker spoke with co-director Andrew Sherburne in Brooklyn prior to the film's two screenings at DOC NYC this week. Saving Brinton will continue to tour the festival circuit this winter and have a theatrical release in March 2018.
Filmmaker: So how did you first hear about Mike Zahs?
Sherburne: We've been making films based in Iowa City for over a decade now. People pitch us projects, because there's not a lot of filmmakers working in that part of the country. We got wind of this collection of films that happened to be discovered in a basement just a half-hour south of us. It was just too close to pass up. You know, we're film nerds. How did these 110-year-old films end up in Iowa and how have they survived for so long? We were just instantly curious. We went down to Washington, Iowa and met Mike on his farm. He let us inside, and the intrigue only grew once we saw what else he had.
Filmmaker: Did you begin filming right away?
Sherburne: Yeah, the opening scene of the film is that first day when we met Mike. The cameras were on. We kind of knew that this guy was a bit of a character, so we wanted to get that first meeting on camera. So we started filming right away and filmed for a little over three years.
Filmmaker: That's amazing that that was the first day. The idea of him saving things is there right from the start with those animals he's rescued. It's almost too perfect.
Sherburne: It is. Things find him. These animals have found him. They know he's a sanctuary for lost things.
Filmmaker: Mike seems like a natural showman. Do you think he enjoyed being the subject of a documentary?
Sherburne: I think he did. I don't think he knew we were as interested in him right away. He thought we were coming there to look at the films. So that might explain some of his openness with us. He's definitely a showman. We loved that tie from Mike to Frank [Brinton], because they're both showmen. They're very different kinds of showmen, but what they shared was this love of knowledge and sharing it with people in their community.
Filmmaker: What do you think interests Mike in these films? He doesn't seem like a film nerd per se.
Sherburne: No, he is not a cinephile. He loves history, particularly Iowa history and history that has a sense of place attached to it. So the fact that the Brintons lived in his backyard I think is what endears him so much to this collection. Beyond that, he loves Iowa so much he wants to share that with other people. That's where that kind of showman mentality comes from. He wants to make sure that everybody knows about this. Iowa is so underappreciated, and that's a tragedy for Mike.
Filmmaker: He clearly has an impulse to preserve and save. That comes across also with the storyline with his elderly mother.
Sherburne: The film is very much about legacy. It's about Frank's legacy, Mike's legacy and hopefully it spurs questions in all of us about what we leave behind when we're gone. For Mike, his mother has been his most stalwart supporter for so long. He's also got this affinity for the throughline between him and all of his ancestors. His mother was kind of the last living piece of that. She was very near and dear to him. So we thought it was important to show how he does care for things.
Filmmaker: You film at a number of intimate settings in Washington, Iowa. Did you experience any resistance from the residents at any point when filming, say, at the Amish church services?
Sherburne: The people there were incredibly open in letting our cameras be there. Mike vouched for us, and that was pretty much enough. That's especially true when we went to visit the Old Order Amish communities. They don't typically allow photography. The schoolhouse scene where there's a bunch of Old Order Amish community members, that's actually a one-room schoolhouse where Mike went to school when he was a kid. So he asked on our behalf, and I think because it was coming from him, that was good enough.
Filmmaker: The film made me wonder if any sort of modern-day equivalent to Brinton's traveling shows was possible now. Can you think anything like this can be replicated in the age of digital media?
Sherburne: I think it's still incredibly important to gather for a communal experience, whether it's movies or music or a lecture or whatever. I think people are still thirsty for that. So if it's a woman with a guitar traveling around the country singing songs for people in bars, or somebody putting on a show, or a juggler on the street…
Filmmaker: Or a film festival.
Sherburne: Or a film festival, right. I think people still want that experience. I hope it never dies. That's what makes us human, getting together for those shared experiences.
Filmmaker: How did you go about featuring all these materials in the film?
Sherburne: We had every piece of cellulose nitrate from the Brinton collection scanned. One way or another, we digitized every frame. We prioritized those that were crisp, clean reproductions, especially when it's shown on a big screen at a festival or in a theater. It's amazing, I don't think these films have ever been seen in that quality, because it's probably better than it would have been 110 years ago. In terms of how they're featured in the film, we wanted people to, however briefly, get that experience of being transported through one of Mike's shows or what it would have been like at a Brinton show. It's very much an observational, vérité film, but the only time we really leave that structure is during those cinematic moments.
Filmmaker: The film features the State Theater in Washington, which is the "oldest continuously operating cinema theater" in the world, according to Guinness. Has the film shown there?
Sherburne: Yeah. After we premiered at AFI Docs, the next place we showed it was at the State Theater in Washington. We filled the house three times. We could have kept going. People loved it. For a lot of small communities in the Midwest, their existence is always a little tentative. Washington is doing a lot better than most. It's a pretty vibrant town. The screening was a celebratory moment that they were still here and still relevant.
Filmmaker: You mentioned the film's vérité style. I wanted to ask you about the scene that plays during the film's closing credits, which is very stylized and looks very different from the rest of the film. Was this shot on a different format?
Sherburne: Yeah, that was shot with an ARRI Alexa and the rest of the film was shot with Canon C100s. We worked with the cinematographer Scott Duncan. He's done intros for the Olympics and the Super Bowl. His speciality is slow-mo.
Filmmaker: It's very cinematic, like a montage in a fiction film. I'm curious why you went with the vérité style for the rest of the movie and not something closer to this.
Sherburne: We wanted people to really feel like they were along on the journey with Mike. Mike, for 30 years, has been slowly taking one step forward. If the film would have been glossy and really cinematic the whole time, I don't think we would have felt the same way about Mike. The film as a whole I think progresses in its grandeur, in its cinematic elements, and then that scene is kind of the capstone.
Filmmaker: What led to the decision to end with this capstone, music-video moment?
Sherburne: I think I saw something similar in Cutie and the Boxer, with slow-mo boxing by the river here in New York. I saw that and thought, "What would we do if we wanted to capture the beauty of this man and the films and the countryside all in one setting?" From there, we drove around looking for barns. So we tried to put everything together in one scene in a way that was a little dreamlike, a little out of time. It's a reflection on everything that had happened.
Filmmaker: Part of the fun of the second half of the film is seeing Mike in these cosmopolitan settings. I'm thinking of the bit where he doesn't know how to walk at the step-and-repeat. Were you ever worried about playing Mike for laughs?
Sherburne: We definitely wanted to be sensitive. Mike's a funny guy, but we didn't really want to play him for laughs too much. But there were those moments that were a bit fish-out-of-water. I hope if people laugh at that, they identify with him. If you've never walked a red carpet, it's very much a production that most people would find unusual.
Filmmaker: Do you know if the film has been seen and embraced by the film preservation community?
Sherburne: There's a man, Kevin Brownlow. He wrote the second IMDb review we got. He wrote an incredibly long 10-star review. I googled him and saw he's the first person to ever get an Academy Award for film preservation. I didn't send him the film, I don't know where he saw it. So that was super satisfying. We made some very deliberate decisions in how we structured the film. We could have made something that was much more focused on the academic pursuit of this story, but we chose to focus on Mike and his actions. So it's very much about him, and I hope that other film preservationists from that community see themselves in Mike, even though Mike's a bit of an amateur in film itself, but not in terms of saving things.
Filmmaker: It made me smile each time he mispronounced Georges Méliès's last name.
Sherburne: He's trying to figure it out the whole time (laugh). He says it a few different ways. I mean, this is all new to him. He lost a lot of steam for this project over the years, and then he saw Hugo and saw the same films that he has–the same scenery, the same people–and I think that blew him away. Suddenly, he realized what this was all about.
Filmmaker: I keep reading about how it's more and more difficult to get audiences to go to the theater for a documentary. They've become primed to see them at home. It's interesting with this film, because it's about showing films in theaters and the communal act of going to a movie.
Sherburne: In some ways, the film is about appreciating small things. On the face of it, if you think it's a film about a small town in Iowa, you might think it's perfect for your home TV. But if you focus on the cinematic elements of it, I think it really does belong in a theater. First of all, you will never see these films at such detail, so big, these 110-year-old films, as you will if you go see it in a theater. This film is a celebration of that communal experience. It's a celebration of letting yourself be wowed and transported into another world, which just happens to be in rural Iowa.