Back to selection
Desert Hearts, Wild Bill, Pretty Little Liars and More: Jim Hemphill's Year-End Home Video Recommendations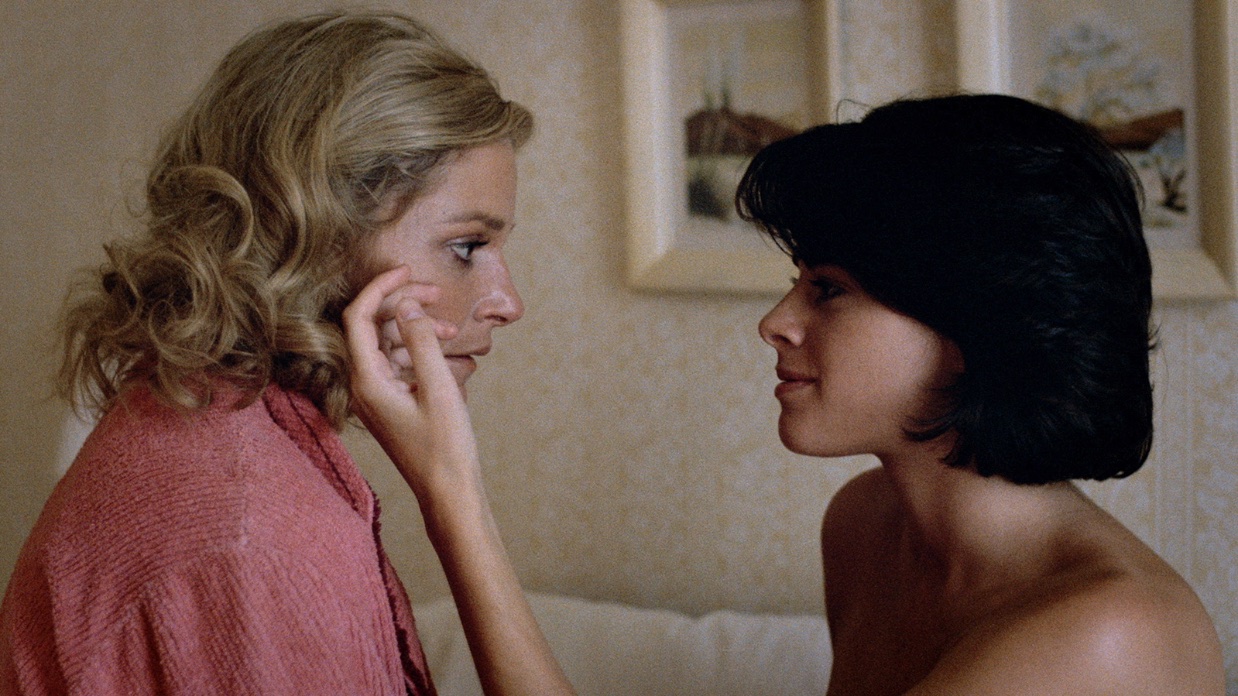 Desert Hearts
For my final home video column of the year, I'd like to round up the most interesting and enjoyable Blu-ray and DVD titles I've encountered in recent months — not necessarily a "ten best" list, but a compendium of highly recommended releases that rank among 2017's home viewing highlights (and that make great gifts for cinephiles as the holiday shopping season approaches). Here goes:
Desert Hearts. Director Donna Deitch embarked on her narrative feature debut with a simple goal — to tell a love story between two women that didn't end with either of them dying or in a bisexual love triangle — and ended up with one of the richest, most complex and touching movies of the mid-'80s American independent film movement. A period piece about an east coast academic (Helen Shaver) who spends six weeks in 1959 Reno to divorce her husband and falls in love with a younger woman (Patricia Charbonneau), Desert Hearts is the kind of movie that exerts great effort and discipline in order to achieve the appearance of effortless, breezy charm. A funny, romantic, poignant delight from beginning to end, it's an expertly photographed (by future P.T. Anderson collaborator Robert Elswit) and designed (by Jeannine Oppewall, who would go on to L.A. Confidential and other major works) character study in which every visual, aural and gestural detail expresses the characters' inner states with delicacy and precision. Deitch's unadorned but evocative mise-en-scene is a master class in conveying subtle emotional states through imagery — the simple camera move that reveals the beginning of the lead characters' consummation of their relationship is as breathtaking as it is simple and efficient. Criterion's new edition of the film boasts a 4K restoration supervised by Elswit and an abundance of outstanding interviews and commentaries that illuminate this seminal work.
Fritz Lang: The Silent Films. As far as film courses in a box go, you can't beat this 12-disc set from Kino Lorber, which collects the entire silent output of probably the most significant and influential director of his era. D.W. Griffith tends to get the credit for establishing and systemizing the key tenets of film grammar, but as Dave Kehr has pointed out, Griffith was still a product of the Victorian era — his means of expression were new, but his ideas were the product of the past. Lang, on the other hand, had a modern perspective in every sense, and films like Dr. Mabuse the Gambler, Four Around the Woman and Metropolis reflected his fragmented, paranoid view of a world in which conspiracy and moral confusion were the norm. A filmmaker with a distinctive philosophy and the visual chops to articulate it, Lang didn't take long to develop into a major artist; this collection allows the viewer to chart his development and see that by the time he directed his third film, The Spiders, in 1919, Lang already had a proficiency (and severity) far beyond that of most of his contemporaries. By the time he got to Mabuse and Metropolis just a few years later, his place in film history was already secure — and that was before the sound masterpieces (M, You Only Live Once, The Big Heat) to come. Kino's set contains excellent transfers and a bounty of fine supplements, including documentaries, restoration demonstrations and commentary tracks.
Into the Night. When this film was released in 1985, it ended director John Landis' winning streak at the box office; it was his first commercial failure after a string of hits that included Animal House, The Blues Brothers and Trading Places. Upon close examination 32 years later, however, it's clearly one of the best American films of a year that saw the release of Scorsese's After Hours, Friedkin's To Live and Die in L.A., and Albert Brooks' Lost in America. Into the Night has a few obvious parallels with the Scorsese picture, being another dark nocturnal comedy about a mild-mannered everyman drawn into an episodic night of urban danger by a chance meeting with a beautiful woman. It's also, like To Live and Die in L.A., one of the all-time great Los Angeles movies, as Jeff Goldblum and Michelle Pfeiffer make their way across town from LAX to Marina Del Rey and Beverly Hills and Hollywood and more. Yet, as much as I love the Scorsese and Friedkin films, Into the Night is more varied in its effects, more generous in its point of view, and lingers longer in the mind after it's experienced — it feels, as much as any Bunuel film, like an extremely vivid dream one doesn't want to let go of. Bunuel was an obvious influence on one of the most famous scenes in Landis' An American Werewolf in London (the jolt that comes from the nightmare-within-a-nightmare), but in Into the Night Landis assimilates Bunuel's sensibility into his own rather than simply lifting a conceit; his vision of the nighttime lives of upper class Angelenos is alternately affectionate, scathingly satirical, and horribly frightening. The juxtaposition between horror and comedy in Werewolf is taken to a whole new level here — the violence is more profoundly unsettling and realistic, all the more so because some of the physical comedy is so silly and sophomoric (and so expertly timed by Landis, as much a student of the great silent comedians as he is of European auteurs). I can't think of any other film with this tone, in which light comedy and romance coexist so easily with savagery and a calm, somnambulistic dreamlike atmosphere. Perhaps this very unusualness kept audiences from appreciating Into the Night when it came out, but rediscovering it via the new Shout! Factory Blu-ray, which includes new interviews with Landis and Goldblum, is pure cinematic bliss.
Kid Galahad. Filmmaker Phil Karlson is mostly thought of — when he's thought of at all these days — as a brutally economical director of ruthlessly tough thrillers like The Phoenix City Story, Kansas City Confidential and the original Walking Tall. Yet in 1962 he made an enchanting diversion: the buoyant, good-natured Elvis Presley vehicle Kid Galahad. A loose remake of a 1937 crime film starring Edward G. Robinson, Bette Davis and Humphrey Bogart, Kid Galahad lightens the tone of its source material in favor of an openhearted ode to community and friendship. Presley plays the title character, an amiable young man just out of the service who stumbles into a boxing career when he falls under the tutelage of an equally amiable trainer (Charles Bronson, very good in a light comic turn). Karlson and screenwriter William Fay deftly juggle romance, music, and mob melodrama without ever losing their consistency of tone — the whole movie is the visual and aural equivalent of a cold glass of lemonade on a warm summer day. The movie is filled out with terrific supporting performances, most notably Gig Young as a morally compromised gambler and promoter; Young had previously been seen as a bit of a lightweight, but the dark edges around his character here point the way toward his towering later performances in They Shoot Horses, Don't They? and Bring Me the Head of Alfredo Garcia. The movie is available as a limited edition Blu-ray from Twilight Time and makes a great double feature with one of that label's other titles, Don Siegel's Flaming Star — by common critical consensus the best movie Elvis ever made.
The Last Laugh. If you want to start thinking about how to tell a story in purely visual terms, there's no better place to start than F.W. Murnau's 1924 masterpiece of silent filmmaking, a glorious tale of the fall and unlikely rise of an aging hotel doorman told with virtually no intertitles. The camera had moved in plenty of films before The Last Laugh, but rarely as elaborately as here under the guidance of cinematographer Karl Freund — from the opening shot traveling down an elevator shaft to reveal the hustle and bustle of a metropolitan hotel to the final shot that gives the movie its English title, Murnau's "Entfesselte Kamera" (unchained camera) weaves in and out of the action with astonishing balletic grace. Kino Classics's new Blu-ray contains a stunning restoration of the German cut of the film as well as an international export version containing entirely different takes, and an excellent historical commentary track by Noah Isenberg that's packed with great information about Murnau, Freund, and star Emil Jannings — as well as German silent cinema in general.
One Hundred Years of Olympic Films: 1912 – 2012. This enormous (32 discs if you pick up the Blu-ray, 43 on standard DVD) boxed set from Criterion is one of the company's most impressive and important releases to date, and one of its most technically awe-inspiring. It's a collection of 53 documentaries covering 41 editions of the Olympic Games, and when watched in order the films provide a remarkable time capsule — it's an invaluable opportunity to study the growth and development of both the Olympics and the documentary form. There are several well known classics here, from Leni Riefenstahl's Olympia and Kon Ichikawa's Tokyo Olympiad to the omnibus film Visions of Eight, a cinephile's feast that features segments by Milos Forman, Arthur Penn, Mai Zetterling, John Schlesinger and other noteworthy auteurs. All three of these films boast splendid new transfers, something that can be said for virtually every film in the box; the International Olympic Committee has undertaken a massive restoration and preservation project for which there are not enough superlatives in the dictionary. The silent material is especially impressive, with exquisite visual detail and newly commissioned scores that bring the footage to stirring life. This is the kind of package that singlehandedly justifies the invention of the DVD player.
Operation Petticoat. Few directors of his generation engaged with issues of gender and sexuality as frequently and intensely as Blake Edwards, whose 40-year career contains one of the most varied and provocative oeuvres in the history of Hollywood cinema. His early (1959) comedy Operation Petticoat isn't as revelatory or self-lacerating as later, more personal works like 10, Victor/Victoria and Skin Deep, but it contains a number of persistent Edwards motifs and themes in embryonic form. The movie itself, about a World War II submarine crew dealing with a number of comic complications — most notably the arrival of a group of Army nurses that throws the male crew into a state of anxious excitement and chaos — is a fun gateway to Edwards' work for the uninitiated. Even better is film scholar Adrian Martin's commentary track on the new Olive Signature Blu-ray, which insightfully breaks down Operation Petticoat's structure and meanings and contextualizes them within the overall arc of Edwards' development. Martin has contributed audio narrations to dozens of DVDs over the past ten years or so; all of them are essential listening, and Operation Petticoat is one of his best yet.
Pretty Little Liars: The Complete Series. A witty Sirkian study of suburban secrecy and hypocrisy disguised as a teen soap opera, Pretty Little Liars has long been one of the most reliably stylish and entertaining series on television thanks to its deliriously intricate plotting, gorgeous cinematography and perfectly pitched ensemble of actresses capable of slyly commenting on the melodramatic conventions they're playing while simultaneously delivering the traditional satisfactions of the genre. This new DVD boxed set containing all seven seasons of the show provides a lot of pleasures, not the least of which is the opportunity to fully appreciate the work of director Norman Buckley, one of the finest craftsmen working in television today and the helmer of 23 episodes of Liars. A devoted Hitchcock disciple, Buckley skillfully applies the master's lessons when it comes to shifting points of view and finding cinematic corollaries for the characters' anxieties and guilt; utilizing sophisticated interplay between foreground and background elements, frames within frames and a kinetic mobile camera that continually probes the action for new perspectives, Buckley unerringly finds compositions that both ratchet up the suspense and express emotion and psychology. As he alternates between placing the viewer in the characters' shoes and providing an ironic distance, Buckley gives equal weight to the cinema's tendencies toward voyeurism and identification. The result is a unique form of empathetic satire, in which our deep feeling for the characters sneaks up on us amidst morally questionable — at times even appalling — behavior. It's all great fun, great filmmaking, and highly addictive, and the DVD collection contains an abundance of deleted scenes and making-of featurettes.
Le Samourai. I can't say that I completely agree with the consensus among the scholars interviewed on this Criterion Blu-ray that Le Samourai is French master Jean-Pierre Melville's best film — I'd probably bestow that honor upon Army of Shadows — but it's definitely the purest distillation of his sensibility, a flawless, airtight jewel of existential genre filmmaking. The tale of a paid killer pursued on one side by a dogged homicide detective and on the other by the men who hired him, it's a riveting crime movie that honors the traditions of the American film noir and the Japanese samurai film without being beholden to either — and then mixes it all together with late 1960s French pop culture to create something wholly distinctive, a sort of European corollary to Hollywood films like Point Blank and Don Siegel's The Killers that were being made at around the same time. The run of the mill story is infused with tension and depth by Melville's sheer commitment to form; by stripping the action genre down to its most basic elements, the director paradoxically ends up finding new meaning and urgency — it's the kind of thing Melville disciples like Walter Hill, John Woo and Michael Mann would further experiment with years later. Criterion's transfer, taken from a new digital restoration, is immaculate.
Wild Bill. After Dances with Wolves and Unforgiven were surprise hits, the early 1990s saw a brief but glorious resurgence of the Western, with a series of ambitious, complex new examples of the form arriving one after the other — Jim Jarmusch's Dead Man, Maggie Greenwald's The Ballad of Little Jo, Sam Raimi's The Quick and the Dead and Lawrence Kasdan's Wyatt Earp were just a few high points. No director took better advantage of the genre's possibilities for examining the American character than Walter Hill, who directed two of his finest movies back to back in the post-Unforgiven era: 1993's Geronimo: An American Legend and Wild Bill two years later. Geronimo is the more traditional of the two in form, with an elegant integration of landscape and theme that packs a powerful moral and emotional punch — when the title character questions why there's not enough room for his people to live freely against the backdrop of Hill's vast widescreen compositions, it's a moment of classical clarity that ranks with the best of John Ford and Akira Kurosawa. Wild Bill is, in many ways, Geronimo's opposite: intimate rather than epic, cramped and nocturnal instead of exterior and sunlit, and more interested in gestures and ethical murkiness than speeches and heroic action. Jeff Bridges gives one of the best performances of his career as the title character in what's less a bio-pic than an impression of a man who became a myth; by employing one of the most radical structures in any wide release of its era, Hill takes Wild Bill Hickok apart like an engine and then reassembles him before our eyes in a series of dreams, hallucinations and flashbacks within flashbacks. Morally and historically ambiguous, the film nevertheless builds with rigor to one of Hill's most potent and powerful conclusions. More or less ignored at the time of its release, Wild Bill is now available as a limited edition Blu-ray from Twilight Time — let's hope they get to Geronimo next.