Back to selection
Tamara Jenkins, Todd Haynes, Jonas Akerlund and More Added to 2018 Sundance Film Festival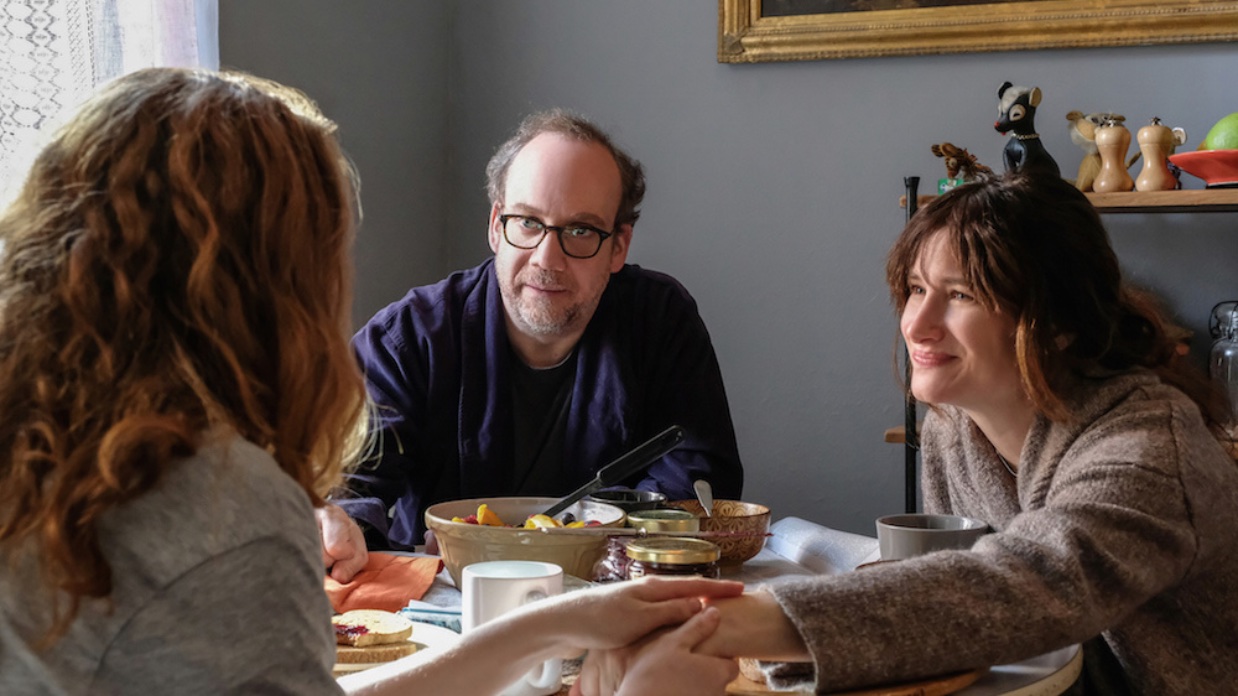 Private Life
Sundance always drops an announcement or two following their initial burst in early December, and today the Sundance Institute has done just that, releasing the titles of films and programs that cross the festival's various programming categories. Honestly, when the first list came out without Tamara Jenkins's latest, Private Life, I was expecting to see it slide into the schedule at a later date, which it has done today. The Slums of Beverly Hills/The Savages director's new film stars Kathryn Hahn and Paul Giamatti in a tale of a couple exploring assisted reproduction and domestic adoption as they try to have a child. There's also a new feature from Hannah Fidell, an on-stage dialogue with Todd Haynes conducted by his longtime producer, Christine Vachon, and Jonas Akerlund's long-awaited black metal drama, Lords of Chaos. Check out the complete list below.
FROM THE COLLECTION
An Evening with Todd Haynes / In the thirty years since he burst onto the indie scene, Todd Haynes has established himself as one of most distinctive voices in American cinema. A special conversation with Haynes and longtime collaborator, producer Christine Vachon, explores Haynes' early work, including clips from notable, recently restored gems.
Smoke Signals / U.S.A. (Director: Chris Eyre, Screenwriter: Sherman Alexie, Producers: Larry Estes, Scott Rosenfelt) — When Victor's estranged father Arnold dies in Arizona, he must leave his home on an Idaho reservation to retrieve Arnold's ashes. Victor's friend Thomas offers to fund the trip, but only if he can accompany Victor. Together they undertake a journey filled with discovery about their personal and cultural identities. Cast: Adam Beach, Evan Adams, Irene Bedard, Gary Farmer, Tantoo Cardinal.
DOCUMENTARY PREMIERES
Akicita: The Battle of Standing Rock / U.S.A. (Director: Cody Lucich, Producers: Heather Rae, Gingger Shankar, Ben-Alex Dupris) — Standing Rock, 2016: the largest Native American occupation since Wounded Knee. Thousands of activists, environmentalists and militarized police descend on the Dakota Access Pipeline in a standoff between oil corporations and a new generation of Native Warriors. This chronicle captures the sweeping struggle, spirit and havoc of a People's uprising. World Premiere. THE NEW CLIMATE
MIDNIGHT
Hereditary / U.S.A. (Director and screenwriter: Ari Aster, Producers: Kevin Frakes, Lars Knudsen, Buddy Patrick) — After their reclusive grandmother passes away, the Graham family tries to escape the dark fate they've inherited. Cast: Toni Collette, Gabriel Byrne, Alex Wolff, Ann Dowd, Milly Shapiro. World Premiere
Lords of Chaos / U.S.A. (Director: Jonas Åkerlund, Screenwriters: Jonas Åkerlund, Dennis Magnusson, Producers: Kwesi Dickson, Danny Gabai, Jim Czarnecki, Erik Gordon, Jack Arbuthnott, Ko Mori) — Based on truth (and lies), Lords of Chaos is a dark drama about a precocious teenager, Euronymous, who wants to spread evil, chaos, and true Norwegian black metal. When Euronymous invites a mysterious loner, Varg, to join his "Black Circle," a rivalry sparks, leading to unexpected consequences. Cast: Rory Culkin, Emory Cohen, Sky Ferreira, Jack Kilmer, Valter Skarsgård. World Premiere
NEW FRONTIER
Isle of Dogs Behind the Scenes (in Virtual Reality) / (Lead Artists: A collaboration between Felix Lajeunesse & Paul Raphael and the Isle of Dogs production team) — This virtual reality experience places the viewer inside the miniature world of Wes Anderson's upcoming stop-motion animated film, face to face with the cast of dogs as they are interviewed on set, while the crew of the film works around you to create the animation you are seeing. Cast: A selection of actors from the cast of Isle of Dogs.
PREMIERES
The Long Dumb Road / U.S.A. (Director: Hannah Fidell, Screenwriters: Hannah Fidell, Carson Mell, Producers: Hannah Fidell, Jacqueline "JJ" Ingram, Jonathan Duffy, Kelly Williams) — Two very different men, at personal crossroads, meet serendipitously and take an unpredictable journey through the American Southwest. Cast: Tony Revolori, Jason Mantzoukas, Taissa Farmiga, Grace Gummer, Ron Livingston, Casey Wilson, Ciara Bravo. World Premiere
Private Life / U.S.A. (Director and screenwriter: Tamara Jenkins, Producers: Anthony Bregman, Stefanie Azpiazu) — A couple in the throes of infertility try to maintain their marriage as they descend deeper into the weird world of assisted reproduction and domestic adoption. When their doctor suggests third-party reproduction, they bristle. But when Sadie, a recent college dropout, re-enters their life, they reconsider. Cast: Kathryn Hahn, Paul Giamatti, Molly Shannon, John Carroll Lynch, Kayli Carter. World Premiere
SPECIAL EVENTS
"RuPaul's Drag Race:" A Retrospective of the Cultural Phenomenon / U.S.A. (Lead Artist: RuPaul Charles) — A retrospective of VH1's Emmy-winning "RuPaul's Drag Race" on the heels of its 10th season, and a panel hosted by RuPaul with executive producers Randy Barbato and Fenton Bailey, along with Tom Campbell and Pamela Post, senior vice president of Original Programming for MTV, VH1 and Logo. Cast: RuPaul Charles, Michelle Visage, Carson Kressley, Ross Mathews. World Premiere
SPOTLIGHT
You Were Never Really Here / U.S.A. (Director and screenwriter: Lynne Ramsay, Producers: Pascal Caucheteux, Rosa Attab, James Wilson, Rebecca O'Brien, Lynne Ramsay) — A traumatized veteran, unafraid of violence, tracks down missing girls for a living. When a job spins out of control, Joe's nightmares overtake him as a conspiracy is uncovered leading to what may be his death trip or his awakening. Cast: Joaquin Phoenix, Alessandro Nivola, Judith Roberts, Ekaterina Samsonov, John Doman, Alex Manette. North American Premiere
Sweet Country / Australia (Director and screenwriter: Warwick Thornton, Producers: David Jowsey, Greer Simpkin) — In 1920s Australia, a middle-aged Aboriginal man's comfortable life is upended by a newcomer's arrival. Wanted for murder in the bloody aftermath of a violent shootout, he must flee into the dangerous outback with his wife. Cast: Bryan Brown, Sam Neill, Hamilton Morris, Ewen Leslie, Thomas M. Wright, Matt Day. Utah Premiere