Back to selection
Top Ten Films Directed/Co-Directed by Women of 2017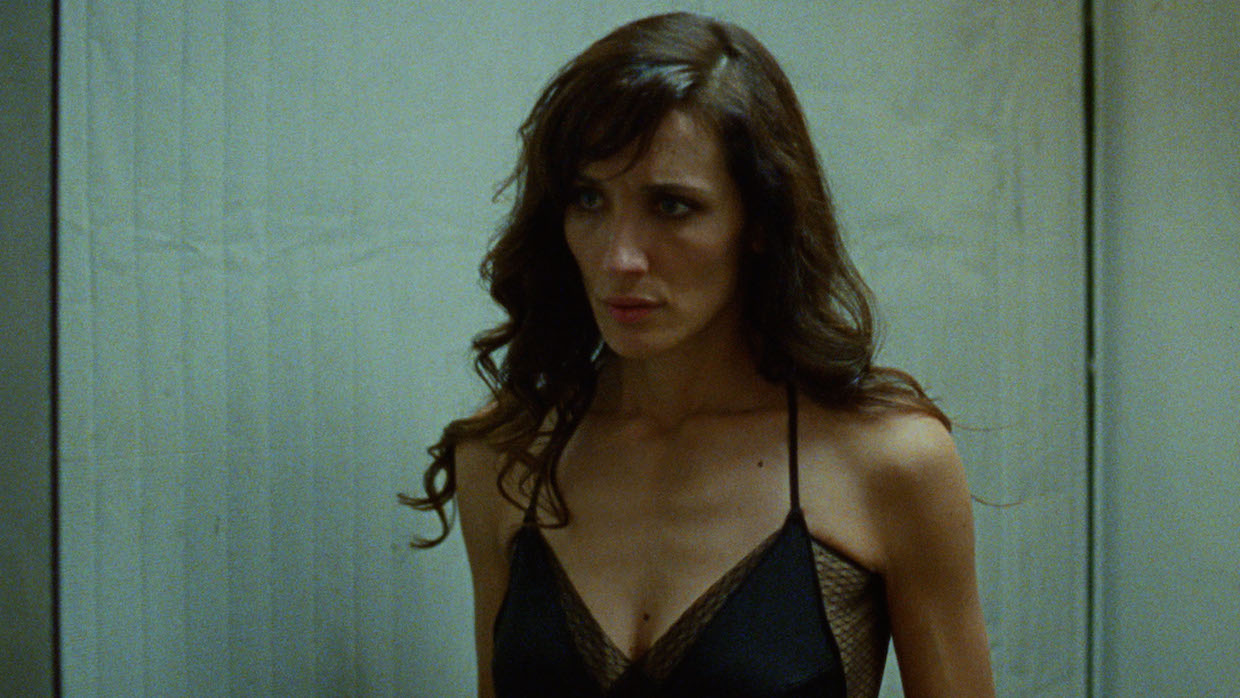 Asa Asensio in Most Beautiful Island
Many might see 2017 as a tumultuous year for women in film, but it wasn't. I see it as the year that women in the industry began the long journey towards ending the tumult, starting with the huge artistic risks they have taken in their work. Each film I chose for this list holds a purely individual voice, each voice starting a conversation about the future of not just women in film but the future of film as a whole. 2017 was only the beginning of hearing our stories, and we have a lot more to say.
10. Kiss and Cry
Quietly premiering in the Cannes ACID section in May, Kiss and Cry is a narrative that presents itself like a documentary. Using real-life, adolescent figure skaters in their element, directors Lila Pinell and Chloe Mahieu explore the pressures on and off the ice, the former complicated by preteen angst and the latter by a lithe, sadistic male coach fond of berating the women. The verite style and non-actors give the film an intense realness while a few crafted, factitious dream sequences bend reality just enough, making the film's controlled intentionality shine. Much like the buzzed-about gymnastic doc Over the Limit that recently premiered at IDFA, this film takes on the pressure-cooker culture of female athletes striving for perfection on a very public, very competitive stage. Unlike Over the Limit, Kiss and Cry is billed as a fiction, which makes the anguished struggle towards a perfect 10 slightly more bearable to watch.
9. Beach Rats
Eliza Hittman's second feature explores the underbelly of the Coney Island boardwalk, specifically a macho, muscular clan of young men trolling the arcades and clubs for highs of all kinds. Shot on 16mm by Hélène Louvart, the hazy, hypnotic visuals open up the pores of the frames, exploring the senses and feelings bursting from within. A tale of shame, guilt and repression in an overtly masculine environment, Harris Dickinson carries the film with resonance. Dickinson embodies a longing that is bubbling under his character's skin with confused anger and desire. Drug-loving and struggling, the hyper-masculine boys are treated with care instead of outright judgement; their grotesqueness is captured with a fraught inquiry held aloft by consistently engrossing, dreamy images and a haunting, harrowing narrative cloud.
8. Barracuda
Barracuda (formerly La Barracuda) is one part country musical, one part horror thriller, one part psychological family drama, and a wholly unique experience. When Sinaloa appears at the doorstep of Merle, claiming to be her long-lost half sister, sharing a recently deceased country music legend father, Merle's suspicions are aroused. Sophie Reed embodies Sinaloa as a slightly unhinged, roving singer songwriter, displaying each of her quirks with a slowly mounting, scratchy, teeth grinding tension. She is set against Allison Tollman's Merle, a hard-working, fully rooted, legitimate daughter, on the eve of marriage. Their clashing lifestyles makes for a palpable, intense dynamic yet their performances are subdued enough to make even the grisly details of the climax feel believable and somehow relatable. Bonus: The music performed in the film isn't simply a throwaway either[ it is recorded and presented with serious, notable skill — a mix of Austin country and Irish folk — that managed to soften my burgeoning hatred of on-screen acoustic guitars.
7. Snowy Bing Bongs Across the Northstar Combat Zone
An absurdist, dance, sci-fi, musical with fart jokes bathed in an inviting pop sensibility and dripping with DIY surrealism. Produced by The Daniels (Swiss Army Man) Rachel Wolther and Alex H. Fischer's Snowy Bing Bongs features the Brooklyn alt-cult dance comedy troupe Cocoon Central Dance Team (Sunita Mani, Tallie Medel, and Eleanore Pienta). The mid-length film (clocking in at around 45 minutes) has an overarching premise: beach balls are attacking a distant planet — can the trio prevail? This loose narrative arc allows a simple framework to hold in as many vignettes as could be imagined; infectious '90s girl pop cover band singing, cut-out animated crystal eating sheep, ridiculous b&w noir-style meditations on acting — and many, many more! It's rare to see women on screen in this way — unsexy, mustachioed, flatulant — and it doesn't read as pure novelty given the big hearted, wry look at the world that is present in each sketch. Sincere, weird, bold and hilarious — so glad this directing duo are 2018 Sundance Institute Screenwriting Fellows (not to mention one of Filmmaker's 25 New Faces of 2017)!
6. Faces Places
Auteur Agnès Varda teams with visual artist JR to collaborate on a project: road tripping through the French countrysides to capture images of inhabitants in the small towns they encounter along the way. They enlarge their photos, pasting them on structures throughout the towns, making truthful beauty through the lives, stories and histories they capture. The shear vastness in scale of the project was meant for the big screen, a purely cinematic display that is refreshing in a landscape of increasingly small screen viewing. Varda's mix of nostalgia and eager inquiry combined with JR's caring intelligence makes for an intergenerational travelogue of wonder and whimsy as they muse on the metaphysical through their own unique visions. The documentary, like their solo work, displays a sincere existential persistence that favors a sweet melancholy that alway beams with hope — a welcome change in an irony weary world!
5. Casting JonBenet
Kitty Green's documentary is as elusive and intriguing as the JonBenet Ramsey case itself. Green auditions actors to play the parts of key figures in the Ramsey case in Boulder, Colorado where the murder of the young pageant queen took place over two decades ago. This premise leads to a twisted path of screen tests revealing much more about the real lives of the actors than the public/assumed lives of the Ramseys. A dark and dreary tone blankets the film like a surburban Lynchian nightmare as Green's one-sided "auditions" slyly twist into a grotesque portrait of contemporary American life. Green understands the limitations of documentary and she plays with them, tests them, elevates them, turning up the artificiality of the form and in turn questioning the very essence of media culture.
4. Marlina the Murderer In Four Acts
This Indonesian rape revenge Western — referred to as a "Satay Western" by some — harkens back to the glory days of Peckinpah complete with a plodding, chilling Eastern-tinged soundtrack that evokes a meditative Morricone. The title character seeks to balance the wrongs done to her following her husband's death, her dignity abused after a band of thieves descends upon her home. Moly Surya displays her heroine with unparalled strength and elegance as she traverses the yellowed, arid landscape on horseback: even with a machete Marlina remains poised in a perfectly draped pink blouse. Marlina's histrionic, pregnant neighbor acts as an ideal foil as she tries to reconcile her own understanding of right and her rights, effortlessly symbolizing the many burdens of womanhood. Each choice in this film is exacting, beautiful and harsh, impeccably elevating the Western to an artful social commentary. One can only hope this is the dawning of a new age of ingenious female genre films.
3. I Am Not A Witch
Women sit on the bed of a truck as long pieces of white fabric trail behind them, leash=like tethers anchoring them to the fate they have been dealt; each woman has been accused of being a witch. Every scene in I Am Not A Witch holds striking, vivid visuals tinged with muted grey making this film border on magical realism where truth and beauty betray and confuse on many different levels. After being accused of witchcraft in her small Zambian village, a young orphan known as Shula is sent to a state-run witch camp surrounded by elders and gawked at by tourists. Motivations become blurry: who is profiting off this superstition? Is it superstition or tradition? Tradition or fear? Is Shula truly possessed? Or is she a scapegoat for responsibility? Shula is played in near silence, her face tasked with expression, a difficult role delivered by nine year old Maggie Mulubwa with ease and maturity. Director Rungano Nyoni was born in Zambia but raised in Wales, crafting a perspective on a culture that remains both outside and within, as wonder, satire and inconsistency are nestled inside each eloquently realized moment.
2. Lemon
The dialogue of Lemon isn't really dialogue. It is an amalgam of stage monologue and meme that leaves each character orating on themselves and to themselves. The film's writing is able to portray the isolation of post-modern man- with waning empathy and misguided ego — cut through by strained dark humor that is icky in its gross familiarity. Failure is the protagonist here, taking the form of middle-aged, struggling actor Isaac (co-writer Brett Gelman), supported by characters ranging from xenophobia, to classism, to racism and beyond. Distinctly American conflicts play out between the characters like a symbolist version of Chekov; the world the film creates plays by its own set of rules. The artistic direction of Lemon unfurls with a fortitude that results in an observed universe sated with aesthetic pleasure. Any film that divides an audience as starkly as I've seen this film divide an audience means that director, co-writer Janicza Bravo is pushing the limits of comfortability, leaning into her own singular form of post-postmodern filmmaking.
1. Most Beautiful Island
Luciana, an undocumented immigrant, flees her homeland after a tragic accident, thrown into a sea of New York bodies churning for a better life. Regulated to Craigslist gigs, she finds herself descending into a Manhattan basement where a chilling, high-stakes game of terror unfolds. Loosely based on true events experienced by writer, director, actress Ana Asensio with hints of Polanski's Repulsion and the highest class of B movie/social-issue thriller (think Get Out), the film hovers in a strange space of the wildly fantastic but also asphixatingly real. The garishness of the crowded streets, the saturated Super 16mm film and the somewhat overblown characters give the film a reserved cartoonish-ness that makes it even more sinister when darkness looms. The unmoored life of an illegal immigrant in the United States striving, yearning, trusting and hoping that things can improve is laid bare in this eerie narrative delivered with utmost control and perfectly sustained suspense. Winner of the SXSW Grand Jury prize for narrative feature, it is a balanced, relevant film that captures a strange unease that will forever remain synonymous with 2017.