Back to selection
"The Time Spent Rigging Was a Challenge": DP Andrew Droz Palermo on Filming Hannah Fidell's Road Movie The Long Dumb Road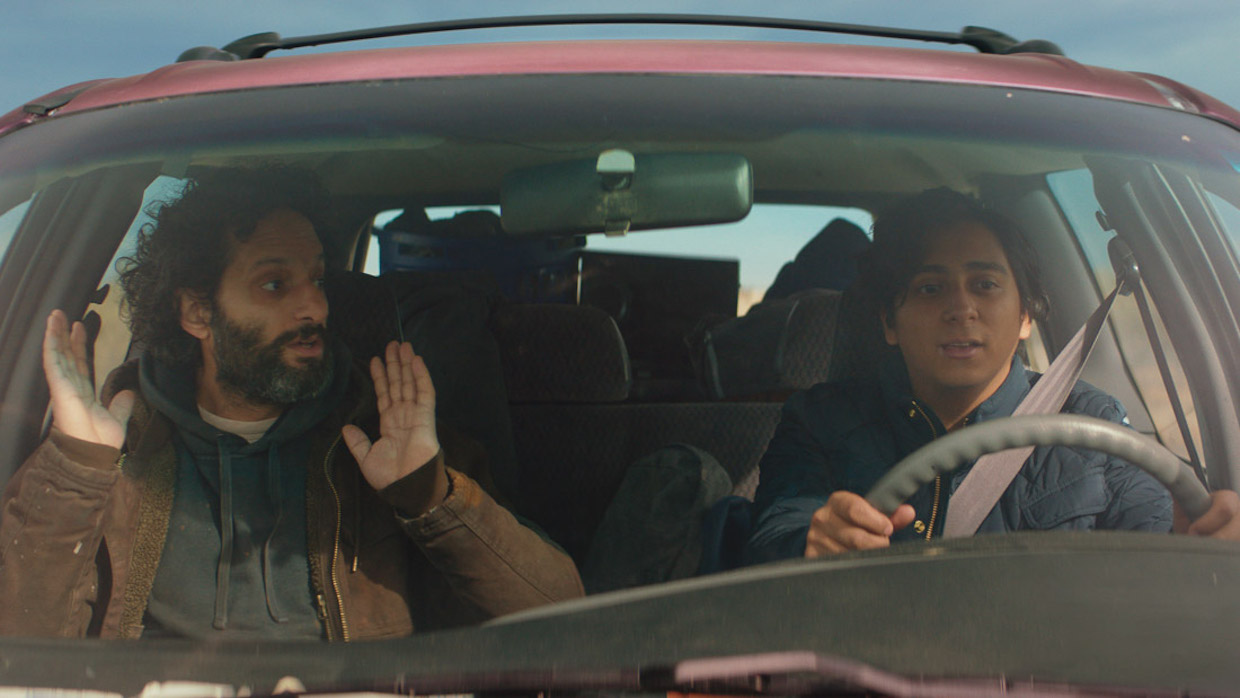 The Long Dumb Road
How do you reinvent the look of the road movie? That was the key question for Andrew Droz Palermo while filming The Long Dumb Road, the third feature film from director Hannah Fidell. Palermo's recent credits as DP include last year's A Ghost Story, the 2014 horror film You're Next and Fidell's two previous features (A Teacher and 6 Years). Palermo spoke with Filmmaker ahead of The Long Dumb Road's premiere at the 2018 Sundance Film Festival. Below he discusses the logistics of filming moving cars and his aim to "live up to our influences, and […] take them into a new place."
Filmmaker: How and why did you wind up being the cinematographer of your film? What were the factors and attributes that led to your being hired for this job?
Palermo: This is the third feature I've shot for Hannah Fidell, who has been one of my longest-running collaborators. Before we shot 6 Years, we wanted to do a little warm-up, so Hannah and I got together and shot a short film of what would later become the feature-length The Long Dumb Road.
Filmmaker: What were your artistic goals on this film, and how did you realize them? How did you want your cinematography to enhance the film's storytelling and treatment of its characters?
Palermo: Our process has been evolving over the course of our collaboration. While A Teacher felt very formalistic, with 6 Years Hannah wanted to push herself into allowing her actors the freedom to improvise and use the space. So often my camera movements and lighting were in reaction to that. On The Long Dumb Road, I knew she wanted to continue using two cameras as much as possible, but I wanted to push us to shooting wider than we'd shot our two previous films, which were rather tight and intimate. It felt appropriate to feature our characters within their space since it is, after all, a road movie. So the challenge was finding our moments when wider blocking and lenses were appropriate and mixing that with two-camera cross coverage shot improvised dialogue. This film to me feels like a mixture of all of our collaborations, which is a pretty interesting space to land in.
Filmmaker: Were there any specific influences on your cinematography, whether they be other films, or visual art, of photography, or something else?
Palermo: We looked at as many movies as we could that take place in cars – Training Day, Y Tu Mama Tambien, Little Miss Sunshine, and so on. Mainly that was just to familiarize ourselves with the ways you can shoot two people who often sit in the front seat of the car. It can be really repetitive, so some fresh ideas there were necessary. We often share images at the start of a project, so we had moods for each scene in mind before we shot. Part of my job is just trying to live up to our influences, and also to take them into a new place.
Filmmaker: What were the biggest challenges posed by production to those goals?
Palermo: The time spent rigging was a challenge. We had very minimal days of true process trailer work, so often the cameras were just locked off hood mount, or hostess tray shots. That can be time consuming on my team, particularly when we are short staffed and only have one of the hero vehicles. Plus the logistics of finding routes to drive or tow safely with five-plus-page dialogue scenes can be really tough.
Filmmaker: What camera did you shoot on? Why did you choose the camera that you did? What lenses did you use?
Palermo: Alexa Mini with high speed Panavision Anamorphics.
Filmmaker: Describe your approach to lighting.
Palermo: I wanted to keep things feeling natural, but give the light a voice, or a clear intent. Largely that just meant twisting existing light in a subtle way, which shifted it into a space which felt appropriate for our film. Maybe a slight gel on a fixture here, or an unusual key placement texture.
Filmmaker: What was the most difficult scene to realize and why? And how did you do it?
Palermo: We dealt with some difficult weather conditions on one of our most important scenes, which is when Tony and Jason's characters meet. It was an extremely long harrowing drive to set in a blizzard, which left me rather wiped before we even started our actual work day. From there we had the challenge of battling the ice, snow, rapidly changing light and weather continuity. It may not sound like much, but between the physical discomfort, and the time it'd take to change any angle, it really added up.
Filmmaker: Finally, describe the finishing of the film. How much of your look was "baked in" versus realized in the DI?
Palermo: I shot Rec 709 without a LUT. Since then I've been perfecting my on-set LUT workflow, but for this I really wanted to keep it simple, so I'd have a good understanding of what I was getting, knowing that I'd always be able to make changes later. Our colorist Alastor Arnold at FotoKem and I have worked together on a few films and a number of commercials over the years, so he has a good sense of my tastes, and is able to help myself and Hannah achieve our goals. He did a really nice job on this film, I might add.
TECH BOX
Camera: Alexa Mini
Lenses: Panavision high speed Anamorphic
Lighting: The usual suspects
Processing: Digital
Color Grading: Alastor Arnold at The Lodge at FotoKem