Back to selection
"We Wanted Her to Symbolically Blend into Her Environment": DP Chris Norr on Puzzle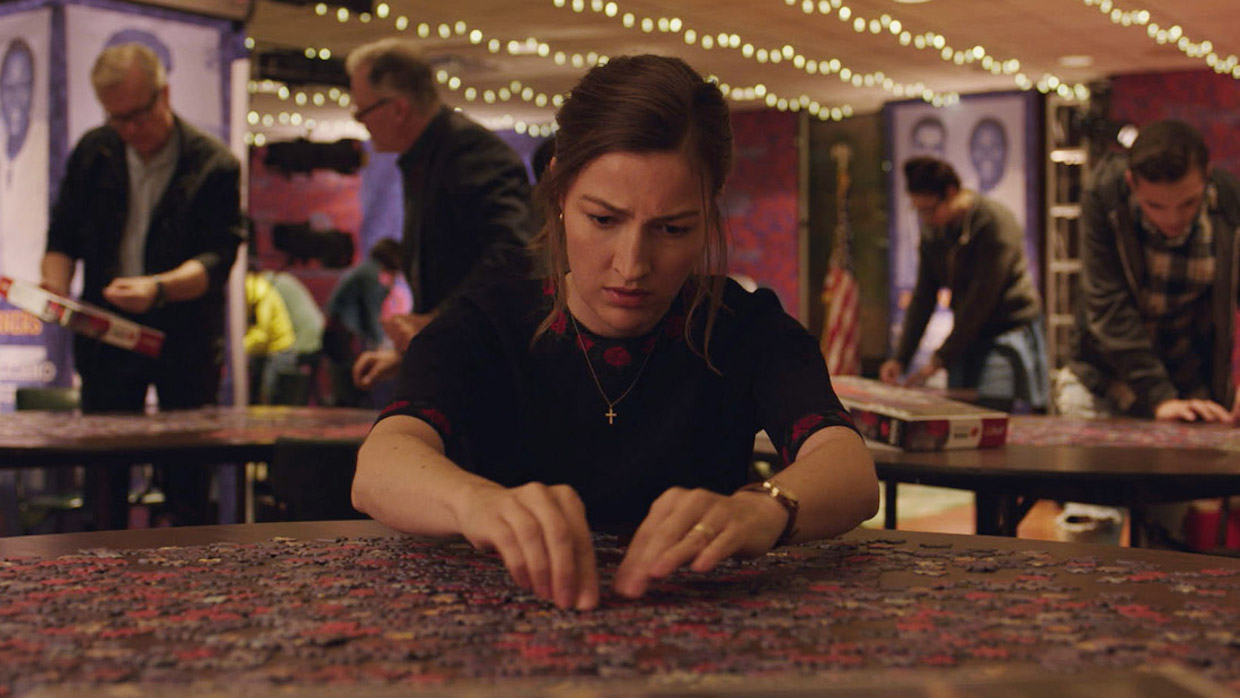 Puzzle
Chris Norr edited his first Sundance movie in 1996 with the feature Timeless. He has since lensed films to screen at the festival in 1998 (Franchesca Page), 2004 (Second Best) and 2010 (Sympathy for Delicious). He returns to the festival this year with Puzzle from director Marc Turtletaub (producer of Little Miss Sunshine and Safety Not Guaranteed) and writer Oren Moverman (Love & Mercy). Below, Norr discusses the influence of French painter Pierre Bonnard on the project and his visual goal to have his lead character "blend into her background and mirror her feeling of being lost and insignificant."
Filmmaker: How and why did you wind up being the cinematographer of your film? What were the factors and attributes that led to your being hired for this job?
Norr: I met with director Marc Turtletaub and producer Peter Saraf at Big Beach in NYC about six weeks prior to prep of the movie Puzzle. I proposed that the film should be photographed very naturalistic and that we use available light as much as possible. I didn't want to draw any attention to the cinematography that would distract from the character's story. It was the longest and most pleasant interview I have ever had. I brought still frames from The Tree Of Life and the movie Ida which both have a naturalistic feel. I also pointed out that The Tree of Life was very fragmented, and I didn't think that was right for Puzzle. In the end, I believe I was hired based on the good chemistry we had and my open way of thinking. I believe that a director should consider a DP based on chemistry equally to their talent. A director could hire the most talented cinematographer but if they are not in sync, then the movie most likely will suffer.
Filmmaker: What were your artistic goals on this film, and how did you realize them? How did you want your cinematography to enhance the film's storytelling and treatment of its characters?
Norr: I had two major goals for the cinematography in Puzzle. First was to contrast the main character Agnes' two primary environments in the story: one which shows her everyday suburban home life and the other which portrays her new passion for jigsaw puzzles that brings her to New York City. The other was to give visual variations to the multiple scenes in her home, where half the movie takes place. Her home life is established as warm, softened by atmosphere, and dark, the darkness used to make Agnes blend into her background and mirror her feeling of being lost and insignificant. I used time of day to motivate different feelings. During the multiple dinner scenes which could get redundant, the director and I wanted to give them variation and decided whether it was night, daylight or sunset. I wanted to sense the sun, see it out the window and flare the lens when appropriate. I created the sun's rays to penetrate into her dark world to enlighten and inspire her. When Agnes' life takes a turn with time spent in NYC, I contrasted the home environment with brighter, crisper and stable cinematography to emphasize that she finds her inner strength. No atmosphere was used and the camera was always on the dolly, never handheld. Interiors had larger windows that allowed more natural light and connected to the exterior.
Filmmaker: Were there any specific influences on your cinematography, whether they be other films, or visual art, of photography, or something else? And what were the biggest challenges posed by production to those goals?
Norr: One of the biggest challenges in shooting Puzzle was that we wanted Agnes to blend into the wall behind her in her home. Agnes' family overlooked her and took her for granted so we wanted her to symbolically blend into her environment. We referenced a painting by Pierre Bonnard where a woman wearing a dress blends into the wallpaper with a similar pattern behind her. Roshelle Berliner, our production designer, installed wallpaper in the dining room with metallic leaf patterns. We tested several dresses with similar floral patterns to find the best matches and discovered that when it was subtle it worked best. We also achieved the effect by getting wide and making her very small in the frame where she would disappear.
Filmmaker: What camera did you shoot on? Why did you choose the camera that you did? What lenses did you use?
Norr: We used an Arri Alexa from TCS, the only choice when shooting digital, in my opinion. We also used Leica Summicron lenses which have a soft falloff and added to the look we were going for. Whenever we shot Agnes we used a 29mm for her close-ups while all the other characters' close-ups were on a 40mm or 50mm. This brought Agnes closer to us and kept the others character more at a distance.
Filmmaker: Describe your approach to lighting.
Norr: My approach to lighting is specific to every project I work on.