Back to selection
"I Went Through Two Marriages But I Still Have the Same Editor": Gianfranco Rosi's Qumra Masterclass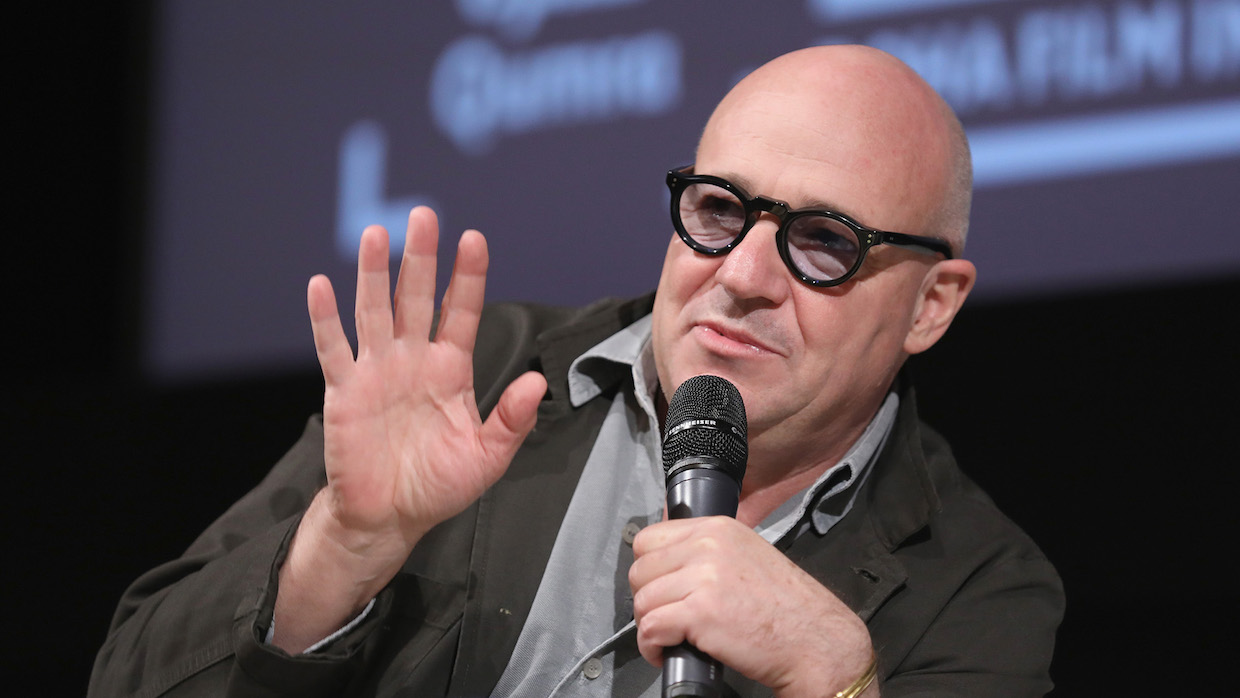 Gianfranco Rosi (Photo by Tim P. Whitby/Getty Images for Doha Film Institute)
An initiative of the Doha Film Institute, Qumra is a focused event that connects Qatari and international directors who are receiving different stages of DFI-funded support with industry delegates from across the spectrum of the film world as well as a handful of heavy-hitting "Masters" in a mentor-like capacity who meet with emerging talents and engage in public conversations. 
After earning the Berlinale's Golden Bear for Fire at Sea (2016), an unconventional exploration of the refugee crisis's impact on the island of Lampedusa, Italian filmmaker Gianfranco Rosi has become one of the most talked about documentarians in the world. Speaking on stage with Richard Peña at the Museum of Islamic Art where the Doha Film Institute hosts its Qumra masterclasses, Rosi chronicled his entire career, revealing both the singularity of each project and the consistency of his approach. Since setting out in the early '90s after a stint at NYU (where he felt like an outsider), Rosi has blazed his own trail in a uniquely spontaneous career; most of his films are set into motion by the emergence of compelling characters who beckon to be filmed. "Everything starts with an encounter, then I go deep into a reality and find a narrative element. I don't study before I arrive at a place; I like to go as a virgin and start a journey."
At the age of 23 he flew to Banares, India, with the intent of finding a film to make. Staying in a cheap motel in the middle of the city, Rosi spent two months wandering with his camera, waiting for something to unfold: "It was a total disaster." It was only when he decided to be a tourist and went out without his camera that he met Gopal, a boatman guide who would become his first protagonist. Boatmen (1993) became a portrait of Banares through the eyes of a tourist guided by this man, circumventing traditional structure or narration and subtly exploring the way in which death is a part of daily life in India — something Rosi faced immediately upon his arrival at the airport, when he hitchhiked to his motel in the back of a vehicle with a group of people huddled together, a dead body by their feet as if it was the most normal thing in the world.
How is Rosi able to create these immersive portraits? "It's important to spend time before I take out my camera, to be part of the daily life of the people. It's important for me to share the film with the people and community who trusted me in making it." With this approach, it would be years before Rosi's next feature came together back on American soil with Below Sea Level (2008), a humanistic look at lowlife outsiders living off the grid in the Californian desert — which, Rosi humorously pointed out, Peña and the New York Film Festival rejected at the time. "I was completely depressed and went to this place with no money and lived with this community. I spent a lot of time there and created a strong relationship with the people there." What started to come together was a poignant view of American freedom as a dead end. "I had to transcribe the dialogue and translate and realized it was like Whitman or Thoreau. Every line has such a critical space. It's so deep and unique and wonderfully expressive." Rosi's own immersion into the spaces where he makes his films comes at a personal price, citing two failed marriages as consequences of devoting his life to projects years at a time.
A personal highlight and a professional turning point: Rosi struck up a friendship with American author Charles Bowden after hearing him in an interview on NPR then immediately dialing 411 and cold-calling the writer. Bowden invited him over for a visit, and from there a bond evolved that would lead to his next film. Inspired by Bowden's research and article on a sicario who confessed to killing hundreds of people, Rosi arranged a series of discreet hotel meetings in Mexico that would form El Sicario, Room 164 (2010). "Don't fuck it up," was Bowden's only request when handing over years of work on this notorious killer. "He wanted money in exchange for the interviews, saying 'I used to charge $2,000 to shoot someone, so I'm asking you for $2000 to shoot me.'" Unable to film the anonymous criminal's face, Rosi devised an ingenious approach, handing the man a notebook to draw in and capturing his hands as he detailed his methodical kidnappings and executions, culminating in a tearful, redemptive confession on the final day of filming.
The animated Rosi stood up on stage, illustrating the conundrum of making the interview in a hotel room cinematically interesting and how he came up with the format. Told to wait in the room until the sicario arrived, Rosi at first considered turning the doc into a film about waiting. "I wanted to be Herzog," said Rosi, launching into an impersonation. "'I'm here waiting for the murderer. The phone rang but it was only room service.'" Confessing he grew to like the man, Rosi said that he was promised a contract killing on the house but hasn't taken him up on the offer.
Ironically, the one project that diverted from Rosi's conviction to only make films that grow organically from encounters would earn him the Golden Lion at the Venice Film Festival. Sacro GRA (2013) is a mosaic-style doc portraying life on the Grande Raccordo Anulare surrounding Rome. With no protagonist, he confesses the commissioned film has "no core" and it's the one film he "wouldn't take with him." Even so, Rosi was able to finesse the footage into something memorable in post-production with his longtime editor, Jacopo Quadri, prompting Peña to ask the director about this meaningful collaboration. "I went through two marriages but I still have the same editor. We don't even talk. It's a very strong relationship." Rosi went on to explain that he doesn't review all of his footage, already knowing what he's going to use. "I work from my memories of what I know are the important scenes."
With time running out in the masterclass, Rosi's acclaimed Fire at Sea was only briefly discussed, though he did address one of the predominant criticisms concerning his choice to focus on the residents of Lampedusa as characters and to film — but not humanize or tell the stories of  — the countless refugees arriving on its shore, explaining it's not about exclusion but about not being able to do their stories justice. "It's because of how I work. I'm not comfortable filming someone I don't have a relationship with."
Rosi's next project is already taking over his life yet again. In Notturno, Rosi will point his camera at nightlife in the Middle East in a study of how "borders have changed the destiny of people." Having already spent two months in the region without a camera, he's going to start shooting soon but doesn't expect to be finished for up to two years. Considering the level of self-sacrifice involved in his career, Rosi has fantasized about quitting but can't help himself. The characteristic conviction that unifies his filmography is as strong as ever: "I need to do it."