Back to selection
Tribeca Film Festival 2018: Ghostbox Cowboy, The Great Pretender and Diane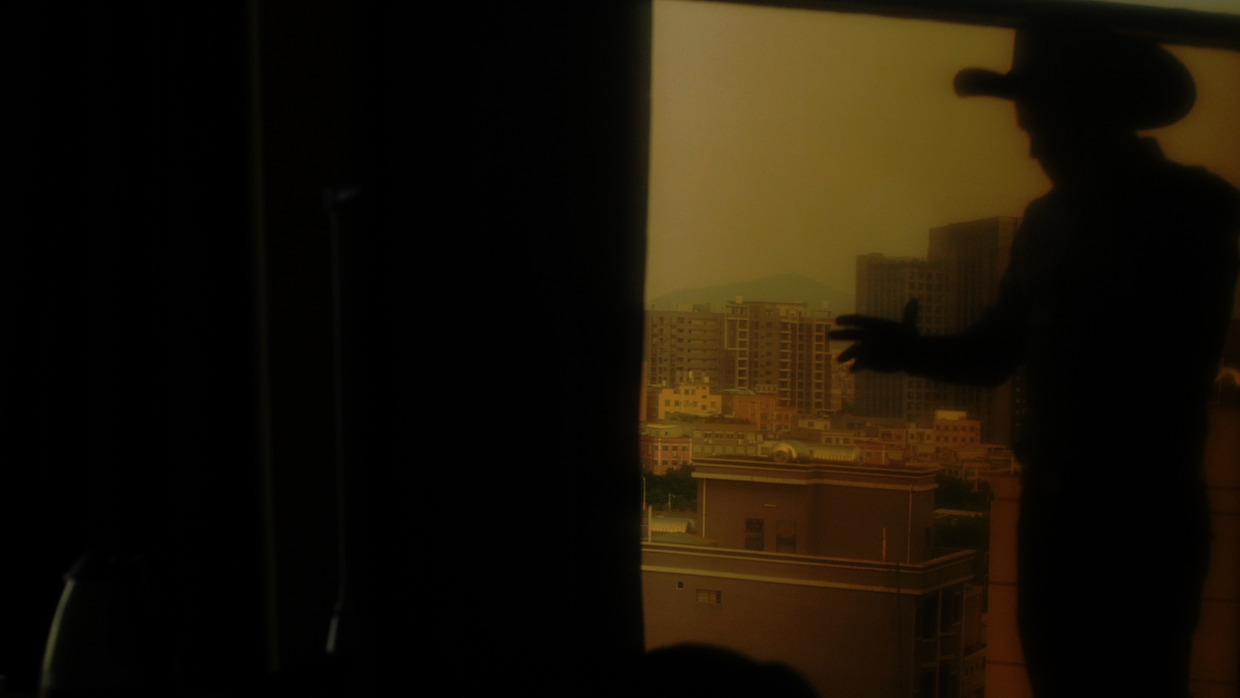 David Zellner in Ghostbox Cowboy
Nothing else I saw at this year's Tribeca Film Festival was as vividly out of its mind as the improbable sight of actor Robert Longstreet roaring across the neon-lit night in Shenzhen, China, rendered absurd in the Toni Erdmann-like drag of a white wig and dental prosthetics. The busy Texas character actor is part of the eccentric circus called Ghostbox Cowboy, which takes a satirical harpoon to the American Dream, parading its deflated form before the funhouse mirror of 21st century China.
The writer-director-cinematographer John Maringouin (Big River Man) lathers the frame in a visual texture that captures the psychic dislocation of the film's title hombre, an American entrepreneur of dubious instincts named Jimmy Van Horn (David Zellner, half of the Austin's stalwart Zellner brothers, who also takes a supporting turn in the siblings' myth-mocking Western spoof Damsel). A would-be icon of Texas swagger and Yankee ingenuity, Jimmy embarks on a scheme to manufacture ghost detectors for the superstitious Chinese market. The plan goes quickly awry, his Bitcoin fortune evaporates – among other calamities – and a squirrely business associate lands the wayward dreamer a gig playing fake American celebrities at weddings, a task he executes with sublime awkwardness. Stuck in a bleak spiral, Jimmy embarks on a forlorn odyssey to find the one man he thinks can help him, his childhood friend Johnny Mai Thai – a quasi-gangster figure (played by J.R. Cazet, the director's tugboat captain cousin), one of the few occupants of a ghost city in the distant mainland nowhere.
Many of those and other plot points feel submerged in the film's smeary digital haze, assembled like the memories that survive the night's drunken abandon into the next morning's hangover. The painterly abstractions of Maringouin's extreme close-ups tell a story all their own. Audiences will achieve a rare intimacy with the freckles on Zellner's back, for instance, and even the most transitory faces are tightly mapped. This obsessiveness pays off in a swirl of surreal images that feel like a joyride through a peculiar 21st century looking glass, crashing hard into the existential befuddlement Zellner brings to his performance as a stranger in an even stranger land.
Jimmy Van Horn isn't alone in his delusions. The Great Pretender, the latest of Brooklyn writer-director Nathan Silver's ensemble works, choreographs a pas de quatre of emotional mind games, poor life choices and manipulation. The drama spins around a New York production by French playwright Mona (Maëlle Poesy), which restages the collapse of her relationship with hard-boozing street photographer Nick (Linas Phillips), who forsakes his marriage to shack up with her and is madly obsessed with winning her back. In the fictional version, Chris (Keith Poulson) plays the boyfriend, opposite Thérèse (Esther Garrel, returning from Silver's Parisian dark comedy Thirst Street).
Akin in its mannered approach and idiosyncrasies to Thirst Street, a case study in not-quite fatal attraction, the film gives generous sway to actors who revel in the oddballs they get to play, most prominently Poulson's skeezy, self-labeled "good guy" and Garrel's half-giddy, self-possessed naif – a chance for a talented actress to play a bad one, deliciously – each offering their own perspective on overlapping situations that bounce from the same gloomy bar to interchangeable bedrooms to the stage, where it all gets reenacted. It's one of those life/art/romance things where everyone ends up with the same STD (sexually transmitted drama).
Silver, working again with cinematographer Sean Price Williams, encapsulates the action inside its own sort of snowglobe, with an intense color palette and gauzy look heightening the theatricality, the camera happy to drift off-center. It's kind of wonderful to watch Silver in transit from earlier films propelled by improvisatory gambits and hyper-emotional naturalism to blatantly formal, script-driven comic psychodrama. The acting only becomes more goofily adroit, and, in collaboration with screenwriter Jack Dunphy (who collaborated on Silver's love-cult riff Stinking Heaven), the story resonates with a curious affection for all these narcissistic fuck-ups faking it 'til they make it. Silver's knack is not to make any of it cynical or clinical. Instead, his film shares a fascinated delight in the sloppy, blundering follies of hormones, heart and artistic hubris.
Diane, the first narrative feature from Kent Jones, is full of surprises, its plot swerves enriching what audiences might reasonably expect to be an emotionally gratifying showcase for the great American actress Mary Kay Place. Place, forever beloved from her late-'70s breakout on the TV cult favorite Mary Hartman, Mary Hartman, enjoys a steady career in character roles, yet here delivers one of the year's great performances as a 70-year-old woman coming to grips with her life – and the irrevocable fallout of past missteps – as friends and family reach the end of theirs. The film took top prizes for narrative feature, screenplay and cinematography, marking a new direction for Jones, the widely admired director of the New York Film Festival, and a leading film scholar and critic whose previous films were cinephile documentaries (Hitchcock/Truffaut). What seems like a character study enmeshed in the autumnal Americana of western Massachusetts (though really shot in upstate New York), limned in small, novelistic details, gradually opens up into something metaphysical. There could be a fine, more straightforward film that honors the friendships and wisdom of older women facing the inevitable march of age and loss, for instance, and the dialogue makes a great pleasure of flinty conversation and rueful candor. Yet, as Diane yo-yos between the bedside of a dying cousin (Deirdre O'Connell) and dispiriting encounters with her drug-addict son (Jake Lacy), Jones raises the stakes, letting the screen drift with Diane's memories, dreams and ghosts, and throwing in a curveball or two, without telegraphing ahead.
There's a near-perfect scene, set in a roadside pub, in which Place drowns her character's woes in several too many margaritas, punches up a Leon Russell tune on the jukebox and drunkenly dances alone, a smile creeping across her face that wordlessly conveys … everything. It's also such a pure movie moment, catching you up inside Diane's reverie. The film holds you there, and sweeps further in through a sometimes startling third act whose bold choices turn a melancholy tone transcendental. It's the real stuff.