Back to selection
How Do You Pitch a Comedy about Cancer? Cancer: A Love Story Director Christen Clifford on What She Learned at the IFP Screen Forward Lab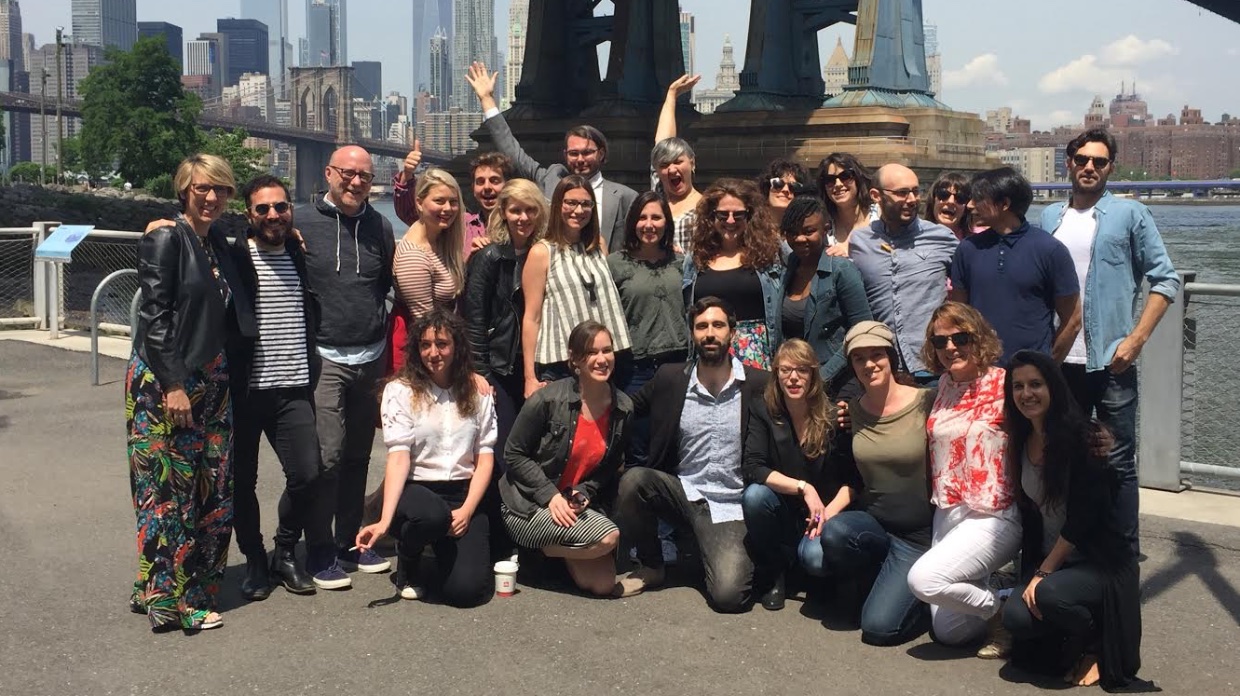 The 2018 IFP Screen Forward Lab.
Filmmaker Christen Clifford is at work on her 10-part autobiographical doc series, Cancer: A Love Story, and recently participated in the 2018 IFP Screen Forward Labs, which is devoted to serialized content. Below is her first-person report of her week spent with mentors, fellow filmmakers and advisors.
Day 1: Screening and General Overview
The day starts with a meet-and-greet breakfast. I'm late. My first day and I'm late. I resist the temptation to hate myself and get a cup of tea. I want a latte, but all they have is brew and that can make me jittery. Proud of myself for my self-care already.
I say "hi" to two women with cute outfits­. They are making a fictionalized version of their successful podcast, and we talk about the Toronto power lesbian scene. Yay, I made friends! I'm having some imposter syndrome — I come from art and theater and writing, where money has not been of such up-front importance. I need to figure out a more effective approach to fundraising so I can make projects with a hired crew.
I introduce myself to Milton Tabbot, senior director of programming at IFP. I've heard he knows everything and everyone in the New York documentary world, and we have a mutual friend. I'm a bit starstruck. Everyone talks about IP, EPs and comps. I have no idea what they are talking about. Then we all go into the screening room. I am excited by how many women there are in the room, but notice that most everyone is white.
We each have to introduce ourselves and our projects. In the room is Amy Dotson, the Deputy Director and Head of Programming for IFP; Nick Borenstein, a filmmaker and Content Consultant for Topic Studios; Neerja Narayanan, a creative producer for Sony Pictures International Productions; and Gabriele Capolino, the Manager and Producer of International and Episodic programs for IFP.
"I'm Christen Clifford and my project is an autobiographical documentary series." I feel weird talking about myself in the third person, so I point to myself as I say what I have already learned to call my logline: "A cancer diagnosis forces a 40-something feminist performance artist to re-evaluate her relationships, her artwork, and confront her painful past. I want Cancer: A Love Story to be the best of new wave of hybrid storytelling digital projects — documentary, memoir, essay all in one; and I want to educate people and make them laugh about cancer, feminism and rapey stuff, and I want to reach the widest possible audience by securing a distribution deal with a premium cable network or streaming service like HBO or Netflix."
There are 12 projects. EVERY SINGLE PROJECT is good. Like serious potential good. I'm a bit gobsmacked but excited to be in this crowd. My notes say, "It's 1:32 and I'm STARVING." I have lunch at the in house IFP restaurant — it's a little pricey but convenient. I'm too nervous to leave the building.
In the afternoon, Neerja Narayanan gives us an overview of the landscape, including information on international sales and marketing. "Sell the sexiness of your project." "Film is moving to TV." "Pitch at Hot Docs to get producers." I learn that CBS is emotional, Warner is edgy, and Lionsgate is doing a lot of unscripted shows now. A bible or pitch deck should be 10 pages at the most. Look at global producing partners and research what kind of work they produce. Agents are good at packaging deals. About 490 scripted series came out of the US in 2017. Along the way, as a creator, look where you might be losing ownership.
Then I have a one-on-one with IFP's Gabriele and Amy. Amy tells me Elizabeth Gilbert (Eat, Pray, Love) is doing a documentary about her partner's death from cancer. Shit, my idea is taken! No, it's good, it means it's timely. I need to do some research to find out who my ideal executive producer would be. THAT's what EP means! Who is the EP who could shepherd this through with me? A female star touched by cancer. Julia Louis-Dreyfuss? How am I going to meet her?
End of Day — I am SO excited.
Day 2: Development: Nonfiction Track.

We start in a smaller conference room with the four nonfiction projects and Amy and Milton, who moderate "Developing Your Series Beyond Pilot" with Jeff Seelbach from First Look Media. We go around the room. It dawns on me that we are pitching again. "This is casual, you'll get better at it," Amy says.
My biggest concern with fundraising is how do I make investors and distributors understand the potential for a wide audience with an honest, raw, personal approach to cancer and rape? How do I get them to see the humor in trying to solve cancer through sex?
Jeff tells us that most people don't make pilots anymore, they pitch with a sizzle, creative vision, and the director. "Be as clear as possible WHY this is a series." If you send a deck and a reel, they are most likely only going to watch the reel. "Step by step to get to the rainbow."
Our second morning session is "Working with Networks" with Jon Adler and a colleague from CNN original series development. Their division has a set number of hours to program, and they want stories that are entertaining but informative. We go around the room. Again. I'm pitching and the two CNN execs' heads tilt to the left at the exact same time. When I talk about how there's a cancerporn sequence in my series, Jon's jaw actually drops. I laugh and say, "Okay, it's about cancer and rape, and it's funny." The room bursts out laughing with me as I say, "But it is not for CNN, so let's move on to the female terrorists and the kooky characters who did the autopsy on JFK."
But something that Jon said really stood out to me: "I always say: Don't be afraid to tell me, then tell me again, then tell me again what you just told me. Executives are busy, sometimes they need to be spoonfed."
We break for lunch and come back all together, non-fiction and fiction, for a panel titled "Working with Production Companies" moderated by Nick from Topic with Wren Arthur from Olive Productions and Ryan Harrington from Pulse Films. Wren is wearing something sparkly and leopard-print. My eyes light up. She tells us she is strictly a creative producer: "No one lets me near a budget. I have a lot of passion, and I don't take no for an answer."
Ryan's job is to develop nonfiction at Pulse, "I have the ability to raise money, and I have the infrastructure." Nick tells us that producers are there to "help shepherd and shape and have relationships." Wren concurs, "Relationships are everything." And Ryan adds, "Meetings never happen the way I think they will, so just go with it."
At the end of the day I have a one-on-one with Nick who says some really nice things about my work. I'm kvelling.
Day 3 Audience and Marketing
We start in the theater all together again with Amy and Gabriele, who lead us through a workshop titled "Who is Your Audience?".
I'm scared of marketing, and Amy says, "Marketing just equals messaging, and that equals communication." I feel better. "Another way to think about it is: Why should anyone give a shit?" We learn that we should be bragging with grace and humility. One of our group, Reka Posta, is a producer on the recent HBO hit movie with Laura Dern, The Tale, and she rarely mentions it! Brag!
Next is "How to Speak About Your Work and Yourself," with Frieda Orange and Samantha Friedman from Rubenstein Communications. We have to pitch AGAIN. We all lead with our brags. "Remember, your logline is not your pitch." I feel like I am ready to take on Hollywood singlehandedly. "Be your own champion and own it." It's only a matter of time before I'm a female Werner Herzog, making whatever documentaries I want, or a Hollywood titan like Linda Obst, producing intersectional feminist content.
I doze during lunch on the floor of the screening room. I do my research and watch Shugs & Fats, a hilarious short form sketch comedy about immigration.
In the afternoon, our first case study is with Radhika Vaz from Shugs & Fats, who started in stand up. Also, she's about 40, which gives me hope. She talked about being an entrepreneur and giving her business time to grow. They [Vaz and Nadia Parvez Manzoor] made three seasons of Shugs & Fats on their own, and then they won the Gotham Award in 2015. They met with Jill Soloway's Topple Productions in October of 2016 and by December had closed on a deal with Topple, and in March of 2017 they were in a deal with Amazon, and in February 2018 they were putting a team together. Holy shit, this takes a long time! She left us with some great parting words: "You keep going because of other people and their kindness."
I'm starting to feel a bit run down. Our last session of the day, "Pitch Overview," is with Jon Marcus, the creator, writer and director of Hunting Season, and a former producer with Killer Films. He's "done everything in this business except makeup." He takes us through what we need in a pitch: stories, characters, world, format, genre, and tone but cautions that we are really selling ourselves. There's no way I can pitch again. "Don't apologize!" he warns. So, of course, I start by almost apologizing. After my pitch, he tells me that he doesn't see what the thread is tying the project together. I answer, desperately, "See, no, it's cancer AND–" He cuts me off, Nope don't see it." I am thoroughly demoralized. I can't think.
Day 4 Distribution
I barely sleep, even though I have a cold coming on. My glands are swollen but all I can do is replay my humiliation. I email Gabriele to say I'll be late today so I can sleep in a bit. I miss the first session, "Your Distribution Possibilities." Later I learn it's about the triangle of love, money and eyeballs.
I come in for "Working in Digital" with Nick moderating the session with Amanda Naseem from Vice. She talks about their verticals, like Broadly, Motherboard and The Creator's Project, and about branded content, like a recent deal with Pabst Blue Ribbon. They only hire people with commercial experience. With documentary, access is everything. Your IP (intellectual property!) is at stake, have a good lawyer. I'm woozy.
The next session is "Working in TV" with Justine Giannino, head of Digital at IFC TV.They are looking for original programming, six episodes of three minutes each. They love stories that are set outside of New York and LA. She tells us that IFC is a boutique network run by AMC, so there are a lot of "sells": her boss, their boss, and so on. She says women need female mentors. I need a mentor.
I lay down during lunch.
The afternoon is our second case study, on Manimal Kingdom. Gabriele leads a discusion with Maral Satari, the editor and director, and Cecelia Delgado, the editor. I LOVE that our case studies are shows made by women of color. They pitched it as Humans of New York meets a BBC documentary. Cecilia told us that they did their research before IFP Week, and they emailed some companies saying, "Hi, we saw that you are going to IFP Week and so are we, we would love to meet with you."
Lastly, Sarah Moosvi from Tara Digital Collective talks us through "Budgeting for Launch Strategy." She told us to make friends with three potentially uncomfortable things: 1. Email 2. Our selves as persona and 3. Analytics. We have to be really clear, telling people over and over who we are and what our projects are about. We talked about images for IFP Week, and when I worried about something being too cancersexy, she said, "Never underestimate the power of the male gaze."
Day 5 Pitching and Next Steps
I got a good night's sleep and feel better. It's the last day! Our morning starts with Amy and Gabriele and Kris Lefcoe, the creator of Giving Up. Neerja tells us that it's important to be energetic, and not to lead with comps: "Have the comp in your head, so when they ask you, you have it." Kris tells us that she went to Comedy Central with a 30-page bible and they laughed at her, like, "Well, you are prepared!"
Pitching is like a date, you don't want to watch your trailer or give anyone paper, just get to know each other a little and give them a link to watch, set them up for the second date. "You want to leave them wanting more. It's an act of seduction." She meditates before meetings. "I have meditated in bathrooms all over LA. I just release all expectations of what might happen in the meeting."
Then we all go outside for a group picture. A guy puts his arm around me, "Sorry, I'm not on your team, I'm my own creator, please take your arm off me," I say. "I don't want to look like I'm on your team in this photo." I'm tired, I don't care if it comes off as bitchy — I'm 47 and don't want to be an armrest today.
Then the nonfiction group has a pitch workshop with Neerja before the afternoon session of live pitching in front of as yet undisclosed industry people. We are nervous, and Neerja says, "Remember, that person is not better than you. They may have more money and more perceived power, but they are not better than you."
The time has come: we are really pitching. We have Radha Blank, a writer on She's Gotta Have It; Laura Turner Garrison, from TruTV; and Lauren Brady from Vox Creative. I forget to give my title, but otherwise all good. Everyone has gotten better at pitching this week. Everyone has distilled the language they use to describe their project. Woohoo Screen Forward 2018!
We end the week with a wrap session and next steps, where we learn what is expected of us at IFP Week: We need to be 100% available for these three days (gotta get my classes covered), there will be many many many meetings, and we need to have a great artistic statement.
Then we all go out for drinks. Cigarettes and marijuana are also consumed. Sophie Finklestein says, "I just graduated from film school, and I learned more at IFP in one week than in two years at Columbia!"
The Screen Forward Lab is like a super-fun boot camp: grueling, but fucking awesome. I'm now clear about my long-term goals, which I had been scared to admit even to myself. I want to create and produce original non-fiction narrative work by women. I want to make Rape Entertainment: work that acknowledges the prevalence of sexual assault and makes us laugh. Screen Forward brought me in community with other creators in new genres, new hybrids and I know we can make these projects happen — together.
Christen Clifford is a feminist artist, writer, curator and mother. Her new project is a 10-part limited autobiographical documentary series called Cancer: A Love Story. More at www.christenclifford.info. She lives in Queens and online @cd_clifford.