Back to selection
Joan Micklin Silver on Casting Crossing Delancey and Steven Spielberg's Role in Getting the Film Made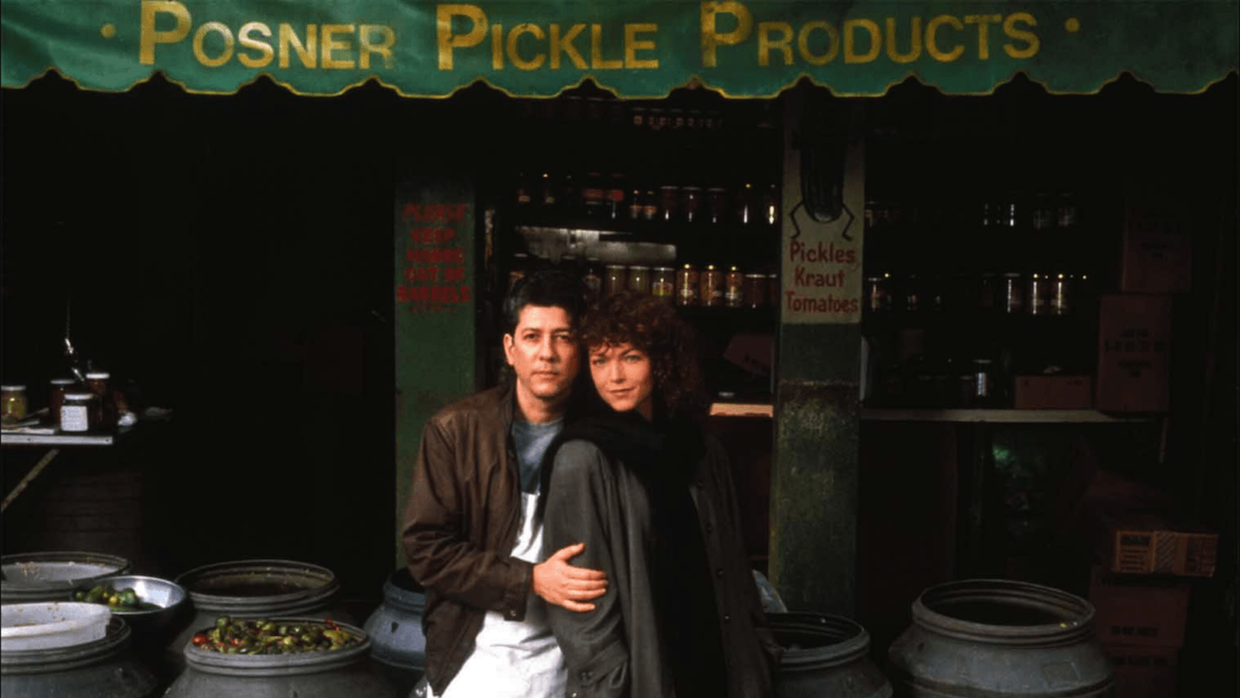 Peter Riegert and Amy Irving in Crossing Delancey
Joan Micklin Silver's Crossing Delancey, her studio romantic comedy about a thirtysomething trying to escape her Lower East Side roots, is the epitome of the New York Woman series the Quad has been running all month.
After a difficult experience at United Artists with her 1979 masterpiece Chilly Scenes of Winter, Silver took on her biggest production yet, an adaptation of Susan Sandler's stage play, Crossing Delancey. The Nebraska native returned to examining Jewish identity in New York, as she did in her first film Hester Street, but instead of immigrants at the turn of the century, her focus was instead on Amy Irving and her clash with the more traditional ideas of her grandmother (Reizel Bozyk)—who goes so far as to hire a matchmaker for her single granddaughter, telling her "a dog should live alone, not people."
Silver's film is gorgeously understated, shot mostly in masters with elegant camera movements—she again showcases her talent for building tension through a unique sense of rhythm. I spoke with Silver about the difficulties of finding the right Bubbie, and her fairy godmother Steven Spielberg.
Filmmaker: How did you first hear of the play that became Crossing Delancey?
Silver:  It started out for Susan Sandler as a five person play, and she got in touch with me. I don't think we knew each other well, but she wanted me to come and see if I thought it would be interesting as a movie. It was at 14th street; there used to be a Y.
Sometimes you just get lucky. We were able to get together a very good cast, especially Reizel [Bozyk]. I couldn't find that kind of a grandmother, because that kind of grandmother wasn't in demand as an actress. I saw so many people, I can't tell you how many. Then somebody told me about Reizel—and we had to get her in, but she didn't want to come in. She said why should she go in, why should she read for me? Finally my wonderful casting agent Fran Kumin got her to come in. As she walked in the door, I just went "Ahh," you know? I knew I'd been able to cast her. We sat down and had a wonderful time.
Then it occured to me that I should have Amy meet her, because I adored her, but wanted to make sure she and Amy got along. The next day Amy came and waited. Finally the receptionist said Reizel was there, so I told Amy I'd go get her. I started walking down this long hallway, and suddenly Amy went scooting by me, and by the time I got to them they were already with their arms around each other. They got along wonderfully, and hit it off immediately—they loved each other. It was wonderful. That was by far the hardest casting decision.
Peter Riegert had been in the movie I did just before that [Chilly Scenes of Winter]. When Susan [Sandler] offered this to me as a movie she said, "I'm going to make one condition, and that's that you get Peter Riegert." I said, "Of course I'll get Peter Riegert!" And he played the part wonderfully.
The way I got Amy was kind of nice, it's a New York story. I kept reading people and couldn't find anyone that was really right or interesting. One night, I went to a screening. I sat in the aisle seat and looked around to see if anyone I knew was there. Across from me was Amy, whom I did not know. She had all that wonderful hair, and she was scarfing popcorn. She wasn't eating it, she was throwing it up so it would land in her mouth. There was just something about the whole feel that I thought, "This is it." And it was.
Filmmaker: And Spielberg helped you bring it to Warner Brothers?
Silver: At the time, Amy was married to Steven Spielberg. He was making a movie in Spain. So I went to go and meet Amy, and Spielberg was there. That night we went out for dinner and I said, "Listen, I don't want to be here under false pretenses, I have not been able to raise the money to do this yet, but I'm still working on it, and I'm sure it's going to happen." And Steven said to me, "You mean you've got a script this good and you can't finance it?" I said, "Well, yeah." He said, "Have you gone to Warner Brothers?" "No, I don't know anybody at Warner Brothers." He said, "Well, how would feel if I went to Warner Brothers?" I said I would be just delighted. We finished our meal and Amy said "I guess we'll make it at Warner Brothers." I said, "Amy, we don't know that—he hasn't even said anything yet!" But she of course knew that if he wanted it to happen, it would happen.
Just about everything that happened with this movie was like—sometimes you have a movie where it's raining the whole time or something, but this one just went well. I love this movie so much.