Back to selection
IFP Announces the 150 Projects to be Featured at IFP Film Week's 2018 Project Forum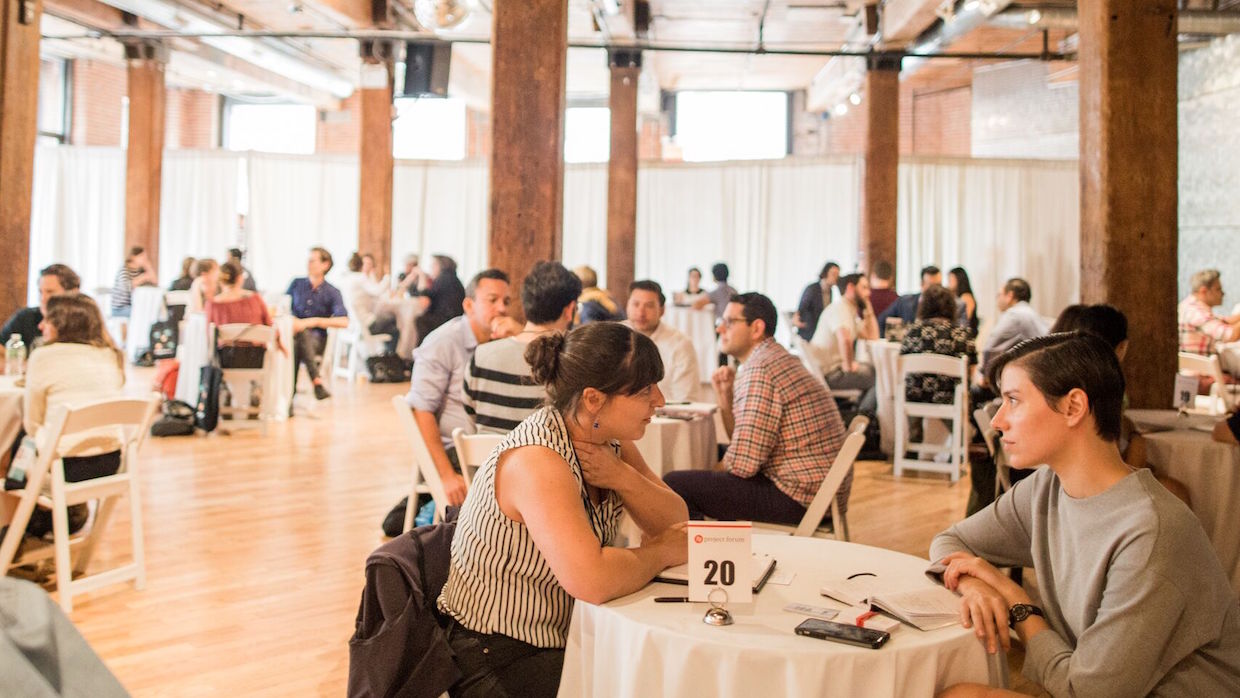 IFP, Filmmaker's publisher, announced today the 150 films, series, digital and audio projects to be showcased at the Project Forum during 40th anniversary of IFP Film Week this September. The Project Forum, says IFP, is the "United States' only international co-production market featuring stories for all platforms." Indeed, in addition to writers and directors, the event now specifically highlights the role of showrunners and audio storytellers in its various projects.
"We're thrilled to celebrate IFP Week's 40th edition this year," said IFP Executive Director Joana Vicente in the press release. "This highly anticipated event has, continued to evolve over the last four decades while remaining true to its mission: discovering new voices and championing original and impactful storytelling. This year's multi-faceted slate represents the best stories from global creators and producers across disciplines, furthering IFP's commitment to helping artists sustain their careers and creative opportunities available in film and beyond."
The slate was curated by Amy Dotson (Deputy Director/Head of Programming, IFP) and Milton Tabbot (Senior Director of Programming, IFP), and features described as ranging from "highly commercial fare to work that tackles controversial subject matter, introduces wildly engaging and often hilarious worldviews, and challenges traditional forms of film, series and audio storytelling."
IFP Film Week and IFP Week Project Forum take places from September 15 – 20 in Brooklyn. Following are further details about the program and a link to the complete selection.
FICTION
–New narrative films and series anchored by top producers and EPss including Lamb on the Throne from Adele Romanski (Moonlight) & Sara Murphy (Land Ho!), Breezin' from Amy Lo (Nancy), The Gymnast from Brian Koppelman and David Levien (Billions), The Fugitive Game from Ryan Cunningham (Broad City), Sleepwalk from Ryan Zacarias (A Ciambra), Bitterroot from Giulia Caruso & Ki Jin Kim (Columbus) and Nine Days from Jason Michael Berman (Amateur), Mette-Marie Kongsved (I Don't Feel at Home in This World Anymore) and Laura Tunstall (Beyoncé's Lemonade).

–New narrative films directed by international auteurs including omnibus film Jerusalem-The Quarters featuring Todd Solondz (Welcome to the Dollhouse), Saint-Narcisse by Bruce LaBruce (Gerontophilia), Centre of the Earth by Gabriel Mascaro (Neon Bull) as well as rising stars with second features currently in post such as Colin Healey's For Entertainment Purposes, Tom Quinn's Colewell and Ani Simon-Kennedy's The Short History of the Long Road.

– New series from innovative creators including Radical Eye: The Life and Times of Tina Modotti by Aaron Brookner (Uncle Howard), Watched by Afia Nathaniel (Dukhtar), Dream Team by Lev Kalman & Whitney Horn (L for Leisure), Year Zero by Ruby Marez & Brooke Sebold (Red Without Blue) and View from the Floor by Mindie Lind & Meghan Griffiths (Sadie).

NON-FICTION
–New non-fiction films and series from top producers and executive producers including Jacinta from Dan Cogan (Icarus), Case 993 from Josh & Dan Braun (Wild, Wild Country) and Danny Glover (Strong Island), Princess Nokia from Christine Vachon (Poison) and Untitled Digital Dating Documentary Series from Julie Goldman & Chris Clements (Life, Animated).

–New feature documentaries include Betty & Henri by Doug Block (112 Weddings), Cured by Bennett Singer (Brother Outsider), Without Arrows by Jonathan Olshefski (Quest), Narrowsburg by Martha Shane (After Tiller) Pool Movie by Vicky Funari (Paulina), and What It Takes by Deborah Dickson (Lalee's Kin).