Back to selection
Hacking Arts – Using Technology To Connect With Your Audience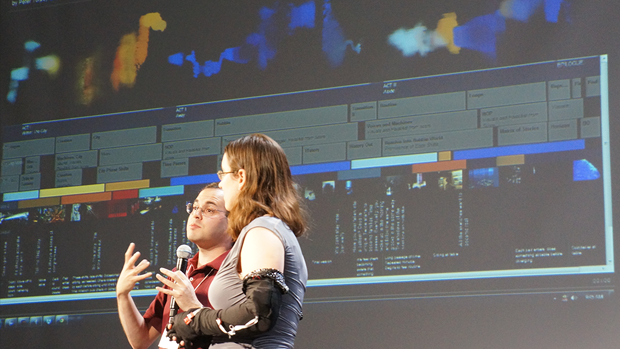 Hacking Arts, a two-day event to "explore the intersection of arts and entertainment, technology and entrepreneurship" was held this last weekend at MIT's Media Lab. The first day consisted of panels and product demos, while the rest of the event was devoted to participants working together to come up with new ideas in various topic areas, from mobile to art education.
The panel sessions of the first day had a strong tilt towards art distribution and finding and interacting with your audience in the connected world. The music panel, titled "Social Sound: Music Fans Get Involved," featured Kristen Bender from Sonos, Jim Lucchese from The Echo Nest, Ron Ubado from YouTube music, and was moderated by Panos Panay of Sonicbirds. This panel focused on the state of the Internet centered music industry, covering topics such as monetization of streaming audio, and what it means when the audience has more control over what they listen to.
Panay suggested that with these new models, the audience is more disconnected from the artist because they aren't spending money directly for a record or a song. While not denying that, Ubado countered that "crowdfunding the production of an album, to me that's another direct-to-consumer, direct-to-fan experience. This shrinks the gap between you and the user."
The Performing Arts panel, subtitled "On Stage and Online: What's next for the Performing Arts?" featured composer and director Tod Machover, and Elizabeth Scott, Chief Media & Digital Officer of Lincoln Center.
The session started with a presentation from MBA candidate Kathleen Stetson of a development project called Trill, an online and mobile discovery platform for finding live shows happening near you. The project is in development, and as Stetson described it, the plan is to include "anything performed on a stage." I asked whether they'd thought about including film screenings and she said that they had, but that wouldn't be in the first release.
A live performance piece by Peter Torpey and Elena Jessop of the Opera of the Future Group at MIT merged live performance with interactive control of audio and video elements. Torpey developed the Disembodied Performance System, which uses sensors to gather data about the performer's gesture, voice, and action. This system was also used in Machover's Death and the Powers.
Machover and Scott's discussion was one of the liveliest and most interesting, perhaps because though they both were trying to solve very different problems, they were obviously interested in the issues the other was facing. Machover is using technology to present and enhance performances, as well as to allow large groups – even an entire city – to participate in a project. Of his City Symphony project Machover said, "When I went to Julliard the model of composers was that you had to be a genius and you had to be deaf – you didn't collaborate. What interests me is how to mix these two streams. Can you get experts and great performers to work together?"
At Lincoln Center Scott is piloting an organization struggling with the new technology world it finds itself in, and dealing with issues it doesn't have full control over; rights clearances are an ongoing problem. But she also has to deal with the current reality of the organization: "Organizations like Lincoln Center, our infrastructures are incredibly basic, and our in-house expertise is spotty. Organizations like ours have poor digital hygiene – we just don't floss the way we should!"
And yet she could see interesting future possibilities: "I think the audience engagement potential is fascinating. For me to go to a performance with the New York Philharmonic and we're all wearing Google glasses and you're next to me and you're getting curated program notes because that's what you care about and I'm getting a read of my own bodies reaction to what I'm hearing, how cool is that?"
Interestingly, Scott previously worked for Major League Baseball. She described how MLB jumped on the Internet when it had the chance, and did it right, unlike radio and television, which they had originally resisted.
"Our relevance is going to be zero unless we get past these legacy ways of working with new mediums," she said.
Visual Arts & Design panelist Sam Aquillano, co-founded and is executive director of the Design Museum Boston. This museum has no permanent location – he described the website as their lobby. Instead they mount exhibitions around the city in different locations, both inside and out.
Throughout the day there was much talk of the audience voting, liking, sharing and self-curating media, and it was at this panel that one audience member finally asked whether there was still a place for the critic? Panel moderator, and co-founder and assistant director of the Fire Island Artist Residency, Evan Garza noted that "the more that we become Facebook friends only with the people we want to associate with, or that we find physically attractive, the more that that social feedback comes to form our own identities and the more that we keep that around us."
Before the final panel, student Tim Jafferi presented Chatterbox, a second-screen application for TV. Citing a study that 86% of smartphone users are using their phones while watching TV, Jafferi said that Chatterbox is designed to combine several social media elements — sharing, voting etc. — into one tool that has customized areas for each program. With this model, the interaction can be richer, and advertisers have greater options too.
The final panel on Film and TV was subtitled "Storytelling in the Digital Age," though it was really about film distribution in the internet age, and featured Richard Matson of Gathr Films, Adam Mosam of Pivotshare, and Albert Reinhardt of Fandor. These three services offer very different models of distribution for filmmakers.
Pivotshare is perhaps closest to YouTube. You upload your video and then you can place a player on your site that links to their servers. Pivotshare handles any financial transactions (rent or purchase), as well as the streaming of the video. While you can also have a page on their site, they aren't there to provide an audience to the filmmaker, just the mechanisms to merchandize and play their films. There's no charge for creating an account, and they don't curate their content.
Fandor is like a cable-channel hybrid. They curate their films – you submit them, and then they decide whether they want to include the film on their site. Subscribers to the site pay a monthly fee to view content, and then the income from those subscriptions is split with the filmmakers based on the audience reach of each movie.
Gathr Films provides a mechanism for the filmmaker to hold screenings in physical theaters throughout the country. A screening is "requested" for a time and place, and if enough tickets are sold then the screening takes place. Depending upon how you think about it, it either provides a mechanism for filmmakers with films that have a small but dedicated audience to organize small screenings throughout the country, or it provides a way for the audience to request a screening of a film near them.
Gathr Films doesn't accept all movies; they have to feel that they will be able to hold more than just one or two screenings; otherwise it's not worth the costs involved, says Matson.
I spoke to Matson, Mosam and Reinhardt about these services, and those interviews will appear in a follow-up article.