Back to selection
Wonder Women Directors at the 21st SCAD Savannah Film Festival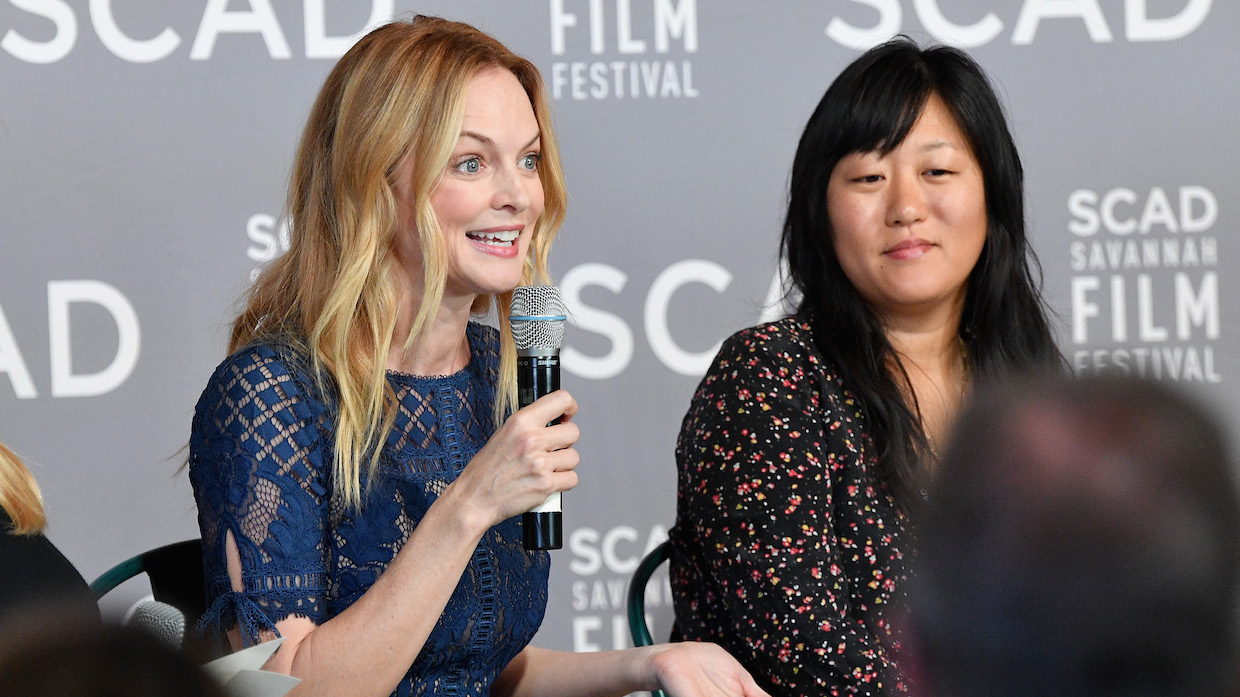 Wonder Women: Directors Panel
The 21st SCAD Savannah Film Festival (October 27 – November 3) featured a strikingly eclectic abundance of Specialty Series discussions and workshops this year. There was "In Conversation" (one with Barry Jenkins, another with Armie Hammer), a three-part Below the Line Panel Series (Casting, Costume Design and Production Design), and Animation Corner: Art in Motion. There was also the TV Sidebar (Starz's Outlander was the focus, with creators and cast from the show in town — even a costume exhibit at the SCAD Museum of Art), and a Writers Guild of America-affiliated program (Writers on Writing: The Front Runner featured Jason Reitman). Exhibitions excitingly included one on Wes Anderson's Isle of Dogs, with its wonderful, outsider-art-style sets.
Then there was the less whimsical, more nuts-and-bolts chats, with titles like "Independent Global Financing: Foreign Sales," "Call-To-Action Content: Creating and Funding," "The Art of the Film Trailer Edit" and "The State of Independent Filmmaking." "Creating Inclusive Worlds" — a panel on making Hollywood more diverse included beloved critic Leonard Maltin, a perennial attendee to the fest — dovetailed well with "Black Panther and the Technology of Wakanda." ("State of the Art: Filmmaking and Gaming" and "State of the Art: All About the R's" — "storytelling in augmented reality, virtual, mixed and extended reality environments" — were also available for more tech-minded media-makers.)
But the one panel I got up early for was the Wonder Women Panel Series: Directors, at the airy, light-infused Gutstein Gallery. Entertainment Weekly staff writer Devan Coggan moderated a surprisingly down-to-earth discussion that featured actresses-turned-directors Heather Graham (Half Magic), Polly Draper (Stella's Last Weekend), Hannah Marks (After Everything) and Anna Martemucci, aka A.M. Lukas (One Cambodian Family Please for My Pleasure). Also present were this year's Sundance Film Festival Waldo Salt Screenwriting Award-winner Christina Choe (Nancy) and elder indie stateswomen Karyn Kusama (Destroyer) and Debra Granik (whose powerfully nuanced Leave No Trace unfortunately didn't screen during the fest).
The chat got off to the best of starts — at least to this cult movie aficionado's mind — when Kusama cited Valley Girl (one of my all time favorites) and Fast Times at Ridgemont High as influences on her decision to become a filmmaker. Watching the credits roll and seeing a woman at the helm of each of these seminal'80s teen-coms convinced Kusama that she, too, could do that.
Inevitably, with so many former (and current) thespians on the panel, the discussion then quickly turned to the subject of transitioning from acting to directing. Graham noted that all of the films she found herself acting in throughout her career were stories told by men — and that even traditional theater was cursed with the same gender disparity, from Shakespeare to Chekhov. She'd simply tired of not seeing her story and own female POV represented onscreen.
Draper then related a telling tale from a decade ago, when she got a call from the Directors Guild just before she joined (or rather was forced to join, as a stipulation of an upcoming television contract). The male rep on the other end of the line said he was just reaching out to be sure she understood the difference between acting and directing — and later followed up by sending her a book on directing. She responded by inquiring as to whether male actors were being asked that same question before being granted DGA membership. (Another panelist half-jokingly chimed in that Mel Gibson probably never got that call.)
Coggan then steered the conversation to #MeToo and the Time's Up movement, asking what, if anything, has changed. Kusama noted that things can't change in a year, and that she's been asked the question "Are things changing?" for 20 years now. She then acknowledged that perhaps men can no longer "say ignorant things and get away with it." There are indeed small shifts going on. Marks added that, though it might seem like a small thing, she never used to get business cards handed to her at the end of meetings. But her male colleagues would, which didn't strike me as a small thing at all.
Coggan then broached the topic of how the male-dominated industry itself could change things. That prompted Choe to snap, "Hire us!" (to a loud round of applause). Choe herself had been hired for an episode of Ava DuVernay's Queen Sugar, which launched her career. Kusama insightfully added that she desired to change the culture, and not just the numbers. She wanted the industry to become enlightened to the point at which men would clamor to work with female directors because of their particular visions. Simply put, she hoped to get to a "different level of the conversation."
Wrapping things up, Coggan wondered about lessons learned. Marks disclosed that her first script was 130 pages of heavy dialogue all shot in Manhattan, then deadpanned, "Don't do that." Martemucci discussed filmmaking as "growing as you're directing." Kusama mentioned "an openness to your own vulnerability." She also emphasized the misconception that directing is a stiff and structured profession, when, in reality, the most talented directors are "like walking and talking jellyfish."
Though I would add one more commonly shared trait of the greats — something I noticed only as the conversation came to a close, when I realized that Granik had barely spoken a word. So transfixed had she been with simply listening.