Back to selection
"Infusion Of New Blood Is Necessary To Remain Viable": Kore-eda Hirokazu Expands his Palette for Shoplifters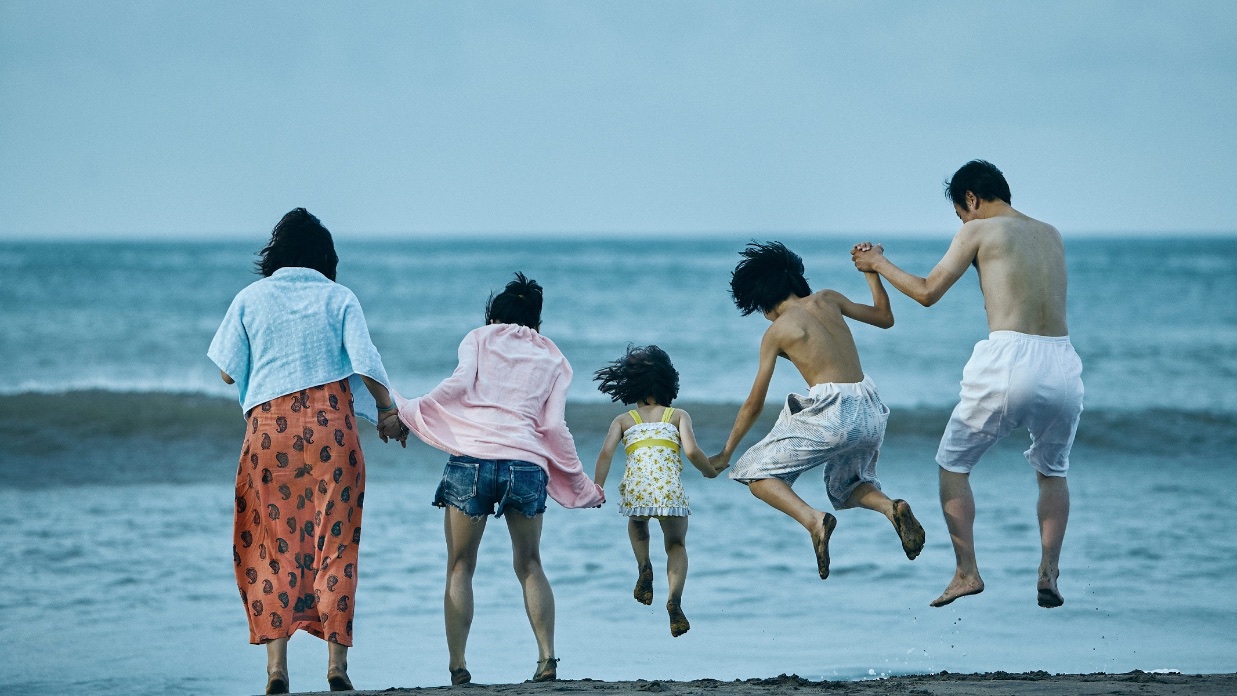 Shoplifters
All Kore-eda films prior to Shoplifters (Manbiki Kozoku) involved families pushed together by blood or filiation, but for his new family of misfits crime is the only accord. They are a troop of scavengers who steal to survive, orphans, abandoners, and the abandoned, who've found each other. For the first time he tells the story of a family that chooses to be together. Drama arises from those characters not wanting to admit their motivations, as doing so might affirm no "real" family awaits their return.
Kore-eda doesn't know this story, though he's shaped it through his life experience as much as he could. And he's embellished it in a faint fantasy tinge: studio lights, camera moves and plot, as if to show us the extent to which Shoplifters stems from his own research and imagination and not his own experience. Shoplifters, at some half step ascent between his more dramatic departure, The Third Murder (Sandome No Satsujin), and his last, great, insular-domestic drama After The Storm (Umi Yorimo Mada Fukaku), denotes a confirmation of Kore-eda's new & broader trajectory. His films have opened themselves back to the surrounding strata, which were once just allusions echoed back in the homes of his interior worlds.
But, it's hard to believe the domesticized schema will ever truly be lost on Kore-eda, who can't help but frame our discussion in the outline of a family tree. His longtime cinematographer Yutaka Yamasaki and composer Gontiti became part of a seemingly unbudging family unit (Nobody Knows, Still Walking, After The Storm) whose replacements he sees as "new blood" in the family line. And when he personifies his films as his children, it's not in the usual manner of a director smothering their own special "babies" but of a cautious father, closely watching.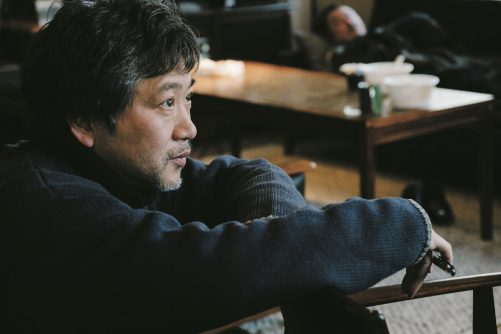 Filmmaker: Did anything provoke your shift to less insular or personal films?
Kore-eda: It's interesting. The way I look at it is that in 2004 I made Nobody Knows (Daremo Shiranai), which was very much about poverty and social issues, and then I actually deviated from my course to a much more narrow, deep, introspective look into family and my own connection to that. And now, with these new films, I've returned to my roots in a way. That's how I see it.
Filmmaker: As your film's have now re-broadened in perspective and scope your camera language seems to be reflowering as well. Are you revisiting some of the grammar you explored in your earlier films?
Kore-eda: Rather than reach down deep into the home I sort of broke off to include society and so readjusted my perspective and realm of focus. But, in any case, I've been directing films for about 20 years now, so the way in which the narrative of the film is directed and shot, I would think, normally changes over the years. I guess what I'm thinking about is that I started in documentary film. Nobody Knows is not a documentary but it still had that feel. It was important to me that we applied those principles of documentary in directing and creating this particular film.

So that has changed. That is no longer so true of Shoplifters. In terms of how I direct the children, it's very important to me that the way the children express themselves and come forward in the film comes from something inside themselves. The technique that I developed with the children on Nobody Knows remains the same more or less in Shoplifters, but whereas initially I was allowing the story to freely unfold documentary style, the storyline in Shoplifters is very much established. So the way I directed was more directorly, less "lets see what happens."
Filmmaker: Could you elaborate on the technique you use to direct your child actors that you discovered/developed on Nobody Knows?
Kore-eda: I don't give the script to the child actors in advance of the shooting. When they come to the set I give them the dialogue verbally in the actual space.
We focus on letting them listen. In doing so they develop a habit of listening and responding to the other actors dialogue. I think working with them in this way also makes the shooting and audition process more enjoyable for them. I prefer to choose child actors who will enjoy themselves and feel and operate in this way we need them to freely and naturally.
But I don't think I'd call this way of doing things a "technique." It's closer to the way a teacher hopes their students eventually finish their own words. They progress in a way that both the teacher and students understand.
Filmmaker: Is it difficult to maintain a feeling of truth and sincerity when making the jump from these very intimate, personal films, to these stories that are bigger and farther from you?
Kore-eda: I think that they're both very private for me. There is definitely a personal element of myself that is in this. But perhaps the best way to put it is that the central emotion that motivated the making of the movie is different. The film Still Walking (Aruitemo aruitemo) is about my mother, my love towards her, about the sore of losing her. Those are the emotions that drove that film. In Shoplifters the emotion is anger. That is what drives it. It's the anger that's different than some of the other films. It's the anger towards everyone who doesn't see these people, who try to get rid of them and push them to the edge because we don't want to see them.
So both of them are very real and very private, but the motivating emotion is different.
Filmmaker: You're working with new cinematographers and composers, no longer your longtime collaborators Yutaka Yamasaki and Gontiti. Was this necessary for your career shift?
Kore-eda: First, in terms of Shoplifter's director Of photography Ryuto Kondo, he's probably the best D.P working in Japan right now. I've always wanted to work with him. So to some degree it just happened to be that both our timings worked so we were able to get together on a project. However, I think to have a healthy level of self-critique as a creative person you need some turn over. Lily Franky and Kirin Kiki were both actors that I've worked with before, but then I cast new people like Sakura Ando and Mayu Matsuoka.
Perhaps Hasono Haruomi is not well known overseas, but he was a former member of Yellow Magic Orchestra (YMO), the same group Ryuichi Sakamoto belonged to, so he's been a very interesting addition. Through his 20s, 30s, 40s, and 50s he's continued to change and evolve as a musician. He's a very rare kind of person, and I just wanted him to be a part of this and contribute to it. So you have some things that change and some things that remain the same. This is even true of the technical aspects of the film. But I think this infusion of new blood is necessary to remain viable.
Filmmaker: In Nobody Knows the young siblings believe that living in poverty, decay, and neglect with each other is better than living comfortably and separated from one another. In the end they are still together despite their losses, but in Shoplifters the family unit is totally separated. Is the Shoplifters ending only tragic?
Kore-eda: Everybody that sees the film will interpret this in a very personal way, depending on their own family background, so I can't speak for everyone. But for myself, I don't see the ending as tragic. In some way the tearing apart of the family really makes them family for the first time. They come to realize things. For example, Lily Franky's character, by having his son torn away from him, becomes more aware of himself as a father. And as the boy rides away on the bus he calls him "otousan" which means father [for the first time in the film].
They can reflect on their time together now and see that they were family. The physical proximity is gone, but inside of them they've been released and know now that they are in fact family. At this point the adults become parents.
Filmmaker: Do you think you'll ever return to your insular family films?
Kore-eda: I'm 56 now. That's currently where I'm standing in life. Still Walking was about a son looking at a parent and my next few films were about a father looking at a child, and reflecting on that relationship. So I anticipate that as I get older and I become a grandfather that I will begin to make films from a grandfather's perspective.
Filmmaker: How do you personally gauge the success of your films? And when you win an award like the Palme d'Or how is that gauge affected?
Kore-eda: I find that the internal satisfaction and success that I feel when I finish a certain film and the external response to it is not frequently the same. What I think is successful is not necessarily what the world thinks is successful. Ideally you'd want them both to be the same. But I find, interestingly enough, that the internal and external gauges of success do come closer to alignment in time. Initially they may not match, but they might if you wait long enough. I don't necessarily mean they'll win an award later of course, but the recognition eventually comes that I always felt internally.
For example, looking at the Shoplifters poster that is in this room here, it says the title and then it says Still Walking, Like Father Like Son (Soshite Chichi, Ni Naru), and Nobody Knows. Still Walking was a film that was very important to me, very close to me, and I felt a great deal of satisfaction with it. But it was not particularly recognized. So that is an example where my internal success was not reflected externally. I think it's important, that when something like that happens, you don't get affected by it. You must stay true to that internal sense of success you have. You can't rely on people to say it's good. If you trust your internal gauge you can go onto your next film with clarity.
Filmmaker: I personally think Still Walking is your best film and is the film that resonated with me the most of all your work. Would you say it is the film that gave you the greatest feeling of internal success?
Kore-eda: Thank you. I'm very moved that the film resonated with you. Still Walking is still very important to me, but it's very difficult to say it is the most important because my films are like my children. To say I like one child over the other is very difficult for me to do. I would say, that of all my children, Still Walking is the most like me. And although I've never met you in person, I find that anybody who says they were most affected by Still Walking of all my films, would be a good friend. I hope one day we'll be able to meet in person.
Filmmaker: And in what way would you describe Shoplifters amongst all of your "children?"
Kore-eda: Still Walking is the most like me, which is a good and bad thing, as I am neither only good or only bad. As for Shoplifters, I don't know yet. Shoplifters is like…. It was born easily. It was a small baby at first, and then it grew up far beyond the parents expectations.