Back to selection
Everybody's in Showbiz: The '80s Downtown Actors of Miami Vice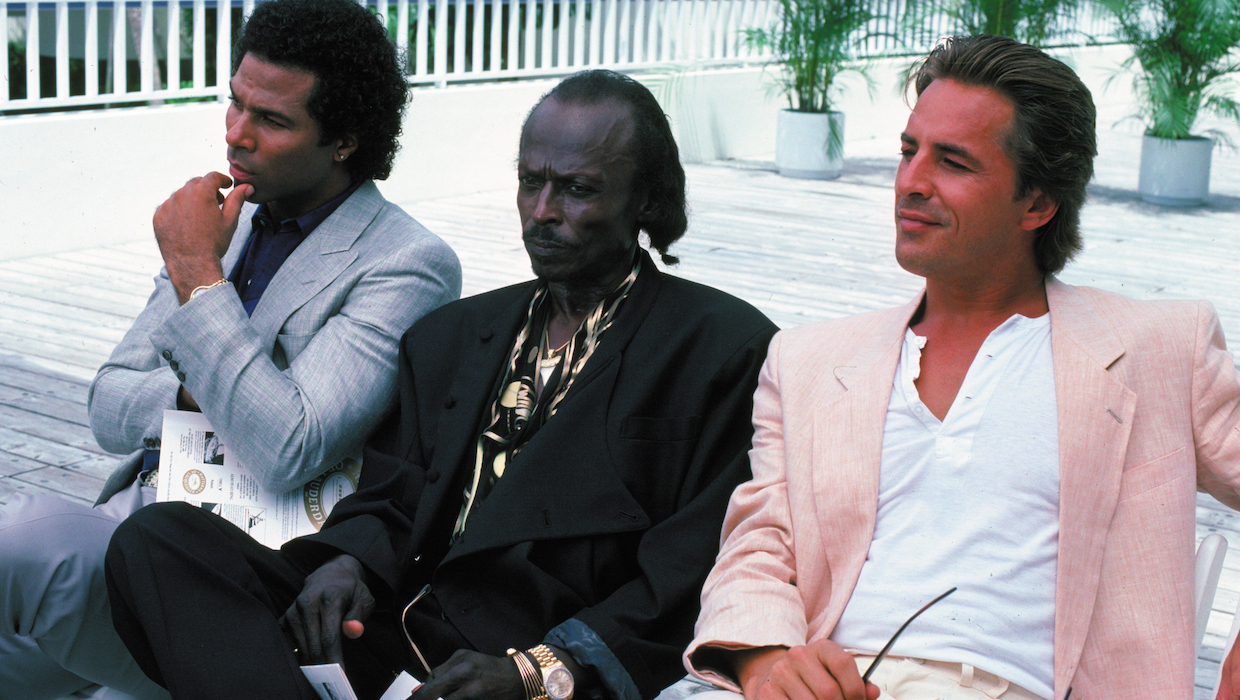 Philip Michael Thomas, Miles Davis and Don Johnson in the Miami Vice episode "Junk Love" (courtesy of NBCUniversal)
Between 9 and 11 p.m. on Friday, September 27, 1985, after Knight Rider and before the late local news, one of every five American TV sets was tuned to NBC to see the theatrical impresario who would send his casts into audiences to beg for change, was arrested for indecency after stripping alongside ticket buyers and had disrupted his own trial for tax evasion with spasms of poetry.
Julian Beck, cofounder of The Living Theatre, appears in the feature-length season two premiere of Miami Vice as a Mephistophelean financier. Cultured and skeletal—Beck died of cancer before the episode aired—the trickster-god font of post-WWII American avant-garde theater makes an indelible impression in his first and only role on primetime network television, opposite Dallas on CBS and a Very Special Episode of Diff'rent Strokes on ABC.
Shot partly in New York City at the peak of the show's imperial phase, the Miami Vice season two premiere drew heavily from the alternative performance scene that flourished there in the wake of The Living Theatre: the Ridiculous Theatrical Company's Charles Ludlam; Ms. 45, Zoë Tamerlis (later Lund); off-Broadway magician sensation Penn Jillette. Miguel Piñero, the Puerto Rican playwright who played a crime lord in the show's pilot, returned as a different kingpin alongside Luis Guzmán and Paul Calderón, who had appeared in productions of his prison play Short Eyes. At a time when the kind of celebrity ratified by NBC, ABC and CBS rarely overlapped with the kind of celebrity ratified—or parodied—at New Wave clubs and performance spaces like The Kitchen and Performing Garage and Club 57, you and any schmoe in Peoria could turn on Miami Vice and see Beck's wife and Living Theatre cofounder Judith Malina, Wooster Group cofounder Ron Vawter, monologist Eric Bogosian, Eszter Balint of the Hungarian-expatriate storefront troupe the Squat Theater, Liquid Sky's Anne Carlisle, enfant-terrible theater director Peter Sellars, Latin disco musician Coati Mundi and performer Steve Buscemi.
The casting of Miami Vice is one branch of the seriously splashy aesthetic developed by Michael Mann in collaboration with longtime colleagues like his casting director, Bonnie Timmermann. In drawing its supporting cast from New York theater actors in general, and downtown celebrities in particular, Miami Vice became a harbinger of the greater fluidity between New York and Los Angeles, stage and television, independent and corporate that would come in alongside premium cable, location shooting and the Golden Age of Television—and a vivid, sidelong portrait of the years that Downtown 1980s bohemia broke. 
When Miami Vice was a sensation—1984, 1985—Michael Mann was the charismatic, demanding producer-auteur holding forth on form, content and philosophy for newspaper critics bored with the Ewings and Colbys, telling stories of covert research trips among the drug smugglers of the Golden Triangle, referencing Hemingway and "an obscure 19th century British painter whose works he discovered as a struggling filmmaker in London," pushing television storytelling into a brave new cinematic world of "vibrating" pastels and moody rock music and hip European menswear. (Rolling Stone, breathlessly: "Tubbs wears $800 Verri Uomo double-breasted suits and dark silk shirts with narrow Italian ties. Sonny has a gold Rolex and carries a Bren 10-mm semiautomatic pistol, a gun so new it is considered experimental by most special-weapons teams.") Style was substance. Says Timmermann: "People like Michael Mann, and like our costume designer, our production designer, every one of us had the same goal, and that was to change the face of television."
Mann had drafted real-life cops and robbers like (respectively) Dennis Farina and John Santucci into his stock company with his feature film debut, Thief. He and Timmermann had previously worked together on The Keep and would pursue an eye-catching approach to casting, harmonizing celebrity and authenticity, metatextual resonance and pure presence, in future collaborations like The Last of the Mohicans, which drew performers from the American Indian Movement. On Vice, her inclination to populate television screens with new, vivid faces—"color was what I was looking for"—jibed with his high-end ambitions.
In the early to mid-1980s, it was vanishingly rare for a Big Three show to be shot on location outside California. The power centers of Miami Vice were atypically East Coast. Mann traveled back and forth between L.A. and Florida, where his lieutenant John Nicolella oversaw the day-to-day and made sure all the cars were the right colors; Timmermann remained at her base in New York. The New York theater world, in general, had little to do with network television at that time. Casting agents like Timmermann and Meg Simon—who eventually headed New York casting for Warner Bros. TV—were known to be attentive, but to join a TV acting ecosystem of geriatric studio-system survivors and helmet-haired Robert Wagner manqués required running a gauntlet of showcases to acquire an agent big enough to cast a pilot, the initial round of reads, then, for a lucky few, flying to Los Angeles to read for the studio and network. In effect, the field was clear enough for anyone casting episodic television from New York City in those days that Timmermann can take justifiable pride in studding Miami Vice with on-the-rise guest stars like Bruce Willis, then a struggling actor primarily known as the most charismatic bartender in New York City.
Fresh faces often meant big names. Vice guest stars were boxers (Alexis Argüello), basketball players (Bill Russell), businessmen (Lee Iacocca) and so many musicians: Little Richard, Frank Zappa, Willie Nelson, Phil Collins. Getting Miles Davis "was an interesting story," Timmermann says, "in that I saw a picture of him on the cover of a magazine. I called him up, I said, 'You have such a be-yoo-ti-ful face, would you come and sit with me for a little bit? I do this show.'"
Timmermann might well be referring to Watergate burglar and Vice guest star G. Gordon Liddy when she recalls, "Some of it was a little caricatured, but most of it was talent. Sometimes, we would kinda laugh out loud and come up with some crazy ideas, but I think everybody was game." Liddy's aura of Nixonian duplicity fit his role as Sonny Crockett's corrupt former Vietnam c.o. (in an episode that also featured Bob Balaban and Iman). 
"It wasn't like they were right for the parts as much as they were so vivid in my imagination," Timmermann says. Somewhere between these two strands of Miami Vice's casting—gigging New York actors and magazine cover subjects—were the alternate-universe stars of the city's underground. If you know Ron Vawter's work, such as his early-'90s performances allegorizing queer activism and the AIDS crisis, it's an Easter egg to see him in "Smuggler's Blues," the episode written by Miguel Piñero that's the basis for the 2006 Miami Vice movie. But if you don't, his sensuous lips, hooded eyes and bureaucratic hairline communicate in just a couple scenes a chilly decadence that's apt for his brief, key role, making Vawter every bit as exciting in the episode as its ostensible marquee name, Glenn Frey.
From her New York office, with its two assistants and video editing facility, Timmermann was generally responsible for casting the top five or six guest leads every week. ("It was kind of a gorgeous job because you never had to do 20, 30, 40 actors in a week, which I think a lot of other casting directors had to do.") Day players and extras were cast locally in Florida, drawing on regional theater actors and local fixers. Timmermann, who had begun her casting career at New York's Phoenix Repertory Company, would read theater reviews in the Times and New Yorker and out-of-town papers to see who critics had flagged, and take in four or five shows a week. She would sometimes skip out of one show at intermission and sneak into the second act of another to save money.
There was a buzz to catch "downtown," already by then a quasi-mythic byword for the post-punk scenes that had blossomed through cracks in the pavement during New York City's '70s decline, fueled by a sense of anarchy, provocation and play. Mid-'80s studio films Desperately Seeking Susan and After Hours concerned a suburban housewife and yuppie office drone, respectively, who set off on equilibrium-shaking odysseys through a sub-14th Street world populated by edgy art weirdos. "We were a very insular neighborhood downtown and really didn't care what the outer world wanted from us," recalls Eric Bogosian, who had started to bring his one-man shows to the Public Theater in 1982. "Yet, there were these ambitious streaks that started around '80, '81. Ann Magnuson appeared in a David Bowie movie about vampires or something…. Everybody was living in poverty, but at the same time, we were a very visual arts–oriented scene, so there were people amongst us who were starting to make huge bucks. It created this dichotomy in the neighborhood of people who had nothing, and people who were getting rich," like the Warhol-anointed Jean-Michel Basquiat.
Eszter Balint recalls that, following her film debut in Jim Jarmusch's critical and commercial No Wave breakthrough Stranger Than Paradise, she had gotten an agent and started to audition. By the time she booked Miami Vice, early in the second season, her Stranger than Paradise costar Richard Edson had already been on it (in "Smuggler's Blues"—great episode!). Paul Calderón, who ultimately appeared on Miami Vice three times, got his "big break" in Second Stage's fall 1984 revival of Short Eyes, replacing Edward James Olmos, who dropped out to join the cast of Miami Vice. Abel Ferrara came to see that production, as did Timmermann, who brought Calderón and his castmates Esai Morales and David Patrick Kelly to Florida for Ferrara's episode, "The Home Invaders." (They played the home invaders.) Another Short Eyes castmate, Ving Rhames, would later make his first prime-time network television appearance on Miami Vice. Yet another, Laurence Fishburne, would appear in an episode alongside the play's director, Kevin Conway.
Remote casting is hardly novel in the age of the Zoom audition, but it was in 1984. Mann and the Florida producers were looking at videotapes Timmermann would make in her office in New York and ship to L.A. and Miami. Timmermann filmed actors from head-to-toe to give a sense of their physique and coloring—how people look when they stand next to each other is very important in a Michael Mann production, she says—while she interviewed them and joked around a bit to show off their personality. Paul Calderón remembers that reading for television in New York in the '80s, "They would always take their time with you: 'OK, let's just run through it, have a little rehearsal.' Like theater, you know? 'Let's just read through it, work out some kinks, and then we'll run it. I'll give you some adjustments, and we'll do it again.'" 
To get her favored actors on the show, Timmermann would sometimes gender-swap parts or split one role into two, so a pair of actors could work together. Though she can't quite remember, either or both of these scenarios might have applied in the season two premiere, in which the Theatre of the Ridiculous writer and star Ludlam, who frequently performed in drag, appears as "Transvestite Pusher" alongside a "Homosexual Pusher" played by his closest collaborator and longtime partner, Everett Quinton.
Timmermann says she felt, "a responsibility to introduce my producers to talent": to advocate for actors in the notes to Mann and Nicolella that she would often send along with the tapes; to brief Don Johnson on a guest actor's credentials; and to make sure that the actor who sparked her interest one night onstage would be able to get off the plane in Florida and hit their mark, say their lines, repeat. "I didn't care if anybody had experience—I gave them as much care as I could, especially if I could see [something in] somebody. I think Benicio del Toro came in and read for us, and I needed to get something from him before I would send the tape to Florida. And we repeated and repeated and repeated, and he looked at me as if maybe I didn't like him. I said, 'No, I'm doing this because I love you.'"
"Miami Vice was the gig," Calderón says now. They'd fly you down, first class, pick you up at the airport. "Everyone wanted to be on Miami Vice. Listen: They used to serve caviar. I said, 'What is this black goopy stuff they're serving?' They said 'That's caviar.' I said, 'What's caviar?' They treated you like royalty. They'd set you up in these suites, TV in every room, balconies overlooking the beach."
All the guest stars were paid the same, Timmermann says, "top-of-show or a three-day." To the authors of the 1986 companion volume The Making of Miami Vice, Leonard Cohen allowed that "The weather was good, the hospitality impeccable, and the payment appropriate." (Cohen's business manager wouldn't start ripping him off for another decade.) To an actor like Calderón, who was not far removed from doing rep on Staten Island, or to Balint, whose Squat Theater was facing an uncertain future after losing its lease, the money was more than "appropriate."
Bogosian "was getting $400 a day, which was more money than I had seen in a year." This was in the fall of 1984, midway through the show's first season. "I was playing a drug dealer, and my girlfriend [on the show] was a young woman named Rainbow Harvest. She was 16 years old, so she was a minor. We had some fun scenes. There was a big scene that was gonna take place in a boxing arena, about 180 extras there. I don't know what Don was supposed to be doing in the scene—probably something off to one side while people were screaming and shouting—but at any rate, he didn't like what was happening. Now, this particular episode was directed by John Nicolella. This was the first time he had directed, and it was very special for him. And Don wasn't happy with the way things were going, and he stalked off of set. If you're ever around stars, these things happen all the time. The guy goes and cools off, and you all come back the next day or three hours later or something. But what it did was it shut down the set for the day—all 180 extras had to be released. We go back to base camp, and Michael Mann had set up this big cake for John Nicolella to celebrate his first day of shooting—which, of course, was a nightmare. We all arrive in our vans, we unload, we're going to our trailers or campers and so forth, and they've rolled out this giant cake, and a stripper jumps out. And everybody's like, Happy first day, John Nicolella. But John is completely upset because the whole day was ruined. Now, when you have a minor on the set, she has to go to school. [Rainbow] had to be back in New York. They had to fly us all back to New York, and then they had to bring us all back next week, and they had to double my pay, which I fucking loved." 
Balint was still in her teens when she shot her episode, and recalls "I went to the mall, for the only time in my life—I was so lonely down there." (Vice cast member Saundra Santiago showed her around the mall.) She had grown up in the Squat Theater—her father, Stephan Balint, was its cofounder, and she would play No Wave music as the D.J. of their afterparties—and was more used to joining collaborative projects through the informal network of mutual admiration that characterizes a D.I.Y. arts movement. In contrast, she found her Vice material formulaic and her episode's director, an old-school television hand, to be "a workhorse, which now I respect more." She had to rerecord much of her dialogue, "because, you know, mumbling was 'cooler' than 'pretending.'" She was intimidated by the environment and felt like a name the show was dropping. It's not that a TV director-for-hire is supposed to immerse himself in the avant-garde just to figure out how best to integrate a cop-show guest star, "But maybe somebody like Abel Ferrara would have had a better idea of what to do with me." 
It was a different kind of acting, even for a gigging pro like Calderón, who recalls, in the pre-video village days, the "nerve-racking" pressure of an audience equal to that of an Off-Off-Broadway show standing immediately behind the single 35mm camera. Bogosian, who had gone in to read for Timmermann newly sober and determined to work, recalls being "so shaky" but grateful for the opportunity to get his reps in. That Miami Vice would bring down New York actors to add dynamism and integrity to as few as a half-dozen sometimes-schlocky lines of dialogue was a mark of its aspirations.
When television writing achieved maturity, all the other elements for its Golden Age were already in place. The Equalizer—definitely a subject for further research—began production in New York City in 1985, with Lois Planco casting many of the same underground and up-and-coming actors and personalities as Miami Vice. Dick Wolf, who had taken over much of the day-to-day running of Vice once Mann and Nicolella stepped back, left the show himself in 1988 and began developing Law & Order. 
If you grew up watching Law & Order reruns, you can't remember a time when it wasn't normal to see New York stage actors filling out the cast of network cop shows. If you've gone to the theater in New York in the past 30 years, you can't remember the last Playbill bio that didn't have Law & Order in it. Paul Calderón was on Law & Order five times, Criminal Intent twice, SVU once and Trial by Jury (!) once. Bill Raymond, long associated with the experimental theater collective Mabou Mines, did three Law & Order spots, having made his TV debut on Miami Vice. So it goes. Bogosian—a Criminal Intent cast member for a couple seasons—recalls that "We'd have people come in, and Vincent [D'Onofrio] would be giving somebody grief in the middle of a scene, some guy [with] one line. He would leave, and I'd say, 'Do you know who that guy is? I just saw him in Faust, Part One at CSC last week. He's a fucking incredible actor. You've gotta ease off the gas pedal with these people.'"
It's a nice little metaphor that Calderón, in the last of his three appearances on Miami Vice, plays a drug dealer who gets ripped off by a couple of actors (including Benicio del Toro) from a struggling theater company. As television drama spread across the cable spectrum and television production spread across the country, it enabled a One-for-Me-One-for-Them ethos mutually beneficial to actors, who found a source of subsidies for break-even passion projects, and to television shows, which had ready access to local talent with serious chops nurtured in spaces like the LAByrinth Theater Company, which Calderón cofounded in the early 1990s, and with which Bogosian was also affiliated.
Timmermann had been a "fairy godmother" (Bogosian's phrase), passing out meal tickets to starving artists during the tumultuous and transitional '80s, but the volume of production became such that Calderón recalls auditions eventually moving away from the care displayed in the early days of New York actors reading for television—auditioning as a streamlined industrial process, "more of a rush to just get things done." As TV production rediscovered New York City, so did real estate capital. Rents went up, and some actors had second thoughts about the television transaction as the city and its art world changed around them.
For Balint, Miami Vice is emblematic of the time when "the '80s really became the '80s." The theater company she thought of as her family was splitting up as her career was taking off, and she witnessed how "the currency changed" among performers as corporate art began to piggyback on risk-taking artists to round out their product. Eventually, even the avant-garde became a brand for those savvy enough to build one.
It is certainly bittersweet, now, to watch Miami Vice and see Balint or Julian Beck and Judith Malina or Ron Vawter or Charles Ludlam and to ponder whether their on-loan cachet is any kind of real gateway into their work, any kind of fitting tribute or meaningful legacy. But every zeitgeist seems quaint eventually, even the zeitgeist that ate lower Manhattan. Nobody wears white loafers nowadays, Don Johnson is collecting Social Security, and the city of Miami itself might not outlive him by much, if at all. I'm happy everyone got to spend some time in the sun.