Back to selection
Cannes Film Festival 2021 Critic's Notebook 3: Drive My Car, Bergman Island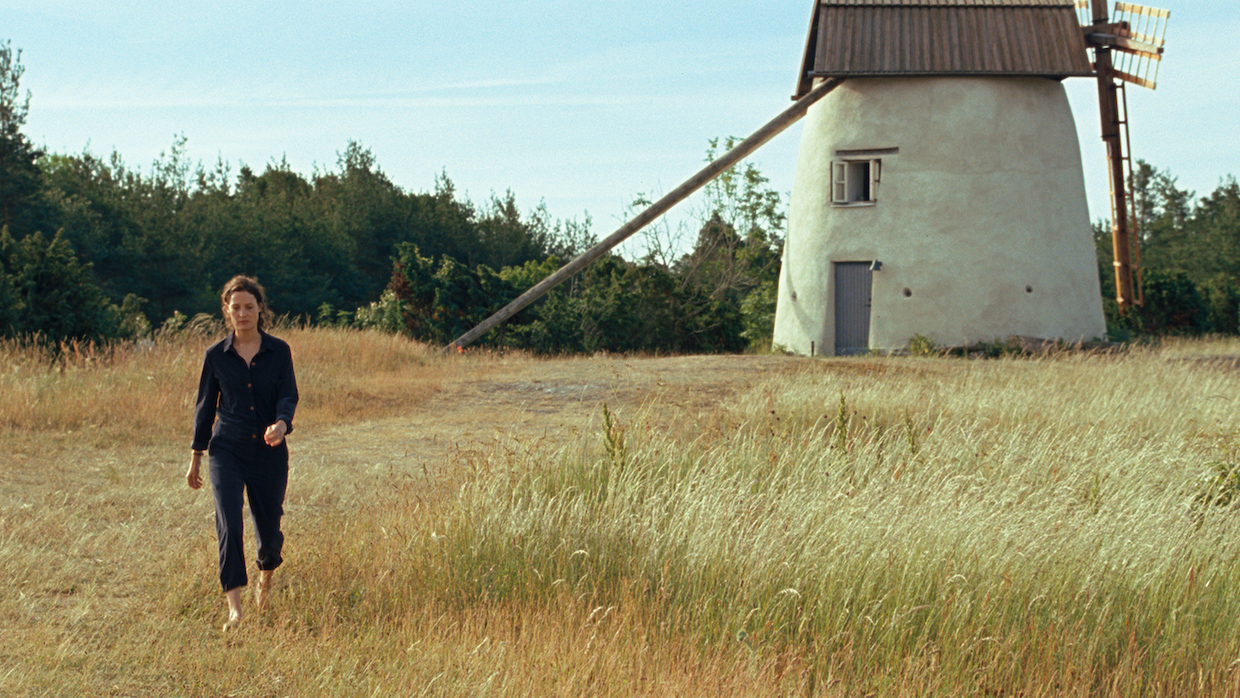 Vicky Krieps in Bergman Island
"I am not really necessarily interested in performance, per se, but in emotion," Ryûsuke Hamaguchi told Vadim Rizov back in 2019 when asked how meaningful the work of Jacques Rivette was to him. The answer went on to more or less say "not very," which is even more incredible now that his new three-hour Murakami adaptation, Drive My Car, has landed, so absorbed with the art and nuances of rehearsal and performance that the French New Waver will inevitably be the default assumed touchstone once again. Indeed, Drive My Car is, along with its 40-page source material (found in Murakami's 2014 short stories collection, Men Without Women), a film about loss, grief and recovery, but its central thematic concern is role-playing—on the stage, and in one's relationships with lovers and family. Thus, Hamaguchi and co-writer Takamasa Oe ask their protagonist, actor and stage director Yusuke (Hidetoshi Nishijima), to step out of the red Saab 900 Turbo that Murakami kept him confined to, and devote what must be nearly half of the film's welcomely bloated running time to engaging with some detail or other of the theater production process as Yusuke attempts to stage Chekov's Uncle Vanya at a theater festival in Hiroshima. This includes story development (which for Yusuke's late, adulterous screenwriter wife, Oto, is a step best initiated by love-making), auditions and line readings with the actors—the latter of which deliberately resist emotion (which is also Hamaguchi's own rehearsal process). Yusuke is known for his distinct methodology, and he teaches his cast (and Hamaguchi, in turn, his film's viewers) to ingest the rhythm of the lines first, forwarding his belief that ingesting the pace of the dialogue is essential for gaining access to the material's deeper intensities.
Unsurprisingly, Hamaguchi introduces several other significant narrative interventions and additions. There's a new, world-building prologue set in Tokyo that fleshes out Yusuke's erotic working relationship with Oto (whose name, fittingly, means "Sound") and delays the film's opening credits to somewhere around its 20-minute mark. The cast of the Uncle Vanya production is now linguistically diverse, including among its Japanese-speaking cast members a Taiwanese woman who must get by with her English, and a mute Korean actor who performs all of her lines using sign language; silence and long pauses, huge devices in Drive My Car, compound its sensuous relationship to time and tempo. And though it feels like a minor change, Hamaguchi reworks the reasoning behind the hiring of Misaki (Toko Miura) to drive Yusuke's car—her duties are now forced on him by his festival, no longer a response to Yusuke's glaucoma—and also de-emphasizes Yusuke's concern over the fact that she's a woman, which had been a pointed component of Murakami's investigation of Japanese gender dynamics. Misaki, of course, ultimately remains key to the film's heart, as her deadpan silence and a late swerve into her backstory allow the film's conceptual and emotional threads about role-playing to come full circle. Hamaguchi is a terrific dramaturg, already one of the best working today, and while I do think he erred in letting so many of the film's philosophical angles be stated during the final act, the film's penultimate scene rescues it. Chekov's language is translated into silence: words as physicality, gestures as signs, channeling something that approximates a real thing.
As it was with Hamaguchi's other terrific 2021 film, Wheel of Fortune and Fantasy, I suspect Éric Rohmer's name (and, by extension, Hong's) will be brought up frequently in discussions of Mia Hansen-Løve's introspective and delightful Bergman Island. Set and shot in Fårö, the Swedish island where director Ingmar Bergman lived and worked for the latter half of his life and career, the film stages a late stretch of her 15-year relationship with now-ex Olivier Assayas, thus continuing her ongoing project wherein she dramatizes formative memories and observations from her life. Thirty-something Chris (Vicky Krieps) and sixty-ish Tony (Tim Roth) are their stand-ins, who travel to the island for a retrospective spotlight on Tony's work. The two sleep in the bedroom where Bergman shot most of Scenes from a Marriage (1973), which as their host reminds them, "has made millions of people divorce," just in case anyone watching this movie wasn't sure where we're headed. The two watch a 35mm print of Cries and Whispers (1972) in Bergman's personal movie house, to which Chris responds, "I hope he had more fun in his life than in his movies"—both an entirely agreeable reply to that movie, but also an arrow pointing toward Bergman Island's interests. While this movie is indeed a lamentation for a partnership in twilight, it is rather more concerned with the process of translating personal experience into art for the masses. As Tony sightsees on organized tours and screens his work for tourists and hardcore fans ("You are probably my favorite movie director," he's told in between autograph signings), Chris struggles to finish a new screenplay and escapes for imprompt excursions with island resident Hampus (Hampus Nordenson). 
Hansen-Løve's storytelling mode is expressive and, per usual, marked with ellipses. Shot durations and camera movements feel spontaneous and prone to unexpected brevity, which intensifies the feeling of memory—cinema as mnemonic device clinging to something fading. Because the characters' professions as image-creators is so centralized, the film can't help but introduce a meta-fictional angle. Chris, at a block with her screenplay, tells Tony the story in hopes that he can help her find an ending. Thus begins the film's second half, with new actors (Mia Wasikowska and Anders Danielsen Lie) in ostensibly just-as-autobiographical roles, with Chris narrating the events to Tony in voiceover. I won't spoil the events that unfold in this film within the film, but the structural conceit works like a charm, as psychological implications and questions of interpretation explode from every decision and difference—a wellspring of meaning and sentiment, as messy and irrational as the real thing.