Back to selection
All That Breathes and Fire of Love Lead 16th Annual Cinema Eye Honors Awards Winners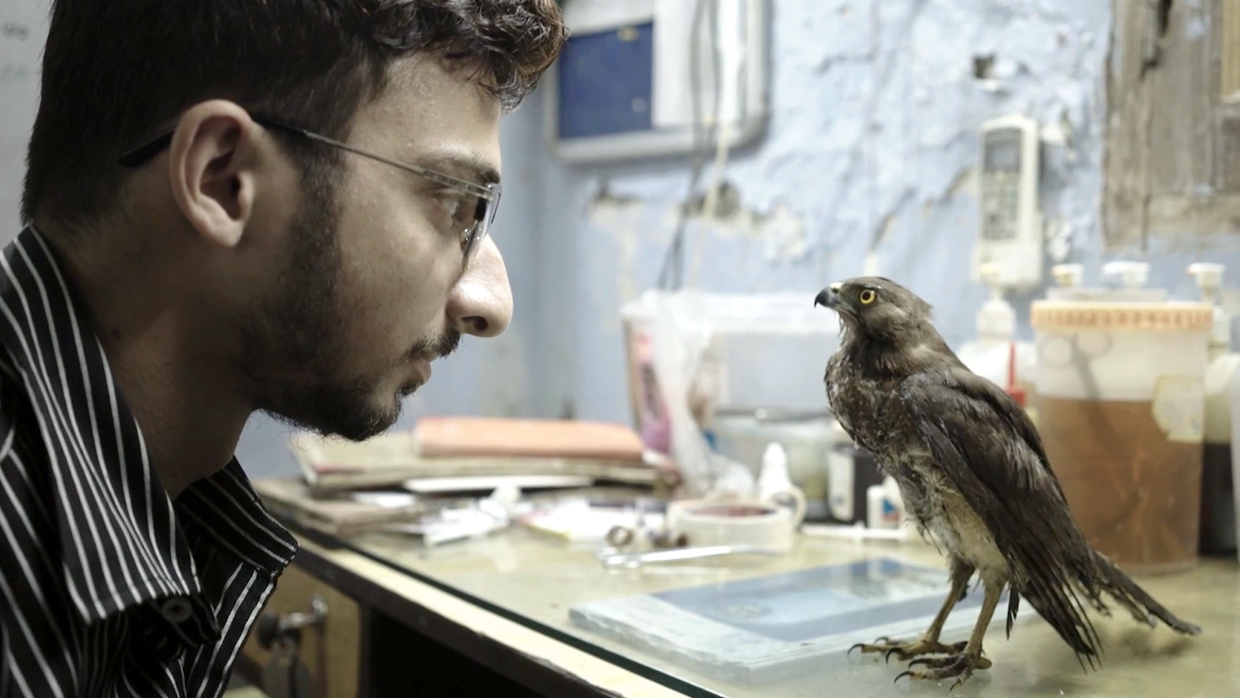 All That Breathes
The winners of the 16th annual Cinema Eye Honors Awards, which recognizes excellence in nonfiction filmmaking, were announced last night during an in-person ceremony at the Museum of the Moving Image in Astoria, Queens.
All That Breathes, Shaunak Sen's Cannes-winning documentary, took the top prize in the Outstanding Achievement in Nonfiction Feature Filmmaking category as well as nabbing an award for Outstanding Achievement in Cinematography. Yet Sara Dosa's Fire of Love took home more wins overall, winning in categories Outstanding Achievement in Editing, Outstanding Achievement in Original Score (by Nicolas Godin of French electro duo Air) and tying with Brett Morgen's Moonage Daydream for Outstanding Achievement in Sound Design. 
Last night's ceremony also featured a tribute to documentarian Julia Reichert, of who passed away in December. Steven Bognar, her husband and longtime filmmaking partner, shared insight on Reichert's love for the medium and the community it fosters. 
Also honored at the ceremony was Terry Zwigoff, who received a Legacy Award for his 1995 film Crumb, which follows underground cartoonist R. Crumb. While Zwigoff could not be there in-person, he sent his regards from San Francisco and will be bestowed with the award later this year at Los Angeles's newly-reopened Eagle Theatre. 
Find the full list of winners below.
Outstanding Achievement in Nonfiction Feature Filmmaking
All That Breathes
Directed and Produced by Shaunak Sen
Produced by Aman Mann and Teddy Leifer
Outstanding Achievement in Direction
All the Beauty and the Bloodshed
Laura Poitras
Outstanding Achievement in Editing
Fire of Love
Erin Casper and Jocelyne Chaput
Outstanding Achievement in Cinematography
All That Breathes
Ben Bernhard and Riju Das
Outstanding Achievement in Production
Navalny
Odessa Rae, Diane Becker, Melanie Miller and Shane Boris
Outstanding Achievement in Original Score
Fire of Love
Nicolas Godin
Outstanding Achievement in Sound Design
Moonage Daydream
Samir Foco, John Warhurst and Nina Hartstone
Outstanding Achievement in Visual Design (tie)
Fire of Love
Lucy Munger, Kara Blake, and Rui Ting Ji
Moonage Daydream
Stefan Nadelman
Outstanding Achievement in a Debut Feature Film
The Territory
Directed by Alex Pritz
Audience Choice Prize
Navalny
Directed by Daniel Roher
Outstanding Achievement in Nonfiction Film for Broadcast
Chernobyl: The Lost Tapes
Directed by James Jones | HBO Documentary Films/HBO Max
Outstanding Achievement in Nonfiction Series
Black and Missing
Directed by Geeta Gandbhir and Samantha Knowles | HBO Documentary Films/HBO Max
Outstanding Achievement in Anthology Series
How To with John Wilson (Season Two)
Nathan Fielder, Michael Koman, Clark Reinking and John Wilson, Executive Producers | HBO
Outstanding Achievement in Editing in a Nonfiction Film or Series for Broadcast
We Need to Talk About Cosby
Meg Ramsay | Showtime
Outstanding Achievement in Cinematography in a Nonfiction Film or Series for Broadcast
Playing With Sharks
Michael Taylor, Judd Overton, Nathan Barlow and Toby Ralph | Disney+
Outstanding Achievement in Nonfiction Short Filmmaking
Nuisance Bear
Directed by Jack Weisman and Gabriela Osio Vanden
Legacy Award 
Crumb
Directed by Terry Zwigoff
Heterodox Award
Aftersun
Directed by Charlotte Wells
Spotlight Award
Master of Light
Directed by Rosa Ruth Boesten