Back to selection
"Really Great DIY Energy From the Beginning": DP Matthew Pothier on Mutt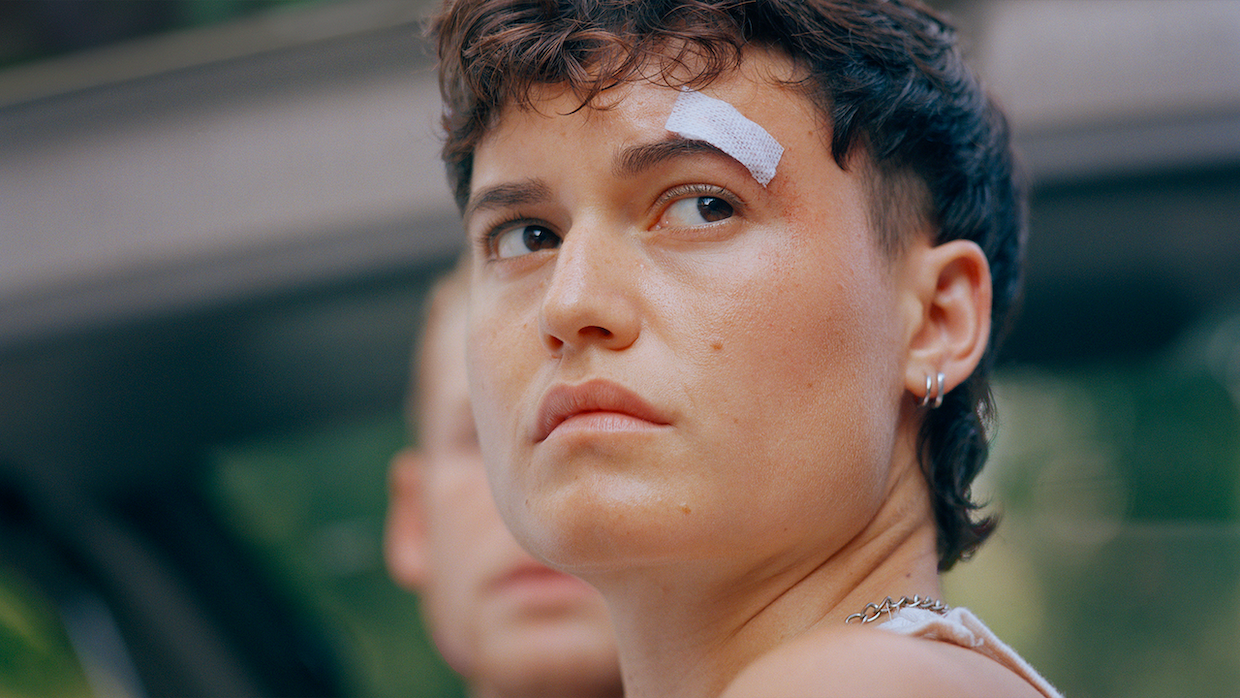 Lío Mehiel in Mutt.
In writer-director Vuk Lungulov-Klotz's film Mutt, a young trans man named Feña (Lío Mehiel) travels all around New York City during one particularly hectic day that brings forth unexpected relics from his past. Cinematographer Matthew Pothier tells Filmmaker about the process of shooting this project, including a lighting hack he adopted from the NYPD.
See all responses to our annual Sundance cinematographer interviews here. 
Filmmaker: How and why did you wind up being the cinematographer of your film? What were the factors and attributes that led to your being hired for this job?
Pothier: One of the producers had seen a short I had in Sundance last year called Starfuckers and thought I would be a good match! I was really excited to see that Cole Dolman was attached to this project as he was someone I had worked with the previous year (on Starfuckers) and was blown away by their dedication to film. Also the director Vuk was so passionate about his project. They were actually a full time gaffer, so their ability to scrape together some dedicated crew from the ground up was really special and inspiring, just some really great DIY energy from the beginning. 
Filmmaker: What were your artistic goals on this film, and how did you realize them? How did you want your cinematography to enhance the film's storytelling and treatment of its characters?
Pothier: My main artistic goal was to get out of the way as much as possible and try my best to see everything from the director's point of view. As a cis man I thought it was really important from the beginning to act more as support to Vuk and team in order to truthfully as possible represent their personal experience. Vuk was an amazing collaborator in this way and really let me into his life both creatively and emotionally, an experience I hold with equal value to the actual film itself. 
Filmmaker: Were there any specific influences on your cinematography, whether they be other films, or visual art, or photography, or something else?
Pothier: We watched and talked about many movies, but Fish Tank and Beach Rats were the two we talked about the most even though we mostly ended up avoiding handheld. 
Filmmaker: What were the biggest challenges posed by production to those goals?
Pothier: It was many of ours' first feature—director, producers, and myself included—so the nature of that, with a micro budget and a ton of tiny Brooklyn locations, made for a really challenging shoot on all levels. I can't give enough thanks to all of the different departments who most of the time were as small as one person, they all did the work of entire teams. 
Filmmaker: What camera did you shoot on? Why did you choose the camera that you did? What lenses did you use?
Pothier: We shot on an ALEXA Mini with Sumicrons and a 50mm Leica Noctilux t.95. We shot probably 80% of the film on that 50mm. Other than the Noct., we chose that gear because it was free or highly discounted. 
Filmmaker: Describe your approach to lighting.
Pothier: Our G/E team was our gaffer Clemence and our KG Keiren by themselves for 90% of the shoot—huge thanks to them for moving mountains. Our most used light was the LiteMat 4, usually draped in loose muslin fabric and hanging from a menace arm or a ceiling. We also used lots of Lekos bounced into MUS for night interiors. For the scene when Feña and John are reconnecting in the park we had to figure out a way to light a huge park with very little money. Vuk and I had been biking around Brooklyn scouting for two weeks prior to the shoot and we noticed that the NYPD loved to use these mobile security lights all over the city, so we borrowed that idea and lit the entire park scene with this really beautifully ugly halogen industrial crank lamp. That was fun. 
Filmmaker: What was the most difficult scene to realize and why? And how did you do it?
Pothier: We had to shoot a ton of really tiny and ugly NYC bathrooms; the most difficult day mentally was when we shot an employee bathroom at a divey restaurant in Bushwick/Ridgewood. It had a pipe that was dripping what I hope was just water on us and our camera. We overcame by gaff-taping tampons the props department had for that scene to the leaky pipes. There are some pretty funny BTS photos somewhere out there.
Filmmaker: Finally, describe the finishing of the film. How much of your look was "baked in" versus realized in the DI?
Pothier: We shot with a 250D emulation LUT that I had built in pre-pro. But due to some unfortunate issues with delivering footage to the color house that plan sort of went out the window. Huge thanks to the amazing Joseph Bicknell who was able to grade this entire film in a day and a half before the winter break and in five really fast supervised hours. A testament to his tremendous skill as a colorist.  
TECH BOX
Film Title: Mutt
Camera: Alexa mini 
Lenses: sumicrons, Leica noctilux 
Lighting: litemat 4s and lekos 
Processing: Joseph Bicknell and CO3