Back to selection
"Our Goal Was To Show the Region as We Appalachians See It, As a Place Full of Complexity and Grandeur": DP Curren Sheldon on King Coal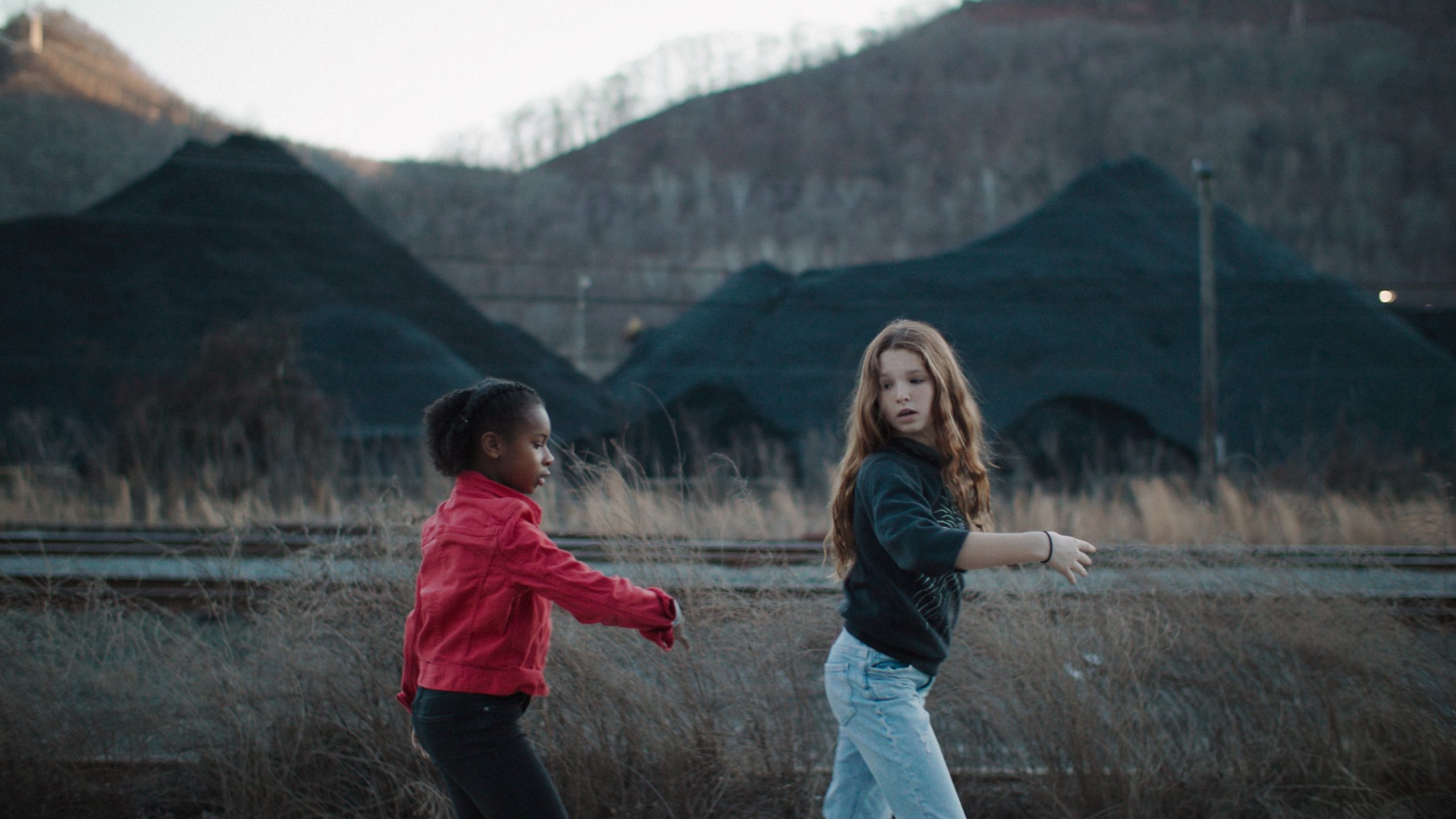 King Coal
In Sundance NEXT selection King Coal, Elaine McMillion Sheldon employs a hybrid approach, blending contemporary imagery with archival material and poetic voiceover to explore the impact that coal — the substance and the industry — has had on Central Appalachia. Below, DP Curren Sheldon discusses his collaboration with Sheldon on the picture.
See all responses to our annual Sundance cinematographer interviews here. 
Filmmaker: How and why did you wind up being the cinematographer of your film? What were the factors and attributes that led to your being hired for this job?
Sheldon: King Coal's director, Elaine McMillion Sheldon, and I have collaborated on many projects and she is also my wife, so we have a great working relationship. For this film specifically, Elaine started shooting coal-related events — coal pageants, coal memorials, coal museums, etc — around Appalachia in 2019 before she decided she wanted the film to become a more imaginative rendering of the region in 2020. That's when I officially came on-board for the last two years of production, with the goal of elevating the visuals to reflect the magical realism elements that she was pursuing in the film.
Filmmaker: What were your artistic goals on this film, and how did you realize them? How did you want your cinematography to enhance the film's storytelling and treatment of its characters?
Sheldon: The film truly explores two aspects of Appalachia: the cultural rootedness of coal and the inherent beauty and magic of the region. As such, we wanted to showcase these worlds in two distinct ways: the cultural events around coal were shot in a locked down, unmoving, and stark manner, while the natural beauty of the region and the daydreams of our protagonist, Lanie, were shot more fluidly and exploratory. The region is often portrayed as destitute and bleak, so our goal was to show the region as we Appalachians see it, as a place full of complexity and grandeur.
Filmmaker: Were there any specific influences on your cinematography, whether they be other films, or visual art, of photography, or something else?
Sheldon: Elaine's research for this film was nothing short of staggering and she already has a lifetime of personal experience to draw from. She had hundreds of references, from film and photography, to poetry and dance. There wasn't any specific artist or style that we wanted to emulate, but the ingestion of such an array of influences surely had an impact on how we approached our visuals. Elaine also collaborated with a very diverse group of artists — choreographers, ballad singers, breath artists, etc — that all directly or indirectly influenced my own process. Maya Deren's film At Land was a film we referenced when thinking about how our protagonist would move between seasons — using a single frame as a way to jump between landscapes. Guillermo del Toro's Pan's Labyrinth was another film that got our wheels spinning about the juxtaposition of color design between darker realities and imagined fantasy spaces. Jaromil Jireš' film Valerie and Her Week of Wonders also taught us a lot from a tonal and art direction perspective as we studied the complicated portrayal of the young protagonist in their surreal world. And last, but not least, the fluidity of a film like Bombay Beach by Alma Har'el is one that has been a reference for Elaine and I for since we experienced it a decade ago.
Filmmaker: What were the biggest challenges posed by production to those goals?
Sheldon: We really tried to push ourselves creatively and conceptually with this film, which resulted in some amazing breakthroughs, but also some shoots that just didn't work out as we hoped. Elaine and I have always shot with a very lean team, often just the two of us, and while King Coal was blessed with more collaborators than any of our previous work, we were still small enough to be daring without eating up our entire budget. No matter how much you try to eliminate the variables, real life happens and, as filmmakers, it is our job to react accordingly. It was often the unexpected moments or the ostensibly aimless wanderings that resulted in some of the most impactful images in the film. Many final moments in the film are only a snippet of the real scene that took place, as this entire film was unscripted and truly found in the edit.
Filmmaker: What camera did you shoot on? Why did you choose the camera that you did? What lenses did you use?
Sheldon: We shot on the Canon C300 Mark III and Canon C70. I've used Canon as my go-to documentary package for years and it is what I own and use most often. Both cameras have the same sensor but can be used in different ways, so they are a great complement to one another. Elaine and I experimented with style, tone, and imagery more in this film than any of our past collaborations, so it was great to have a couple versatile camera systems that were fast, easy-to-use, but still produce a beautiful image. In the sub $15k arena, there really is nothing that can produce an image like the C300 III and C70's DGO sensor.
Filmmaker: Describe your approach to lighting.
Sheldon: We filmed almost the entire film in natural light and so we made sure to shoot either early in the morning or in the evening whenever possible. A typical shoot day would often mean getting up early, shooting for a few hours and then taking an extended break before going back to shoot in the evening. Of course, we were also at the mercy of when certain events took place, but even those events often happened during those golden hours of the day. I've spent my entire career filming unpredictable moments, often outside, and now pride myself on being able to capture a powerful (or at least usable) image in any lighting or weather condition. We sought out the incredible Appalachian light that filters through storm clouds or the dense morning fog to really transport audiences to this place we love.
Filmmaker: What was the most difficult scene to realize and why? And how did you do it?
Sheldon: By far the most difficult shoot was the final scene of the film: a memorial for an imagined king. The planning for that scene was more akin to planning a public festival, than a scene for a film.  It was an orchestrated event that required the participation of 80+ attendees, two dozen speakers, a bonfire, a giant feast, a call and response ballad, and more. While Elaine and her producing team put the event together, we didn't control the actual event once it got started, so it was up to us to capture the two-hour event live as it was happening. Once the event began, we never stopped the action — there were no retakes, no script. We brought in extra camera — Sean Hanley and Mark Trent – and boom operators to make sure we covered the scene as well as we could. With quite a few moving pieces, no real chance for do-overs, tons of speakers, and lots of variables, I had to coordinate our production team to make sure we were all on the same page, dodging each other's frames, and capture the emotion of the moment. To make things more difficult, it poured the rain in the minutes before the shoot. We watched the weather radar and started filming when we saw a break in thunder. We had to keep an eye on what the weather was going to throw at us, with lightning being our concern as we were filming on top of a mountain in West Virginia. It was an incredible challenge for the entire team, but was a great success. Truly one of the more impactful moments of my career.
Filmmaker: Finally, describe the finishing of the film. How much of your look was "baked in" versus realized in the DI?
Sheldon: We were pretty specific about the lenses we chose for the film so, in that way, a lot of the look of the film was baked into the footage itself. To heighten the magical realism elements of the film, I tested a variety of vintage and modern lenses to find the look we were after. We settled on the Voigtlander Heliar Classic, which is a modern design but has an incredibly unique out-of-focus rendering that, when paired with a 1/8 pro mist filter, gave us exactly the look we wanted. Unfortunately, Voigtlander only makes a 50mm version of this lens, which gave me a pretty tight field of view on the Canon C70's Super35 sensor. If Voigtlander is reading this, I would very much like a 24mm or 35mm version of this lens. After we locked, we worked with colorist Luke Cahill from Different By Design to complete the look of the film and he was instrumental in making the images pop and the world come to life.
TECH BOX
Film Title: King Coal
Camera: Canon C300 Mark III, Canon C70
Lenses: Zeiss CP3, Sigma Art, Voigtlander Heliar Classic
Lighting: Natural
Color Grading: Different by Design, Luke Cahill