Back to selection
Filmmakers Explore the Intersection of Arts and Social Justice at VCFA (Sponsored Post)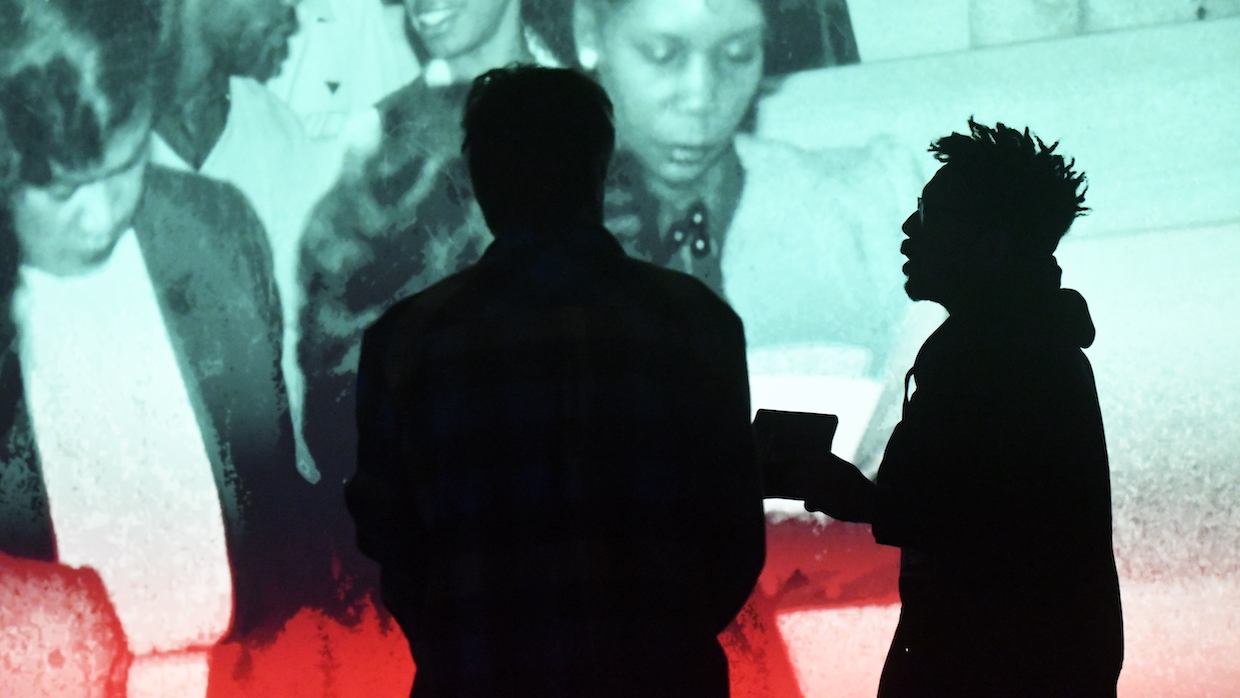 Visiting Filmmaker Damon Davis (VCFA Film '20) discusses the history of Black filmmaking during Residency (photo by Stephan Hard)
Students and alumnx of the Vermont College of Fine Arts MFA in Film have been honored by the Center for Arts + Social Justice (CASJ) with fellowships in support of their groundbreaking activism and award-winning work, which brings social issues to a global audience. CASJ recognizes projects that show an indelible commitment to social justice, and creators who seek to inspire community-based change through the arts.
Jen Gilomen '23: Maternal health advocate investigating systemic injustices
Brought about by Gilomen's own birth experience, Delivering Justice explores maternal mortality and the maternal healthcare crisis in the United States, which disproportionately affects women of color. Gilomen developed this film as part of a focused, self-determined curriculum and reflects on the origin and impact of her work:
I am drawn to stories of underdogs, particularly those who are trying to make change in the world and whose stories are symbolic of larger systemic social issues. I'm curious about and inspired by people who push ahead to make change on seemingly intractable issues, especially 'regular' people who lack power but work to create it for themselves and their communities. These make for classic stories, protagonists battling systems in pursuit of a goal.

I have a strong desire for fairness and justice. I've explored queer families, histories and refugees, climate change and its impact on communities, immigration through the eyes of youth, and most recently maternal healthcare, with projects often shaped by my collaborations with other filmmakers, organizations, and the people featured in my films.

I make films on these issues for strategic reasons: to highlight stories of hope and show a path forward. I think if we can witness change being made, especially when it is regular people doing it on behalf of their own communities, it feels more doable for the rest of us to participate.
Callie Newsom Doyle '24: Trans community member advocating for mental wellness
Exhale is a series of four short films that center around a personal experience of mental health during each season. Designed in dialogue with faculty mentors as an installation piece, viewers are intended to move around a room to view all four shorts, changing space as the season changes. With the support of this fellowship, Callie Newsom Doyle has created a deeply personal work that explores mental health, trauma, and acceptance:
66% of trans people will experience sexual trauma. That number is too high, and isn't talked about enough because trans people are aggressively marginalized. My goal with this project is to create a space where people can discuss these heavy topics with zero judgment and in a non-exploitative manner. Trans people exist, and their trauma is very real, and it should be talked about, but it also isn't the only part of our identity. The Four Seasons captures the high and low arcs that I go through in a year and encapsulates what one specific trans person experiences while also opening the door for other trans people to discuss what their experience looks like.
Brad Bailey '22: Reassessing representations of underexposed communities
Underexposed is one way to describe the black and gay communities of the AIDS crisis, which the rest of the world tried not to see. Marlon Riggs brought visibility to these communities in a way that deserves documentary attention and reflection according to Brad Bailey, whose prior film Hale won the Student Academy Award in 2017:
Marlon Riggs was one of the most prolific documentary filmmakers of the late 20th century. His films were a bold and bracing look into the peak of the AIDS Crisis and other challenges for people of color during the late 1980s and early 1990s. His work was controversial and became a lightning rod for the culture wars of that era. My graduate thesis film will look at the legacy of that work and will also assess its relevance for today's America.
Join the program and community that helped to shape and support these filmmakers' groundbreaking work. Faculty mentorship, customized study plans, and flexible learning from home: VCFA's MFA in Film can help you take your skills and career to the next level.