Back to selection
Lixin Fan, Last Train Home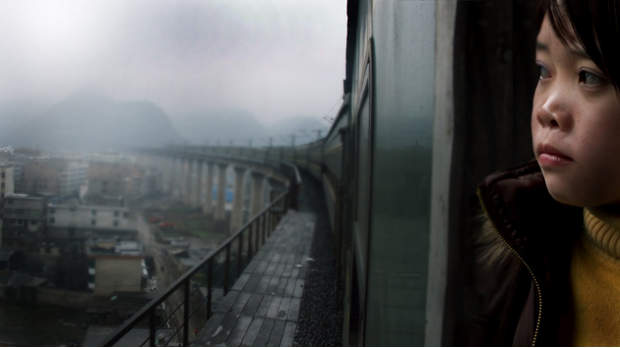 Not many first-time independent filmmakers land a coveted spot in the Sunday arts section of The New York Times and an interview on The Leonard Lopate Show. But 33-year-old Lixin Fan, a Chinese-born Canadian immigrant who splits his time between Montreal and Beijing, has generated a lot of interest among editors at major dailies and business publications alike for his documentary Last Train Home, a film about the annual New Year's pilgrimage of 130 million migrant workers from Guangzhou province to their homes and seldom-seen families in the rural provinces. China's status as an economic powerhouse regularly makes front-page news, along with stories about the country's ongoing struggles to manage crises that seem to grow directly out of frustrations among its most disenfranchised. Recent docs have explored the heady, often devastating changes wrought in China by warp-speed industrialization and the construction of the Three Gorges Dam (the largest civil-engineering project in world history), including Jennifer Baichwal's Manufactured Landscapes and Yung Chang's acclaimed Up the Yangtze, which Fan helped produce. But Last Train Home, which won Best Feature Documentary at IDFA 2009 and has screened at numerous festivals including Sundance, New Directors/New Films, and the Los Angeles Asian Pacific Film Festival, is a more intimate look at the new era of outsize industry.
For this engrossing, beautifully shot film, Fan spent three years trailing Zhang Changhua and his wife, Cheng Suqin, migrants who've toiled for over a decade in factories on the southeastern coast, leaving their two children in the care of their grandmother. Their lives are defined by grueling 14-hour work routines and the drive to save the pittance they earn manufacturing products for export to the U.S.  The decision to ride the train home for the New Year brings a different kind of misery, as the couple find themselves stranded at the station with tens of thousands of people, all fighting for a chance to climb aboard coaches that may never arrive. Back home, the Zhangs' sullen teenage daughter Qin, resentful of her parents' long absence and eager to earn money instead of completing her education, turns their rare New Year's visit into an unpleasant reckoning. Last Train Home is a forlorn portrait of dislocation and familial strife that's intimate and often discomfiting, yet heart-wrenchingly humane in its concerns.
Filmmaker spoke to Fan (who also shot and edited much of the film) in August while he was in New York to promote Last Train Home, which Zeitgeist Films releases on Friday. He talked about growing up in China, shooting amid crowds of desperate travelers, and the conceptual origin of his visual style.
Filmmaker: Where did you grow up in China, and what was it like at the time?
Fan: I grew up in Wuhan, in central China. The Yangtze River ran through my hometown, so I was born and raised there. I studied English at university and later became a cameraman for a local television channel. That's how I got into this media world. I was born in the '70s, so when I grew up China was really experiencing a profound change. The country was opening up and embracing market economy as opposed to central planning. I remember when I was younger we used to go this big state-owned factory to play with our maids, but in the early '80s, they all went bankrupt and got privatized.
Filmmaker: What kinds of projects were you working on at CCTV?
Fan: I was on the news team at CCTV's English channel. I was cameraman so I got to travel quite a lot across the country, oftentimes to remote areas, poor villages, much less developed parts of the country. Whenever I travel and get back to Beijing, it's really a sharp contrast for me to experience. I think that's essentially what brought me to make this film about migrant workers, because I do feel this disparity between rich and poor. Migrant workers are the cornerstone behind this Chinese "economic miracle." In a way, they're denied what they deserve compared to [what] their contribution [is]. They have to bear family separation, they work very long hours in poor conditions, and they get paid so little. Since they don't have Medicare or retirement or any social support, they have to save every penny, send it back to support the family, and be prepared for an emergency. I felt this was not right.
Filmmaker: So your interest really stems from the projects you were already doing for television. What motivated you, coming out of the work you did on Up the Yangtze, to make a film yourself?
Fan: For Up the Yangtze, I was associate producer, but also the sound recordist. So most of the time, I was in the field working side by side with the director, Yung Chang, a good friend. I had always been on the creative side in terms of documentary filmmaking. I edited another doc called To Live Is Better Than To Die, on China's AIDS problems, a few years back. But making my own feature film has always been a dream for me, because I grew up in a film projectionist school.
Filmmaker: As a student, you mean?
Fan: My mother worked as an accountant at a school for projectionists, so we grew up on the campus. I can still remember that we used to have a huge white screen—someone would hang a piece of cloth on the basketball court—and everyone would bring their own stools. We'd watch movies at night, and the kids would run around screaming and playing games. Those memories had an impact on my enthusiasm toward film.
Filmmaker: What kinds of films did you see?
Fan: Mostly Chinese films, in the '80s. Even today, China has pretty strict film censorship, on production as well as [exhibition], so we don't get to see a lot of arthouse imports or commercial films. But over the past ten years, Chinese audiences are starting to see more Hollywood films in the cinemas.
Filmmaker: How deep were you in developing Last Train Home before you decided to focus on one family?
Fan: I was always very sure that I would focus on one family. In my research, I went down to Guangzhou and walked around many factories. I talked to lots of migrant workers and tried to get their stories–and find my subject. I wanted to find someone whose story could help me explore different aspects of this complicated social issue. I was lucky to get to finally know the Zhangs, because the family drama that was to come in the next few years really helped us explore the core of this migration, how the economic reforms impacted individuals on a personal level, and how it changed the family structure and their social values.
Filmmaker: Did the Zhangs understand what it was you were trying to achieve on that scale, or did they just assume you were interested in them as people?
Fan: I don't think they had the same understanding as I did of the subject. I didn't know how long I was going to film [them], maybe a year. In the beginning, they were a little hesitant, because of course it's a big commitment to open up your life to a film crew. I told them, "I'm not making this film just for myself; it's not about you, as well, it's really a film about 130 million migrants, your fellow workers, [who] are so essential, so important to this country. [With] all the frustration you have to face day to day, I do feel the urgency for us to work together." To that extent, I think they really understood, and I think they appreciated it.
Filmmaker: Qin, the teenage daughter, is really fascinating, and she's obviously very important for the story you tell. It's very hard to see her struggling with her family, especially in the scene where she has the altercation with her father. I wonder if you had ethical quandaries about capturing that moment on film, and also whether you think she typifies her generation in some way.
Fan: Yes. Qin's generation grew up when the country had already experienced profound changes–the society is much more open. They grew up watching American TV shows, they have the Internet, and McDonald's. In the countryside they don't, but they at least know it's a different world out there. They are embracing individualism. Another contributing factor is China's family planning policies. Every family has one child, and obviously, kids tend to be spoiled. So it's: The world is about me. As for the confrontation, I felt I was between a rock and a hard place. On one hand, you have documentary filmmaking ethics, and on the other, just very basic human emotion. We'd been two years together at that point. I felt like part of the family. And it's very hard for me to watch the family fight and not do anything. Then again, this is a terrific scene that reveals so much conflict in this family and also in society. I couldn't afford to lose it.
Filmmaker: It was interesting to me that Qin continued to let you film her after that incident. She must have trusted you a lot.
Fan: Yeah, she trusted us and she made friends with the crew. I think she felt alone in her life. She was brought up by her grandparents, and the dearest person in her life, her grandfather, had passed away. She felt abandoned by her parents, so she needed a friend, she was 16. After she left home, she started working and it wasn't as ideal as she thought it would be, to make her own money and enjoy freedom. It's very hard to make friends in the migrant worker community because job opportunities are insecure. When business is slow, they fire all the workers. So they move wherever they can find work. Everyone feels lost in that crazy factory world. It's very sad.
Filmmaker: I think it's good for American audiences to see a scene like the one where the factory worker is holding up the jeans and saying "We're making these for all these fat Americans. No one has a waistline of 40 in this country." It really engages with that larger system of exchange where Western consumption habits condition workplace environments in the East.
Fan: Lots of audience members at festivals approach me after screenings. They feel that somehow their life is connected to the lives of migrants on the other end of the world, and they're always asking what they can do. That's a positive thing. After all, we all live in this global village, and our lives are connected. Stuff is so cheap here in the States, way cheaper than what you'd need to spend in China for the same product. Why is that? Someone has to be paying the price. Not just working long hours in poor conditions but being separated from their families for an entire year.
Filmmaker: It would be unthinkable here.
Fan: Yeah, it would be. I'm encouraging audiences to think about what they can do to make the world a better place.
Filmmaker: I really enjoyed and found quite beautiful so many of your establishing shots, the panoramic views of the city, the train running through those long, snowy mountain passes. These really give us a sense of the expanse of the country. They also brought to mind the work of other filmmakers, especially Jia Zhangke. Do you keep up with currents in contemporary Chinese cinema?
Fan: He's one of my favorite filmmakers. Obviously, I admire his style and visuals. I like The World very much. We were doing these almost still beauty shots. In a sense, I'm trying to capture rural China, a China that hasn't changed. The economic impact hasn't really reached those rural lands yet so I wanted to capture those. Also, these shots do help me to build a contrast between two worlds that are coexisting in China, two kinds of lives that you can see in this torrent of change. When you go to the countryside, it feels timeless. I think the grandma is a terrific character because she's always so calm, and she tells the stories of her age that bring us back thirty years to what this country had come from. After seeing this beautiful countryside and then these smoky cities, I was hoping the audience would ask, why would these people leave?
Filmmaker: Have you seen Manufactured Landscapes?
Fan: Yes, and I've met Edward Burtynsky. He saw the film, and I think he liked it. He said only a [native] Chinese could make a film look like this! But I do want to give credit to my DP, Shaoguang [Sun Sun], he's great, very cool. For three years, we fought [through it] side by side. [Laughs] I shot part of the film, and I think we kept a similar tone pretty well.
Filmmaker: It must have been insane filming on the train platform during the New Year's exodus.
Fan: Indeed. Shaoguang held his camera so steady as we fought through the crowd to get to the train. From the shots, it's as if he and the camera are one. So yeah, it was chaotic. It was during a big snowstorm that hit the railways, and 600,000 people got stuck there for a week. Police and soldiers were there, trying to keep the order, which brought us to the bigger question of, Would this migration ever end?
Filmmaker: They're also coping with rising tides of anger and unrest from the rural poor.
Fan: Exactly. After the financial crisis, there's been really big changes in industry. Now the workers are forming—not unions, but organizations—and they're fighting for their rights, which is very encouraging.