Back to selection
"Music Will be a Prism That You Can See the Whole Movie Through": Director Zachary Wigon on Story Beats, Miles Davis and His BDSM-Themed Thriller Sanctuary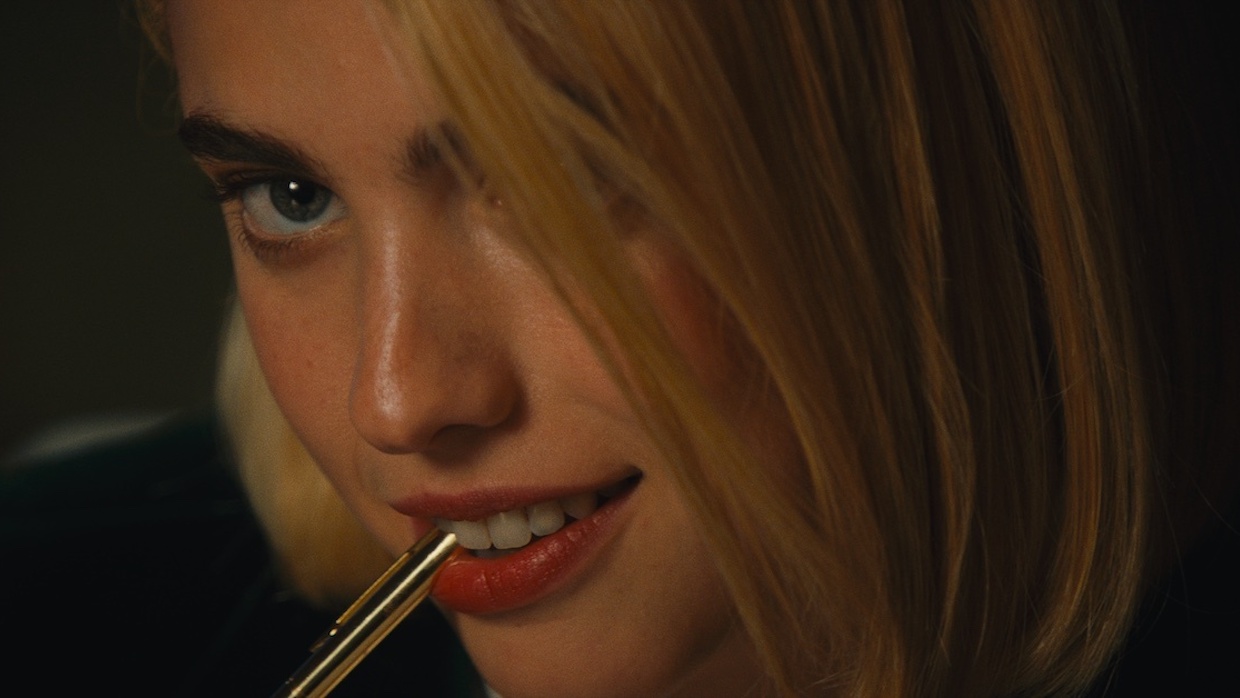 Margaret Qualley in Sanctuary.
The poster for Sanctuary features a blonde Margaret Qualley whispering to a mysterious Christopher Abbott. Its imagery — a seeming femme fatale, an unknowing male prey and all the imagined chaos in between — evokes the height of the cinematic erotic thriller era. But the strength, elegance and wit of Micah Bloomberg's (TV series Homecoming) script and Zachary Wigon's (The Heart Machine) direction is their interest in subverting your (and the characters's) expectations at every step.
In Sanctuary, Abbott plays Hal, a hotel mogul's son and heir. He has ordered a fancy meal to a decadently opulent hotel suite where Rebecca, played by Qualley, awaits with paperwork. They're about to review his capability to take over his father's empire as its new C.E.O. The first few scenes of the film play out in heightened, slightly detached state and you wonder, will this the tone of the entire film? But when Rebecca throws out "the script," we learn she's a dominatrix Hal has frequently hired to act out certain role-playing scenarios for him. She's very good at her job. But with his new leadership looming, it's safer for Hal now if they part ways. As a goodbye gift, Hal offers her an expensive watch, which Rebecca notes, represents meaningless pennies to him. 
The breakup does not go over well, and the film then takes a wild excursion into the psychosexual, emotionally intimate, refreshingly complicated rollercoaster of Hal and Rebecca's relationship as it relates to their own individual needs desires. Now in theaters and on-demand from NEON, Sanctuary explores the space between two people and the infinite possibilities in between. And it does so with a devilish, unexpectedly romantic wink.
With its two-person cast, Sanctuary was impressively shot during COVID over 18 days on a single set. Filmmaker had a chance to sit down with Wigon, who has written for this publication, to talk about crafting the rich visual, musical, and performance elements of Sanctuary. "Often a piece of music will be a prism that you can see the whole movie through," Wigon shares as we dive into conquering tone through a specific Miles Davis track, noted below, that first inspired him. 
Filmmaker: I've been reading a lot of filmmaker biographies lately — currently one on Kubrick. It's interesting thinking about themes filmmakers return to throughout their work, even if it's not on purpose. Growing up in the theater, I've always thought there is so much infinite drama to mine between just two people. I think The Heart Machine explored that, and Sanctuary does, too. Is that a conscious dynamic you're interested in exploring in your work or just coincidence?
Wigon: Probably a little bit of both. I wasn't trying to draw a direct line between The Heart Machine and Sanctuary. There were other projects that I developed in the interim that were quite different and less like about two people in a relationship. I do feel human psychology is the strangest, most interesting mystery — you never really get to the bottom. You can keep digging and digging and digging. 
Filmmaker: It's like an abyss.
Wigon: One hundred percent — the permutations are endless. I guess for me, the most interesting movies are movies that are going into human psychology, representing them in a visually interesting way, and that have something insightful and interesting to explore in terms of what makes us tick. The Heart Machine is trying to look at what makes people tick, specifically of course, in the context of relationships. There must be some interest internally for me in that subject matter, but I don't think about it in those terms. It's more like you're out there thinking about a story that could be good, and then you really try to serve the story as best as you can. 
Filmmaker: Sometimes it's only in retrospect that you look back on someone's films and go, oh, there is a pattern in the work. But then there are filmmakers for whom the process of filmmaking is a catharsis.
Wigon: For me, consciously, that's not what's going on. I try to forget about myself. I think that's one of the things that's interesting about this job is that you get to totally just erase yourself. You're basically just trying to do whatever you can to help facilitate this story making its way into the world. You have your own personal sensibilities and artistic craft toolkit and skillset. But, yeah, for me, part of what's fun about it is like you just sort of forget — your personality disappears when you're working. I remember when I was younger, when I was in college — 
Filmmaker: Did you go to film school?
Wigon: I did, yeah. I went to NYU Film School. There I would be thinking in terms of like, "Well, I want this to happen, so how do I make that happen?" Maybe it works for some people, but for me, [that approach] got me tripped up. What works for me is that there's no, "I want." What I've found effective is starting with the truth of what's going on between these characters , what's going on in their psychologies. How is that going to resolve itself in a way that is interesting, insightful, and true to the foundations of the situation? Stephen King has this great metaphor in his book On Writing. He basically says, "When you come up with an idea for a story, it's like uncovering one bone in a dinosaur skeleton  — one fossil. Then all that you're doing is you're just trying to dust away all the dirt and rock and whatever to reveal what the fossil always was. [What it was] meant to be." That's how I feel about storytelling. It's almost like you have a radio and the connection's not so good, but there's a song that is coming through. You're trying to find a way to make the connection good so you can hear clearly what the song is — it knows what it wants to be.
Filmmaker: I've known Micah Bloomberg's work because he was a sound mixer on great movies for many years. And there is something rhythmic to this movie. When you first read it, did you think, "How do I make this cinema? How do I divide this? Is it like bars of music? Is it chapters?" Is that the way you thought about it? 
Wigon: Yes, exactly. I think movies have a lot more in common with music than they do with literature or even theater. There are elements of those art forms that are in cinema, but I think what makes cinema really work is a kind of mood or affect. Micah is a wonderful writer, and so automatically there's a rhythm to the way that he puts beats together. When you're reading his scenes, you can see very clearly and very easily how the beats break down.
Filmmaker: That's very David Mamet. I kept thinking about Mamet when I was watching it.
Wigon: I think that's absolutely fair. What I'm trying to do is take the rhythm of Micah's writing on the page and transfer that into a movie experience. My thinking about film directing is that there are three axes: how quiet to how loud is it? How light to how dark is it? And how still to how much movement is there? That's your musical register as a film director. So basically you have the beats and then the rhythm of [the] beat. A beat and then a rest beat. We'll show that [rest beat] by everything stopping — the camera stops, movement stops, then things get going again. It's faster and it goes from light to dark. Maybe there's more flipping between light and dark. Maybe it gets loud. You're looking at the script beats, and then you're figuring out how to translate it into these cinema language beats. When you're out of a movie [as a viewer], I think it's because the movie doesn't know what the beat is and you're just floating. When you're tethered or dialed into what's happening in a movie, it's because you're tracking each beat. Whatever the effect is of the beat, you're locked into that — that's where the suspense comes from, wondering how the beat's going to resolve.
Filmmaker: That's a really cool way to talk about it because for filmmakers who haven't directed features, sometimes it's this looming mountain where you're like, how the hell do I understand this whole film? But I think that's helpful when you just focus on every little beat and then you put it together and there's a bigger picture rhythm going on.
Wigon: When you're in the beginning of story development [you ask yourself], "What is the whole story of the movie in two sentences?" You want to be able to hold it in these broad terms, but then once you can hold it in the broad terms, you can get it more expansive. You have the story in two sentences, then you have the story in four sentences.
Filmmaker: What's the story of Sanctuary in two sentences?
Wigon: For me to say my version of that now, I worry that it would be cutting off the potential for other people to sum it up. But it's the beginning, the ending and the journey — that's what you need in two sentences or you wouldn't be able to sum it up. Once you have that in mind and you feel like that's bulletproof, you can basically start going through the story on as micro of a level as you want ,and you have that macro movement to fall back on.
Filmmaker: This was made during COVID and you shot on a sound stage? 
Wigon: It was in Brooklyn, yeah. It was a wild experience. [Micah and I] started developing [the script] in June of 2020, and we were thinking about the restrictions that were in place due to the pandemic. Creatively, I tried to turn the restrictions and challenges of [the pandemic], of being so confined, into an asset —into something that would be liberating. The whole thing takes place in basically this one location — the suite and the hallway outside — and we're doing it all in a stage. It's going to be very, very difficult to make it feel visually cinematic in terms of style, but isn't that a fascinating challenge? By throwing yourself into that, you're going to learn a lot about yourself. 
Filmmaker: I want to ask you about tone. I was at the premiere at Metrograph smack dab front, middle. At the premiere, it was so fun to hear everyone behind me laughing during this specific moment where Hal pouts. That, in a nutshell, is how fun the tone is. What is tone to you? And then how do you go about crafting it?
Wigon: I'm not trying to be coy, but I think that it's hard to put into words. Something that helps me frequently is to listen to a piece of music, and often a piece of music will be a prism that you can see the whole movie through.
Filmmaker: I do that, too. I think about Matt Reeves's The Batman, where Batman is listening to Nirvana's 'Something in the Way' song on repeat. It's woven into the score and everything is built around that song.
Wigon: There was one piece of music, which was a song, 'Spanish Key,' from the Miles Davis album Bitches Brew, which has this really interesting thing going on. I was listening to different pieces of music when Micah and I were first starting to talk about the project. I was looking for a way in, basically trying to answer the same question: what's the tone? I listened to that song and I was like, oh, this is it. This is the way in to feeling the movie. The music was wild and chaotic and careening, but it was also propulsive, and there was something that tracked rhythmically about it. Those opposing ideas happening at the same time were fascinating. That was a moment where it clicked in — okay, this movie is careening, swirling, swooning. It's wild, but it's also like A,B,C, D. Does that make sense?
Filmmaker: A hundred percent.
Wigon: It's always funny to talk about these things out loud because you sit with these things for so long in your head. But you never talk to anyone about them.
Filmmaker: I love your composer, too — Ariel Marx. One of the reasons this movie was on my radar is because we did a movie together that was also an erotic thriller, and she's magnificent. I would love to hear about working with her in the score. I watched Body Heat and Sister, Sister last night because The Criterion Channel has an erotic thriller series. It feels like you're paying homage to that kind of music. 
Wigon: Well there's a lot of different styles of music. There's this style that's a little sort of plucky. Ariel calls it psychoacoustic, I believe. And there are styles that are more like traditional classical, and there's the sense of fantasy and swoons to them. Then there's also stuff that's a little bit more ambient and edgy. Ariel did it all. When you work with talented people who really get the aesthetic for the movie, you're very lucky. You really just want to make sure everybody's on the same page when you're collaborating with people. Then once everyone's on the same page, you want to give them the space to do their thing and not mettle too much, you know? 
I remember her sending the cue that ends the movie. It's very satisfying when you know in your head what something should feel like. But you don't know, in this case, what it sounds like. Then somebody sends it to you and the feel of it is exactly what you felt it needed to be, but now you're hearing it for the first time. It's a very strange experience. But yeah, I can't rave enough about her.
Filmmaker:. Your cinematographer Ludovica Isidori is great, too — I wasn't familiar with her work. What was your plan to keep things visually interesting with one location and two people?
Wigon: There were a couple of things. One, was this idea that you make sure that you never repeat walking positions, camera positions, or compositions — that will go a long way towards keeping it visually stimulating. I think that in order for a movie to retain working stylistically, you have to feel like the movie is traveling somewhere. You can't ever feel like it's treading water. Beyond that, there were different styles that I was cycling through as a director. In a normal movie, you have a lot of locations and characters, and the job of the visual style is to keep all of this information coherent, right? With this movie, it was sort of the opposite in terms of style. The characters have all these different moments psychologically and emotionally — you have to honor that. I realized I couldn't honor it with different locations, but I could honor it by going into different styles. I felt like there was a license to be more stylistically broad in terms of what I was doing. That was the way to help emphasize the different effects, emotions, and pieces of psychology that the script and the actors were bringing to life.
Filmmaker: When you say specific styles, can you name some films?
Wigon: It was not movies as much as visual approaches — I'll give you an example. Outside of the first shot, the camera doesn't really move, [from] about the opening of the movie until they break from the script for the first time. It's all static shots. The reason that it's all static shots is because this part of the story is where things are the most locked down. [In the story] they're working within their script. The script is giving you the outline of this world so the camera is locked in the same way. Rebecca basically then says, "Oh, maybe we'll toss the script," and the script is tossed aside and she's seemingly stepping outside of that and reworking what's going on between them. At that point everything is up in the air, right? Everything is loose, free, and floating. You don't know quite where things stand between them. So from the moment that [Rebecca] breaks from the script until the moment they get to the bathroom door, it's exclusively Steadicam. 
Later in the movie, without giving too much away, there's a scene where both of them are out by the elevator and they're talking in the hallway. Things take a strange turn between them. That was the one scene in the movie that I didn't block or shot list. I just said to Margaret and Chris, 'You guys work out the blocking — just do what comes naturally to you.' And then the camera operator put [the camera] on the handheld rig and followed them around. And we got that in a one-er. I figured because everything else in the movie was so precise, having the blocking be improvised as opposed to being pre-planned would make that sequence feel quite different.
Filmmaker: There's so much play in the movie overall. Tell me about choosing Chris and Margaret. Chris is also just so subtly funny and Margaret — we haven't really seen her do anything like this. It felt very collaborative.
Wigon: When you work with talented actors, there's really not a whole lot you have to do other than give them the space to do their thing. It was a phenomenal working experience. I think we all had the same vision for what we wanted it to be. And then, in terms of how it went, we did a read through in prep, and then we rehearsed one or two scenes. [There were] a few conversations to talk about what the story's about, what the characters are about, and then that was basically it. I think that it's always good for the proverbial plane to take off for the first time for the camera as well. You don't want anybody to get there and the camera's not rolling. We shot in sequence, and they just took it and ran with it at a thousand miles an hour.
Filmmaker: That's so impressive. If this were a play, you would have had rehearsal after rehearsal. But they just got there. What was the most exciting discovery on set that maybe wasn't on the page? 
Wigon: Basically what I'm always looking for is related to the performances. What I'm looking for from actors, from performances, is something that feels true to the conception of the character in the story but that also is surprising. What was thrilling about this was that this happened every single day. Margaret and Chris were giving the truth of the characters in ways that you never actually could have imagined it until you see it. And then you recognize it once you see it. Every day, I would be on my way to the stage and I would be thinking, what are they going to do today? How are they going to upend the expectations?