Back to selection
HERZOG AND MORRIS TALK IN TORONTO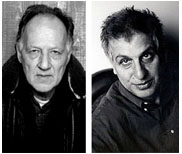 "It's so strange we remain friends," said Errol Morris at one point in his dialogue with fellow director Werner Herzog at the Toronto International Film Festival Monday. During their hour-long conversation at the new Bell Lightbox, the two men spoke of many things — filmmaking, of course, but also reading, music, the Warren Commission report, and actors vs. non-actors (Morris: "In my more spurious moments I've said that the main difference between SAG actors and real people is that real people can act"). But mostly they engaged in a kind of digressive contemplation inflected by occasional bouts of one-upmanship — affectionate jousting that requires not only mutual respect but also the goad of a live audience.
Moderator Thom Powers gently moved the conversation along at times, but for the most part he hung back, wisely letting each man fill the other's silences with a new topic or, perhaps, a gentle riposte. For example, after Morris began by affectionately dubbing Herzog a "neo-realist" on account of his love of real subjects, Herzog responded by calling Morris's filmmaking approach wasteful: "I think you have no discipline in post-production," he said. "You spend too much money [and your films] are not profitable. You have to figure out how to be profitable early on." After some discussion about the strength's of Morris's stylish and painstaking montage, Herzog grudgingly conceded, "The end result [of your films] is always disciplined, but the way in, I have my doubts."
When Morris described the main ingredients needed to become a filmmaker — "Rage, and a desire to get even with others " — Herzog countered by simply saying that a filmmaker "has to understand music and has to read." (Later, though, he offered fans in the audience more typically Herzogian advice: "You have to make sure the producer, the distributor, the theater owner will take you out of the theater in a straitjacket [after you screen your film]. Then you are a filmmaker.") Herzog went on to cite specific examples from his Rogue Film School reading list, including Virgil and the Warren Commission report. (Regarding the latter, Morris turned to the audience and mouthed, "Unreadable.") Morris talked about his desire to create an alternative canon of 100 completely obscure and unknown books, citing examples such as Letters to Strongheart (about one of the first dog movie stars) and The Red Remaynes, a mystery novel by Eden Philpott. They both agreed that this would be the kind of list you'd post, one by one, on Twitter, although Herzog wondered, "Would people who do Twitter actually read the books, or would they just find [the list] funny?"
Theodore Dreiser came up in a discussion of Joyce McKinley, the heroine of Morris's new film, Tabloid. Morris said he read all of Dreiser's work after he found out that McKinley had modeled her life after a Dreiser story she once read, "Second Choice." It's the tale of a woman who lives a miserable life after she realizes that she settled for her "second choice" of a husband. "If she had never read that book…" Morris wondered. "She made a clear choice [in her life]. There is more depth in her than you may believe," Herzog told Morris about the subject of his picture.
But perhaps the most piquant moments occurred around a discussion of filmmaking as a life enterprise. Morris said he's thought of filmmaking as "something that shouldn't be done," dubbing it "a tawdry enterprise." Protested Herzog, "But it has a certain nobility." Morris initially disagreed, before coming around: "The fact that it has no nobility gives it a nobility." "That's too dialectical for me," Herzog said, proposing another formulation: "[Filmmaking] gives a certain meaning to our existence. 'Nobility' is too far-fetched." But perhaps the best — and certainly the most compassionate — definition was advanced by Morris, who paraphrased something Herzog had told him many years ago: "Part of art is extending sympathy to places it has never been extended before."