Back to selection
Josh Koury, We Are Wizards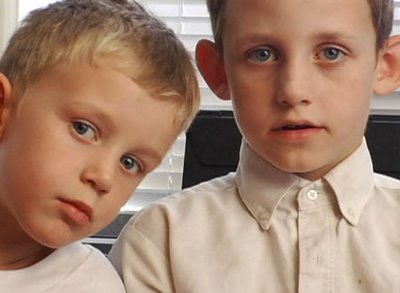 HOLDEN AND DARIUS WILKINS IN DIRECTOR JOSH KOURY'S WE ARE WIZARDS. COURTESY BROOKLYN UNDERGROUND FILMS.
Despite his youth, 31-year-old Josh Koury has already carved out quite a reputation for himself within the world of independent film. Born and raised in upstate New York, Koury studied fine art at Munson Williams Proctor Institute in Utica and then film at Brooklyn's Pratt Institute, where he also ran a weekly multimedia event. Following his graduation, Koury made his debut feature, Standing By Yourself, a documentary about problem teens in upstate New York, which premiered in competition at Slamdance in 2002 and was released to acclaim later the same year. Koury's own experiences on the festival circuit also prompted him to co-found the Brooklyn Underground Film Festival as a place to showcase smaller films, and he was programming director at BUFF between 2002 and 2006. Koury was also a programmer at the Hamptons International Film Festival and is currently a member of the film faculty at Pratt.
Koury's sophomore documentary, We Are Wizards, was inspired by his own love of J.K. Rowling's Harry Potter books and showcases a cross section of the Harry Potter fan scene. The movie primarily focuses on members of the "wizard rock" music scene, from leading outfit Harry and the Potters to The Hungarian Horntails, a band made up of four- and seven-year-old brothers Darius and Holden Wilkins, and also features figures like Heather Lawver, who launched the Potter War boycott of Warner Bros., and Brad Neely, the internet phenomenon behind the Wizard People, Dear Readers audio book and film. A mere 80 minutes in length, We Are Wizards is a little film with considerable charm that depicts its characters – and Potter fandom as a whole – with affection and integrity. The creativity and passion of the film's subjects is celebrated rather than mocked, and Koury even seeks out academics like Caryl Matrisciana, who po-facedly condemns the Potter books as evil, to add more diverse voices to the discussion of Rowling's cultural legacy.
Filmmaker spoke to Koury about the cult of Harry, his dual role as both filmmaker and film programmer, and getting into fights as a pizza boy.
Filmmaker: What was the starting point for this movie?
Koury: Gerald Lewis, the producer of the film, and I got together early on and discussed the idea of doing another documentary. We had a lot of ideas on the table and one of the ones that we kept coming back to was the idea of making this documentary about Harry Potter fan culture. It's a huge pop culture phenomenon and it felt like it was almost too big for its own good, but when we actually looked into it we decided that we could really focus on certain key aspects of the fandom. We never wanted to make a "Trekkies" kind of documentary where it kind of pokes fun at people. We wanted it to be sincere and focused and as personal as it possibly could within the characters, so that's why we cherrypicked certain people that represent certain things.
Filmmaker: How aware were you of that fan culture before you began researching the film?
Koury: Not very much. I knew a couple websites and I'd heard of the band Harry and the Potters but I didn't realize there were so many bands and [the fan culture] was so expansive. I knew it existed because fan culture exists for all popular mediums but I had no idea what we would find when we actually started researching it. I think the bigger surprise was not that the fan culture was so large but that the fan culture was so developed and articulate and self aware and bright and funny. I never thought I would find people that I would want to have a beer with afterward – and I feel that way with almost all of them. All the characters that we focused on are great people and people that I could see being close friends with outside of this documentary, and that to me was a big surprise. We said from the beginning that we didn't want to make fun of people, but there's no reason to make fun of these people because they're just terrific people on levels.
Filmmaker: Do you feel that Harry Potter fans – in contrast to, say, Trekkies or Star Wars fans – are unique in the creative and diverse way in which they've responded to their particular cultural phenomenon?
Koury: I think that's partly because of the nature of what it is, that people who pick up Harry Potter are probably already readers or were interested in things outside of TV and film. Many of the people in the film don't even watch the movies, they're really into the books, which is what I was as well. I think it's also the era; the difference between this and Lord of the Rings or Star Trek is that at this particular time, with the internet and with communication being what it is right now, people can really reach each other and communicate in ways that they never could in the past. What I like about this particular fanbase is that it's not just in chatrooms, it's not someone holed up in their parents' basement with a computer – they take it out onto the streets and actually perform and have meet-ups and groups and collaborate and work together and communicate together. That's what fascinates me.
Filmmaker: How involved did you get in fan culture during the course of your research?
Koury: I did a lot of research: in order to find the people we found for our film we had to comb through a great number of different people. We were reluctant at first to bring more people into the process and some would argue it's already a crowded field of people for a film of 80 minutes. We had to consistently resist the temptation to add more; because it's such a huge phenomenon, we never got into slash fiction or fan fiction or any of the other mediums. There's just hundreds of things you can make movies about. You could make 20 Harry Potter documentaries and they'd all be kinda different, so we really had to be careful. My editor on the film, Myles Kane, really came through for me at the end and pulled things together. He had never read Harry Potter, he had never watched the movies – he knew that the main character's name was Harry, and that was all he knew. That excited me, because at the end of the day I wanted this movie to be for everyone, and not just pandering to fans. He was key to my keeping my head above water so I wasn't getting so into the fan nitty gritty and losing track of things.
Filmmaker: Were any of your subjects worried that the movie would make fun of them?
Koury: No. Honestly, I think we got on with the people in the movie right off the bat. I mean, Brad Neely was one of those classic characters who we sat down with [and got on really well with]. I'd known Brad a little bit beforehand but I remember the first lunch we ever had. I'd just met him and he was like testing the waters, saying, "You know what I don't like? When documentaries make fun of things…" [laughs] He was a little hesitant because he's very aware, but by the end of lunch we'd gotten a six-pack and were ready to hang out. We hit it off with a lot of the people in the movie, and there's an ingrown trust that has to be there in order to get what you need to get for the movie, but also that was the level that we wanted to be on. If it wasn't ever going to be genuine for both parties, we weren't going to do it. Even with the religious character, Caryl [Matrisciana], we were very upfront with her: we told her what the movie was about, I said, "I want to have your opinion. I know you're against the books because of their occult, witchcraft content." But it was important to have that educated perspective – we didn't want somebody from a lunatic fringe, but actually have somebody who you can debate.
Filmmaker: With Brad Neely, was he already approaching the status of internet star that he now holds within certain circles when you asked him to be in the movie?
Koury: Well, I had known that he had done Wizard People, Dear Reader and the George Washington song at that point and he had got lots of recognition from that but he hadn't done his new comics, the Professor Brothers and Babycakes, yet so he wasn't a successful animator on a commercial level. That's his profession now, but at the time he had a couple of YouTube bits and I knew that he was destined for great things. We were very fortunate to have found him when we did. We hit it off very quickly, he trusted us and we love him. Brad is so reluctant to do these things – he was pacing up a storm when we were about to show the movie because he's nervous. He kept telling me, "I can't believe you got me to do this. What's wrong with me?" He was so nervous because he hates to put himself out there on that level and I've seen him reject other people who want similar things from him. But he's so happy with the movie, and that's cool, that's great. Because he is a picky bastard.
Filmmaker: Your movie seems to be part of a mini wave of documentaries about battle re-enactors and dungeons and dragons fanatics, films that showcase somewhat nerdy subcultures.
Koury: Yeah, those have been happening a lot – Darkon, Nerdcore Rising and another one, Second Skin, that we played alongside at South By Southwest. I think some of them are really good and some of them are not so good, and I hope that ours falls into the good category. If it's something that takes its characters very seriously and shows not just why they love these things but what it means to them and the stories behind them [then I think it will be a good film]. And yes, there's been a huge wave of these films. Documentary has become so popular in the last six years, it's scary. That's why I said I have to keep my ideas under the covers sometimes because it seems like docs come in twos. Ours came in two: there was another production company out there making something [on a similar subject]. I've got another idea that I'm working on and I fully expect to hear about another [rival project]. It just seems like there's too many filmmakers and too little ideas. We're all doing our best. [laughs]
Filmmaker: I want to talk about your film festival experience, because you started the Brooklyn Underground Film Festival in 2002. It's relatively unusual for filmmakers to be on both sides of the divide, as it were.
Koury: I'd taken my first film on the film festival tour and I knew there were a lot of great New York film festivals but I wanted to start something that was a little bit more for the smaller picture. Oftentimes Tribeca doesn't want films if they've played at a big festival already and the New York Film Festival is not really an option. The New York Underground Film Festival has closed so you're really limited to GenArt, Rooftop Films. I know that's a lot more options than a small town – but this is New York City. [laughs] We started it because wanted to give an opportunity for smaller films that maybe couldn't find a place. But, to be honest, the world has changed a great deal since we started it and there's no lack of outlets these days. The internet, YouTube and everything, has just blown right up and if you have something to be seen, you can have it seen. It was a wonderful experience and I also worked at the Hamptons Film Festival in the programming department. I made a lot of connections but I also got to see a lot of work and understand not just my underground and independent world but more complex narratives and higher budget documentaries and really see from the eye of the programmer. I think that helped.
Filmmaker: When was the last time you burst out laughing on set?
Koury: I think if you watch the movie there's a few moments with Brad Neely where you can actually hear me laughing out loud. It's so embarrassing. I wanted to go back in time and slap myself, but you can see the camera moving up and down because I can't control myself. He's just really funny. That's something I need to fix in the future: maintain control of my body when filming. [laughs] But anyway.
Filmmaker: Should actors sing and singers act?
Koury: I think that they definitely should because I think amateur singing and acting are extraordinarily beautiful things and if non-singers were singing more and non-actors were acting more it would be a much more interesting place. I really do believe that. I feel like it would be great if every documentary had to be turned into a musical and then you forced the characters to sing. It would be a mess, but a beautiful mess – and I love beautiful messes.
Filmmaker: Finally, what's the worst (or weirdest) job you've ever had?
Koury: I was a pizza delivery boy from the age of 18 to 20. I delivered pizzas to rich kids and then they would yell at me because I was late. [laughs] There was this one gentleman who… Oh, that's a long story. I used to get into fights with football players and stuff like that. Maybe they'd be scared of me for some reason because I seemed to them to have some sort of authority even though I was a skinny guy. Like when they'd throw pizzas, I'd yell at them and they'd run away. And then I'd say, "Why are you running away? You could just destroy me if you wanted to." [laughs] It was a really horrible job, but good stories.