Back to selection
THE 2010 CARTHAGE FILM FESTIVAL
Famously defeated and laid waste by the Romans in the third century B.C., the ancient metropolis of Carthage has bequeathed its name to two notable features of modern Tunis. One is a swanky suburb where the villas of diplomats skirt the rudimentary but scenic ruins of the old imperial capital. The other is the biannual Carthage Film Festival, or Journées Cinematographiques de Carthage (Oct. 23-31, 2010), which bills itself as "the dean of all African and Arab" festivals.
Founded in 1966, it is a capacious event, with an international purview that encompasses, say, the latest from Abbas Kiarostami and Woody Allen as well as special sections devoted to the cinemas of Mexico and the former Yugoslavia. Yet the festival's emphasis on the cinemas of the Middle East and Africa is what sets it apart, offering a valuable overview of an oft-neglected sector of world cinema. This year's edition suggested an ongoing north-south competitive dynamic, with South Africa standing as the leading national cinema below the Saharan divide, Egypt remaining the leader above it.
In the official competition, South Africa's Shirley Adams (making its African debut, having premiered at Toronto), an impressive first film directed by recent London Film School grad Olivier Hermanus, recalls the work of Belgium's Dardennes Brothers in its spare chronicle of contemporary hardship. Its title character is a single mother coping with the suicidal despair of her 20-year-old son, who has been rendered quadriplegic by a schoolyard shooting. Following its protagonist with a dogged handheld camera, the film methodically constructs a portrait of gritty determination pushing against overwhelming odds, while indirectly implicating conditions beyond the family home. Anchored by a riveting performance by veteran actress Denise Newman, the film's understated humanism and stylistic assurance won it the international critics (FIPRESCI) prize.
Like a number of other films at Carthage, State of Violence, a first feature by Khalo Matabane, links present-day discontents to past traumas. The drama's black protagonist is an affluent, highly successful mining company executive whose life is suddenly upended when a vicious home invasion leaves his wife dead. Seeking both revenge and understanding, the man's search for the killer leads him back to the township where, as a young anti-apartheid activist, he participated in a mob's murder of his uncle, an accused informer. Suggesting how difficult it can be to heal historical wounds, the film has a polished, realistic mounting that accentuates its sometimes wrenching emotional impact. Matabane, clearly a director to watch, was also represented at Carthage by his earlier, four-part telefilm, When We Were Black, an engaging, semi-improvised coming of age tale set against the student revolts in 1976 Soweto.
Among films from other sub-Saharan countries, perhaps the most enthusiastically received was Soul Boy by Kenya's Hawa Essuman. Mounted with the help of German filmmaker Tom Tykwer, the 61-minute film was conceived as a project that would involve denizens of Nairobi's poorest slum as cast and crew. The result, an ingenious comedy about a boy trying to help his father recover his soul, has a folkloric, magical-realist air as well as a great deal of surface charm due to the vibrant sense of community that informs its performances and settings.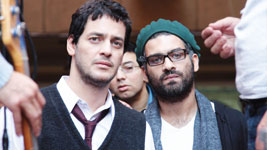 Community and youthful high spirits are also key elements in Ahmad Abdallah's Microphone, the Egyptian film that took home the competition's grand prize. Centered on a young man (played by Egyptian star Khaled Abol Naga) returning to Alexandria after a long absence, the film follows his discovery of the creative discontents of the city's young hip-hoppers, rockers and graffiti artists. Though far less sophisticated both cinematically and musically than the recent No One Knows about Persian Cats by Iran's Bahman Ghobadi, Microphone offers a similar view of Western-style pop arts challenging traditional pieties and political sterility. With a let's-put-on-a-show chutzpah that recalls old Warner Bros. musicals, it bears a message that no doubt resonates with many younger audiences in the Islamic world, as it did in Tunis.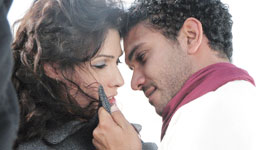 Another young man returns to Alexandria in Egypt's Messages from the Sea, a film that earned no prizes but was this critic's favorite title in the competition. With a more sleekly commercial finish than most of the films surrounding it, the moody melodrama boasts a strangely poetic unpredictability. Its protagonist is a doctor whose frustrating stutter causes him to take up the life of a fisherman in the ancient port, where he learns to get drunk, begins to obsess on overheard classical-music performances, and falls in love with a high-class prostitute. Helmed by veteran director Daoud Abdel Sayed, the film has a languid, haunting atmosphere and a sense of quiet mastery in everything from its polished visuals to its excellent performances to its unexpected flashes of comedy.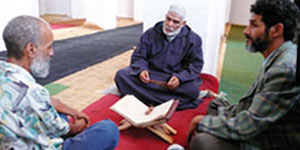 Beyond Egypt, the North African film that impressed most, The Mosque, refers back to a previous work by Moroccan filmmaker Daoud Aoulad-Syad, Waiting for Pasolini. For that film, a mosque was built as a film set on a villager's rural property. Whimsically dramatizing what happened after the shooting stopped, Aoulad-Syad shows the villager trying to reclaim his land and finding that too many folks with varying motives now regard the set as a real mosque and refuse to have it torn down. Though recalling the self-reflexive premise of Kiarostami's Through the Olive Trees, The Mosque doesn't meditate on cinema's powers as much as it drolly satirizes political and religious manipulation.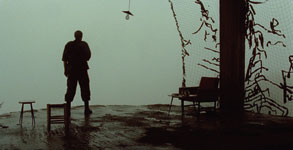 A film from the Arab world beyond Africa, Once Again (Encore Une Fois) by Syria's Joud Said probes the links between the Middle East's war-torn recent past and its high-tech present. The story concerns Majd, whose mother, during the Syrian invasion of Lebanon in the 1980s, is killed by a sniper aiming for his father, a Syrian general. Flash forward to the present where Majd, now the head of a Damascus bank's IT department, falls in love with a Lebanese woman superior, and begins using the Internet to spy on her. Repeatedly shifting between the 1980s and now, the film delineates the wide-ranging psychological and cultural damage inflicted by the region's ongoing conflicts.
Headquartered at the Hotel Africa on Tunis' central Avenue Habid Bourguiba, with screenings held in numerous nearby cinemas, the Carthage festival draws filmmakers and programmers from across Africa and the Middle East. Each edition features tributes to some of the region's leading filmmakers and performers. Honorees this year included Sotigui Kouyaté, Rachid Bouchareb, Hiam Abbas and Ghassan Salhab. The festival also devoted three sections to new Tunisian docs, features and shorts.