Back to selection
JUST NORTH OF THE BORDER, A NEW FESTIVAL THRIVES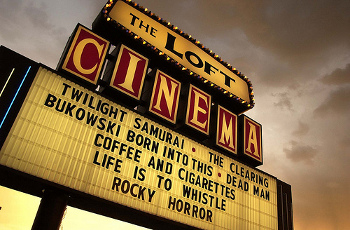 Although it might be surprising to learn that it isn't actually held in a loft, the first annual edition of Tucson's Loft Film Festival, centered at this southern Arizona college town's venerable, long running Art House the Loft Cinema, maintains the home made, speakeasy vibe that the title implies. Its inaugural run having come to a close with a Thursday night screening of The Girl Who Kicked the Hornet's Nest, this first edition was a glimpse at the type of festival the regional circuit needs more of. Lets hope they keep it going, as it proved to be a welcome respite from the pretensions that bog down so many young and/or ambitious festivals. Geared truly toward cinephiles of nearly every stripe, its phantasmagorical programming, lack of prizes, astute choices of guests and general filmmaker/film audience friendliness is a strong sell. Where else are you going to get to take a long drive to the O.K. Corral with Carlos Reygadas or chat about Jamaa Fanaka movies over huevos rancheros with The Zellner Brothers and Alex Cox?
Mixing and matching obscure cult revivals, classic international and independent cinema, recent favorites from the international festival circuit, shorts and movies from filmmakers of relevance to the region, the festival isn't going out of its way to become something (most festivals, like the ambitious people who run them, are hardly ever satisfied with what they actually are). It is something. Personally crafted, its the type of festival in which the programmers feel completely comfortable opening with a pair of Griffin Dunne, Rosanna Arquette colloaborations from the eighties (in this case Martin Scorsese's After Hours and John Sayles' Baby It's You) or screening the challenging Mexican omnibus Revolucion right up against a look at Cox's soon to be released on Blu-Ray retooling of his 1988 Spaghetti Western goes Punk pastiche Straight to Hell. Artistic Director Mike Plante and the entire team at this non-profit theater run an event that's sort of effortlessly enjoyable and free of all the bells and whistles that draw attention away from films at even the most well run non-market fests.
In the end, its about the films. The opportunity, in one venue at one event, to revisit a restored print of Sam Fuller's The Big Red One or the newly completed version of Fritz Lang's Metropolis or Jeff Kruyik and John Heyns' legendary short Heavy Metal Parking Lot while recent catching up with a terrific and overlooked foreign film Oscar nominee like Claudia Llosa's The Milk of Sorrow or the current holder of the Palme d'Or, Apichatpong Weerasethakal's Uncle Boonmee Who Can Recall His Past Lives, takes a brave, thoughtful and irreverent institution. That's just what Tucson has in The Loft. Here's hoping they appreciate it.