Back to selection
ABU DHABI FILM FESTIVAL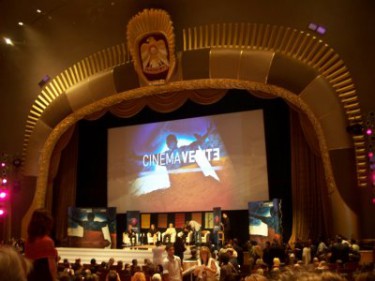 Rich in oil and excess, Abu Dhabi, unlike its slightly more hip and newly bankrupted Emirate cousin Dubai, is for the time being at least, a city on the come. It's also a place that is a symbol of "progress" in an age when that term has come to have no meaning. Why else would they set the irrepressibly offensive Sex and the City 2 there or have a skyscraper which is unfinished but already in the Guinness Book of World Records for being18 degrees crooked or build a so called "zero emission" city that no one may ever live in 20 miles north or order a carpet for the grand mosque that cost 8.5 million dollars and was hand stitched by 1,400 women for over two years? This place, like the young film festival it hosts, is a boondoogle, a series of sexy and troubling contradictions that one can be forgiven for not quite grasping.
At first glance its effervescent, architecturally ambitious and seemingly unnecessary skyscrapers seem both, like the entire place really, impossibly bold and without any raison d'etre. A place that had its gained its first paved road in 1960 is now an internationally regarded playground for the rich as well as the capital of the Arab world most allegedly liberal (read "westernized") state. More authentically perhaps, it's also a magnate for strivers all over southwestern Asia, who come here to work as drivers, janitors, servers in American chain restaurants for the rich Emirate nationals who make up a mere 13% of the population. Simulacrum is everywhere. The Emirates Palace, the region's most exclusive hotel and resort, where the 4th annual Abu Dhabi International Film Festival was held, has a gold vending machine. If international monitary policy is unable to fix the currency crisis, this is the place you'll want to be. It's the future.
Enough already. The film festival that this city hosts, now in its second year under the stewardship of former San Francisco and Tribeca head Peter Scarlet, is not unlike his six Tribeca festivals: its loud and a little loose, with pockets of terrific programming and an alarmingly velvet rope vibe. They might as well call it the Emirates Palace Film Festival, as you won't see any of the local Pakistanis or Chinese or Palestian refugees at the screenings and certainly not at the parties, which a mere journalists badge will be hard pressed to earn you entrance into. Still Scarlet and Co's reputation as ace programmers of middle-eastern films held true.
While the main competition, won by Aleksei Fedorchenko's moving Russian drama Silent Souls, was comprised mainly of Cannes and Toronto holdovers that were in turns terrific (Dane Suzanne Bier's terrific meditation of the difficulty of turning the other cheek In a Better World, Oliver Assayas' stunning Carlos, hardly less impactful in its truncated theatrical version), just okay (Mark Romanek's lukewarm Ishiguro adaptation Never Let Me Go, Danis Tanovic's appealing but predictable Yugoslavia on the verge of civil war drama Cirkus Columbia) and not so good (Julien Schnabel's bizarrely impotent Palestianian refugee drama Miral, Francois Ozon's intentionally campy, unintentionally boring Depardieu/Deneuve vehicle Potiche), the real story were a quartet of terrific narratives from the Arab and Persian worlds.
Among these were Vahid Vakilifar's Gesher, an episodic, Kaurismakiesque look at the lives of three migrant laborers working low paying jobs at a refinery on Iran's gulf coast, walked away with the Best Narrative Film by a New Director. Zamani Esmati's Orion, a starling thriller about a young female student who inadvertently gets pregnant during an affair with her irresponsible professor and must take perilous steps to maintain her viability as a potential mate in her repressive Iranian backwater, proceeds with an urgency and aesthetic sure hand that are reminiscent of recent work of Jafar Panahi, who was an advisor on the film. They are both windows into a post Green revolution Iran that prove, despite the brute political violence, Panahi's silencing and Abbas Kiarostami's flight for greener, European pastures, is still one of the world's most urgent and interesting cinemas.
Perhaps the festival's most significant world premiere, Rania Attieh and Daniel Garcia's Ok, Enough, Goodbye, which walked away with the Best Narrative Film by a New Director from the Arab World, wasn't quite as potent as the pair of Iranian films, but its tale of a glum, lazy Lebanese forty-something stumbling towards independence from his elderly mother before circumstances force him to grow up a bit faster than he'd like, is not without its charms and insights. The NYU alum duo, both of whom are based in Bushwick, Brooklyn, should be able to afford some new digs and a sequel to their micro-budget, ADFF sponsored film: each prize is worth $100,000. Perhaps most impressive was Belma Mas Zephyr, I fine example of the aesthetically vibrant new cinema emerging from Turkey, which paints a haunting portrait of a neglected child, left to live with her aging grandparents in the rural Turkish countryside, and the difficulties she has reckoning with her mother's sudden reappearence. I won't include any spoilers even though this one, like all of these films, will be difficult to find in the rest. However, it builds to a conclusion that while not completely unpredictable, is as powerful as any I've seen on screen this year. While its studied, long take aesthetic is nothing new to the festival circuit, its milieu and uncompromising nature are quite fresh.