Back to selection
"HERE" | co-writer-director, Braden King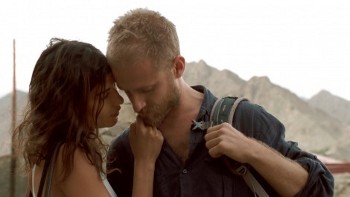 [PREMIERE SCREENING: Friday, Jan. 21, 5:30 pm — Library Center Theatre]
Looking back, the process of creating Here, which is ultimately a pretty romantic, landscape-obsessed road movie, was probably about as close you can get to some kind of Fitzcarraldo or Heart of Darkness experience anymore. I suppose I'm surprised that the finished film doesn't seem to reflect that more.
There are no massive battle sequences in the film; I didn't get to play with any pyrotechnics (damn it), but Here was the first American feature film ever to shoot in Armenia. That provided fantastic advantages and disadvantages: unimaginable challenges, inspiration, magic, trial, hardship, awe and wonder.
I directed the six-week shoot with two broken ribs sustained on the third night of shooting (quickly learning to keep Ben Foster on my good side); we were detained at gunpoint by the Russian military on the Iranian border; encounters with snakes whose venom could kill a human within 15 minutes were not uncommon; the crew rotated through horrible sickness throughout the shoot. After 40 days on the road we staggered back into Yerevan exhausted and battered but triumphant. Eight crew members and one lead actor left the country with new tattoos.
Every independent film has to overcome the impossible. They all have stories, but Here has stories. Setting up in an unmarked minefield near the DMZ between Nagorno-Karabakh and Azerbaijan? Check. Any one of these situations (and there were hundreds more) could have been enough to crack an average crew. I feel truly blessed to have been working with Lars Knudsen and Jay Van Hoy as my producers — a fearless, unstoppable duo if there ever was one — and the incredible international cast and crew they helped me assemble. This group sustained, inspired and taught me while performing with incredible passion, professionalism and creativity under extremely difficult circumstances. We made a film I feel proud of while pushing our internal envelopes to the limit. I don't think anyone came back exactly the same. In the end, Here is no more my film and experience than it is ours, collectively. I can't thank those mad pirates enough for everything they brought it to it, everything they gave to bring it to life.