Back to selection
"ELITE SQUAD 2: THE ENEMY WITHIN" | director, Jose Padilha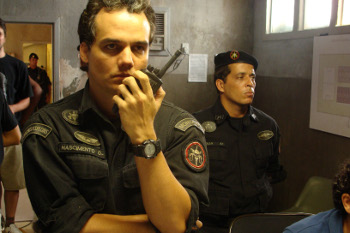 [PREMIERE SCREENING: Sunday, Jan. 23, 8:45 pm — Egyptian Theatre]
Elite Squad 2: The Enemy Within was a very challenging project as it was coming two years after a very successful predecessor. The first movie (The Elite Squad) I had made about the Rio de Janeiro Elite Squad became very popular and won the Golden Bear Prize at the 2008 Berlin International Film Festival. So everyone was thinking that following up on this film was a mistake. How could we possibly make a film about the same subject matter and have the same impact?
My attitude was to forget about this and to make a film that was not expected by the public or the critics at all. A film that could stand alone, albeit having the same main characters as the first one. And a film that was more complex and less popular.
So we decided to follow up on a prequel, not to be able to capitalize on the audience of the first film, but actually to do just the opposite: to go for a less popular film. And change the subject. Focus on the political content, not on the audience. Just say what we want to say in the best possible way. When the new film was ready, we watched it at the editing room, and we all loved it. But we all thought that this film is better than the first one, but way too complex. This film is going to suffer at the box office.
And then we opened it in October 2010. Elite Squad 2: The Enemy Within has now become the most watched Brazilian film of all time, and the second biggest admissions in the history of cinema in Brazil! This is a big surprise indeed!