Back to selection
TIFF 2013: Ben Rivers and Ben Russell's A Spell to Ward Off the Darkness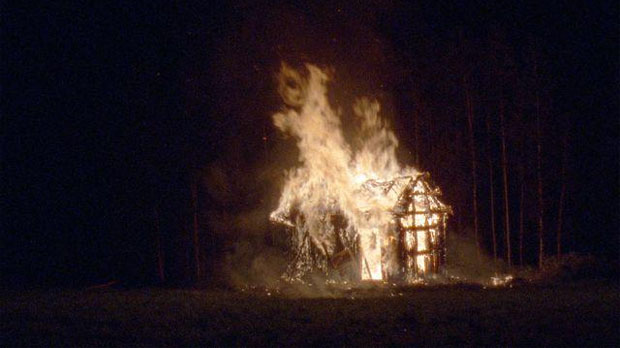 A Spell to Ward Off the Darkness
One of the more anticipated films of a very strong Wavelengths section, Ben Rivers and Ben Russell's A Spell to Ward Off the Darkness unspooled Saturday night to a packed house at the Art Gallery of Ontario's Jackman Hall. A true collaborative effort by two major filmmakers, the feature follows a black guitar player, Robert A.A. Lowe, from a northern Finland commune through a solitary journey across a lake into an isolated wilderness to the climactic scene on a stage in Estonia, where he performs with a black metal band.
The film is less of a character study than it is the directors' romantic pursuit of a "secular spirituality" through the dramatization of stunning natural spaces. Though the film may lack "plot," "character" and "dialogue" in the classic sense, it is highly dramatic and driven by a narrative fueled by the directors search for an ideal, romantic linkage between man and nature. Robert is barely noticeable in the first section, which is focused on establishing this idealistic commune lifestyle where adults and children frolic and lounge in nature. Work doesn't seem to factor in at all, one woman halfheartedly drags a rake through some dirt and another gets into bed midday to take a nap alongside her husband, who is asleep holding their infant child. Others flirt with each other while naked in a sauna.
This section then gives way to the more somber-toned middle section in which Robert embarks upon a "walkabout" by himself. Fishing and hiking and exploring stunning nature, he comes upon an abandoned house which seems to refer to the city life and childhood they have all left, or are trying to leave behind. That same house goes up in a raging fire and we watch for a while as the flames climb and dance while sparks are thrown into the black night.
It is a perfect transition into the last section in which we see Robert put on white facepaint and take the stage amongst his similarly painted bandmates. The slow dirge of the music is complemented by a moving camera that explores both the band on stage and the audience in extreme closeup. After the show, we follow Robert back out into the darkness of a waterside city. The insertion of a black character into this Nordic world, which is very much rooted in the purity of the white experience, fits the film's overall romantic search for a true alternative lifestyle.
As in both of their previous films, A Spell to Ward Off the Darkness also provides the viewer with a total immersion into various environments yet it also provides a drama that is rooted in the search for a way that one can truly exist within nature. Though it is not designed through the standard use of plot and character, the film manages to ensnare you in its pure love for these environments. If you feel that watching the dawn break over a secluded northern lake surrounded by old growth forest is highly dramatic, then you should not miss this cinematic event.
A Spell to Ward Off the Darkness plays again Monday at 4:30 and Sunday the 15th at 6:30 pm.
Robert A.A. Lowe will perform live with the band Sing Leaf at the Garrision, 1197 Dundas St. West on Tues Sept 10, doors 9pm.