Back to selection
"PROJECT NIM" | director, James Marsh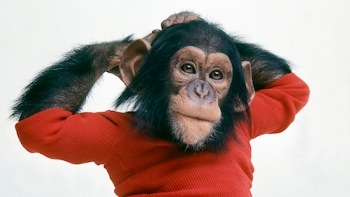 [PREMIERE SCREENING: Thursday, Jan. 20, 9:30 pm — Egyptian Theatre]
When you embark on any historical documentary or film about events that have already run their course, the biggest prize you're after is visual images and archive [materials] showing elements of your story. On Project Nim, which is the life story of a chimpanzee who was brought up like a human child, we knew from various contributors that there was going to be sufficient archive of the chimp to embark on the film but we didn't know the extent of it.
Often the biggest surprise on a film project is going to unpleasant — it will be an unforeseen setback, like a witness who refuses to go on camera, bad weather, or some hideous technical meltdown. However, on this project, our film researcher delivered a series of unexpected and magical surprises. She had located footage of two of the most important moments in our chimp's life.
The first episode I can tell you about: our chimp never met another member of his own species until he was 5 years old. He's been exclusively with humans and he probably regards himself as a hairy human at this point. Obviously his first encounter with another chimpanzee is going to be a very profound and monumental moment for him and for us. How is he going to react? I'd seen one or two photos of this first chimp meeting and knew that this must have been a totally unprecedented encounter. Amazingly, we discovered uncut rushes of the whole scene and we see it play out over 10 minutes of film and it's incredibly emotional and disturbing. The second major archive discovery has to remain a secret because it involves a major narrative shock in the film. Suffice to say, we uncovered more uncut rushes featuring our chimp inside an institution that would really be the last place you'd expect to allow filming.