Back to selection
PARK CITY CRITIC'S NOTEBOOK #1: WOMEN IN TROUBLE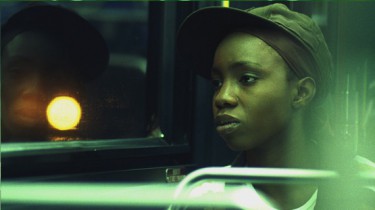 On the night the latest edition of the Sundance Film Festival kicked off, I was approached by a man in a beat-up looking bubble coat and slacks three thousand miles away in a Crown Heights, Brooklyn laundromat. He extended his hand, in which he was holding six plastic sheets with DVDs in them, and tersely said, "Movies." I looked down at the half-a-dozen bootleg discs in his hand, most of which were sequels to "urban" thrillers I had never heard of in the first place. "I'm good," I brusquely whispered, causing him to saunter off into the fluorescent hum and whirl of washing machines, saddling up to the people operating them and asking each if they had three dollars with which they might procure a night's entertainment.
Citizens of Sundanceland, despite what you might think, we're not so different than him, you and I.
Of course, he didn't make those films (although they may not have been any worse if he had). Yet the two hundred or so filmmakers whose films will show in Park City at Sundance and Slamdance this week and next are each extending such an offer to the myriad buyers on hand, who will in turn do the same to the rest of us with those lucky few films they deem potentially profitable or merely worth the time and effort and dollars to get out into the cultural conversation. Many pictures will find some home or another in the next couple of years, but even more than that will in short order fall into the all too common obscurity that is the fate of most indie films, even those that play a high-profile festival like Sundance. A life in American Independent Film, especially as an above-the-line creative working on low-and microbudget work without a trust fund or at least a debt-free Ivy League education, will challenge not just your endurance, tenacity and intellect, but your ego and your raison d'etre. Come prepared and in the long run, expect disappointment, regardless of what Steven Beer thinks.
For the minute though, there are some obvious reasons to not give a fuck: in just its first two days, the 2011 Sundance Film Festival has given us some stirring films, ones that will live long in my memory regardless of how they engage the imagination of others. It's given us some epic stinkers and minor disappointments too. Although the new Gregg Araki film Kaboom is kind of a flaccid, a self-conscious throwback to his "Teenage Apocalypse" trilogy, its level of harmless but uninteresting self-indulgence can't hold a candle to the white hot mess that is Joe Swanberg's paean to getting older and dumber in Uncle Kent. Yes, despite what Richard Brody thinks, the already vastly overrated sixth feature from Swanberg is only slightly more sloppily made than his previous five exercises in navelgazing. While the fine folks at Sundance Selects will try to pawn this thing off as Swanberg's most "mature film yet" (that phrase is all over the press notes), it's really just an excuse for Swanberg to hang with his pushing-forty friend and frequent bit player Kent Osborne, who makes for a wholly unremarkable lead. The fact that Swanberg shows up as himself, stowed away at a famous producer friend's posh L.A. pad with computer images of his wife's ultrasound and his world-class, self-assured smirk as counterpoints to the slovenly title character's stunted growth, is itself a parable in the dangers of minor fame. In this tale of unending adolescence, emotional dislocation and porn addiction, this director gives the notion of personal, artisanal cinema a bad name. Somebody hand him some Kino Flos, a parkan and two copies of Lajos Egri's The Art of Dramatic Writing on the double, there is hope yet!
Although they couldn't have more different milieus or ideological stances, the first two U.S. Dramatic Competition entries to bow at this year's fest, both of which are products of the Sundance Institute's talent development labs and center on young women with difficult secrets to keep from their loved ones, have met with raves from other critics and deservedly so. Dee Rees' semi-autobiographical tale of a young, black, middle-class New York lesbian's tough coming of age Pariah and Sean Durkin's extremely disturbing and lyrical look at a young woman who struggles to come to grips with her involvement in a dangerous, agrarian sex cult Martha Marcy May Marlene should both spark some debate, as they did between me and The Film Sales Company associate, White on Rice producer and karaoke ace Michael Lerman as we waited to get into the Hobo with a Shotgun premiere party. This is the beauty of Sundance really, standing in the cold trying to get into a party that probably won't be much fun anyway, arguing about what is effective art and what isn't and why, but I digress.
A study in the ways in which young blacks caught between social worlds are often forced to wear emotional and physical masks, Rees' film, which suggests that traditional African-American social and cultural mores often don't make room for young women struggling to figure out their sexual identity, exhibits a sensitivity to the nuances of class and style among city-dwelling blacks that is not evident anywhere else in recent American cinema. This IS NOT Precious. While once again a black mother proves to be the fall guy (a two-note Kim Wayans), it isn't because of destitution, or drug use, or poverty, or neglect; it's the far more common affliction of over-protection and ignorance, of a muddled understanding of one's responsibilities as a Christian woman to love above all else. Aided by her remarkably talented cinematographer Bradford Young, who brought a similar grace to the palette and shooting style of the under-appreciated 2009 Slamdance entry Mississippi Damned (perhaps still the best recent American independent film without theatrical distribution), Rees has made a film that will hopefully make herself and her fantastic young lead Adepero Oduye stars, identity markers be damned.
The Borderline Films boys, who along with their mid aughts NYU grad cohorts have been responsible for the gorgeous and startlingly cold festival hits Afterschool (Antonio Campos) and Two Gates of Sleep (Alistair Banks Griffin), are back with their most chilling tale yet, Sean Durkin's Martha Marcy May Marlene. Shot by the indispensable Jody Lee Lipes with the same cool precision he brought to those previous films, Durkin's movie is an elliptical if thematically thin mind-and-body shock of the Michael Haneke variety. One can't say enough about its aesthetics; beyond Lipes lensing, Zachary Stuart-Pontier's editing is crisp and daring, seamlessly and inventively intercutting Martha's escape and attempt to adjust to life with her bourgeois sister (Sarah Paulson) and her British husband (Hugh Dancy) with her time in the cult using match on action cuts and abrasive sound edits. Although Durkin isn't interested in expositing how or why an attractive, middle-class, orphaned teenage girl would find out about/want to and successfully join a cult like the one that John Hawkes' remarkably scary and oddly alluring cult leader runs, he does provide a slow-burn intellectual horror film that will not soon be forgotten among those who get a chance to see it. Durkin wants to frustrate and punish his audience and he largely succeeds, although one wonders what's at stake for him in the film (beyond the obviously attractive acclaim that comes with being a recognizably talented film director). This one's clinical and ambiguous enough to be retitled, Love is Colder than Death. Wait… isn't that already a movie?