Back to selection
Xavier Dolan, Heartbeats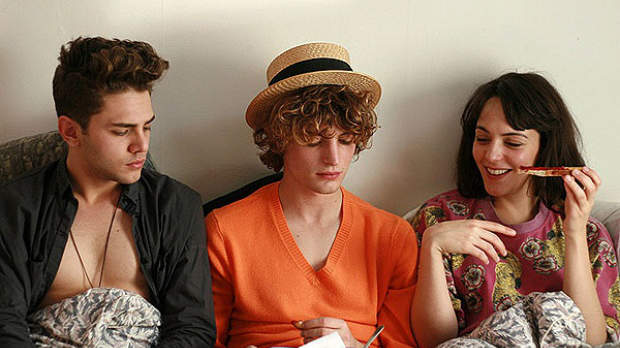 A native of Montreal, Dolan is a former child actor who wrote and directed his first film, I Killed My Mother, at age 20, after dropping out of university. That movie, a semi-autobiographical tale of coming out which debuted at Cannes in the Un Certain Regard sidebar, won three awards at the 2009 festival, including the Regards Jeune given to young filmmakers of great promise.
A stylized depiction of hopelessly "imaginary" love, Xavier Dolan's sophomore feature Heartbeats (which also premiered at Cannes) trails a pair of close friends—witty, Audrey Hepburn manqué Marie (Monia Chokri) and sweet-faced Francis (Dolan)—who simultaneously crush out on tousle-haired Nicolas (Niels Schneider), a dreamy new acquaintance whose Adonis-like physical beauty and bedroom-ready manner drive them into a passive-aggressive rivalry for his affection. Although the love-triangle motif evokes films as diverse as Jules et Jim and Y tu mamá también, Dolan's dazzling slo-mo fantasy sequences (especially those featuring Dalida's exquisite version of "Bang Bang") and sassy, Almodóvar-esque color schemes give everything a uniquely farcical edge.
Filmmaker spoke with Dolan about Woody Allen, bad reviews, and why style is sometimes more important than substance. IFC Films opens Heartbeats on Friday.
Filmmaker: Are you in love with cinema, with the form itself? Do you consider yourself a cinephile?
Dolan: Sure. I don't know everything about cinema. I'm not a nerd—yet. My movies are not a love declaration to cinema. I'm just trying to tell stories. But I am very excited by things we can do with cinema. There are so many tools we have at our disposal to tell a story that we don't have as painters or photographers. So I'm thrilled at the possibilities and I'm in love with the medium. I discovered cinema very late, at 16 or 17—some of my friends were watching Truffaut films at age 9, when I was watching Home Alone and thinking it was great—and not until I met different people who inspired me and showed me the way.
Filmmaker: I see you as someone who's willing to experiment with the form and draw on a number of stylistic tools in order to frame, for instance, a story about unrequited love and romance.
Dolan: All I'm trying to do is indeed tell a story and try to find the appropriate style for the story, not my style. I'm trying different things. It's not because I'm in search of a signature – or I'm part of [some] movement. I've been hurt by a lot of critics because they got wrong what I'm trying to do. I'm not trying to bring back films from the French New Wave. I've seen weird underground stuff and all of Woody Allen's films. But there's no other director where I can say, Yes, I've seen all his films. The films I know the best are not the ones you'd expect a cinephile to know. Sometimes I'm ashamed of the films I love, and the ones I haven't seen. I have to lie about it. [Laughs] I have a whole list of lies associated with films you have to like.
Filmmaker: Tell me a little about the thinking behind your opening conceit, these direct-to-camera interviews that provide a framework for Heartbeats.
Dolan: They're certainly inspired from Husbands and Wives. This is the one tribute in the film. Now, I try to take a different curve, a different tone, it's not exactly the same. I'd seen it in [the Woody Allen film], and it was efficient and very funny. It was a great punctuation for the film. For my film, I thought I only have two characters and the third one is a mystery man—we don't know a lot about him—and I think focusing on two neurotic maniacs will be too intense. So hearing different voices—the girl next door or the guy who works at the coffeeshop—I thought would be an opportunity to say more about love. I thought that would be nice having all these voices chiming in. I wrote the film in chronological order, too, so the opening sequence with the interviews was first in the script.
Filmmaker: You said once that critics tend to watch films with their culture and their sense of history, rather than their hearts.
Dolan: Are you insulted and hateful now? [Laughs] For example, I think of myself when I watch The Social Network. And I was deeply thrilled about it. I had conversations with friends who were comparing it to other films, and I was like, "Guys, the performances in this film are absolutely brilliant!" When I saw it, I was literally transported by everything and thought, This guy has ambition, he has dreams and a thirst for power, abundance and wealth, and I understand this. I thought [Zuckerberg] was, I don't know, some kind of hero. It was one of these moments in your life when you walk out of the theater and feel great. You're boosted with energy and vitality and maybe listening to the soundtrack you bought on the escalator from iTunes as you were leaving. This is the greatest entertainment I've seen in years. I'm having so much fun that I'm not watching the film thinking Who inspired this film? Why think about that? I don't give a shit. I love watching other people's films and getting this feeling of excitement. And I just think it is so bad that a critic would write, Oh yes, we know that Xavier Dolan has seen Godard's Two or Three Things I Know About Her. No, I haven't. And I never will now, because some dude watched my film and was contemptuous enough to impose on me my own influences!
Filmmaker: Do you feel comfortable at this point as a dialogue writer and scenarist?
Dolan: I really do. I think this is the easiest for me because I really love words. An author can be so proud of what he's writing but he needs to have judgment. Sometimes I listen to myself writing, and I have to be careful with that and not be afraid of cutting stuff and going lighter so that is punchier. So I'm very comfortable as a dialoguist – maybe not as a screenwriter.
Filmmaker: If you're more comfortable on the dialogue side, how do you go about finding the right visual register and camera strategy from scene to scene?
Dolan: A lot of work is already done with the script. Since I'm the director and the editor, I tend to think, I won't write it this way, because that will be tough to edit or to film. I'm trying to build a logical whole, and hope it's going to work. It's getting easier and easier, because the more experience you get, [you figure out] what is possible and what isn't. A sentence like, "Paris is burning" is expensive! What's very interesting is in pre-production when you start meeting with all the chief departments—you're having conversations with your art director and set designer, and then the prop girl—and you're literally enriching the story at every one of these meetings. The story keeps getting thicker in terms of quality and coherence. And locations bring even more. So I'd say 50 percent of the job is done at the writing stage, and 50 percent is done when you're scouting locations and buying costumes. I did the costumes and linked ensembles myself on Heartbeats—I love this shit.
Filmmaker: So with camera placement …
Dolan: A one-shot deal is the most efficient way to tell the scene in a story. Sometimes there are eight shots. There's a level of importance for every scene in the film, and – it's hard – I try not to be a nerd who's having fun: "Ooh, let me use this lens that makes everything blurry." I'm trying to ask myself questions like, Is this useful at this moment? What am I trying to say? I have to do it well because I'm young and people will keep saying I'm an impostor, so I try to prove to them … or to myself … I don't know.
Filmmaker: But isn't it also related to themes that you're working with? Because in Heartbeats you seem to be playing very conscientiously with ideas about depth and surface.
Dolan: It's a very "shallow" film. These people are into a very conceptual love. There's no depth—they are literally in love with themselves through the eyes of a beautiful man. And it would be great if he could love them. That's basically what's going on. They are choosing an impossible target so they won't have to get involved in real things. They're very romantic, but at some point the reason why there aren't any crying scenes is because it's a very banal love story. I saw no reason to have anything sincere. Basically what I was trying to tell people through this film is how shallow we can be in love. Hence, I think it's only logical that the style would be more important than substance, which is not the case with I Killed My Mother.
Filmmaker: And the original French title is Les amours imaginaires, after all.
Dolan: Yeah. It involves creation and imagination, superficial visions and yes—colors and Chanel bags and marshmallows. This is intentional. This is a story about love imagery, the way we get infatuated with concepts and ideas more than individuals at this age.
Filmmaker: Do you find that people are unwilling to credit you with artistic maturity because of your youth?
Dolan: Yeah, many people are. But then many others are doing too much. I have to be honest—I love reading critics. The main idea is to become a better artist. Logically, reading all these critics should help me do that. But all the geat reviews feel awkward because I'm like, Really? Haven't they seen this mistake? Isn't this pretentious? And then there's other reviews, where people hate you and want you dead, and you think, Okay, I get it. There's absolutely no chance this person would love the film. They list all the films I have ripped off or copied, and then at the end there's some kind of grade, as if people were correcting homework. The nuanced reviews are very rare, and I think at the end of that, you shouldn't listen to either [side]. I'm thinking that more and more, even if I'm obsessed with reviews. Instead, you pay attention to what you think is bad, and what you want to do different next time. This is why it's so exciting to shoot—because I'm eager not to be bad again.
Filmmaker: Do you feel less self-conscious when you're acting instead of directing?
Dolan: Of course. What's dangerous is that the more you act, the more you get better. I'm afraid that the less I act, the less I evolve. I could be a good actor but I have to work for other people and focus on one thing. When you try to impress a director, nothing is more powerful than this. You get on a set and the main idea is giving someone everything they want. And until they're satisfied, there's no giving up, no surrender, and no possibility of doing anything until you see a smile on his face and they say, Wow, that's great. The best thing is, Wow, that's how I saw it, and then you know you actually pleased someone, because they were afraid their vision would not be as compelling on the screen as it was in the script. And I miss that. I can't really feel that good when I'm acting for myself. I can't look at my assistant and say, "Oh my God! I kicked ass!" No. I'm never satisfied with what I do.
Filmmaker: You were acting from a young age. When you decided you wanted to make films yourself, how did you go about it?
Dolan: I missed acting. I had written I Killed My Mother when I dropped out of college. All my older friends were shooting—they're all actors or directors—and my younger friends were studying. I was really alone and wanted to get back to hard feelings I was harboring against my mom. So I wrote that and I thought, I'm the only guy who can act in this film because it's my life. And if another director or producer takes care of this, they're going to cast some hottie. [Laughs] I decided that I would direct it, and then I discovered that I loved directing.