Back to selection
HAMMER TO NAIL AT FILMMAKER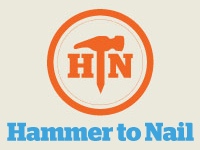 When we first launched Filmmaker back in 1992, we had a policy: no reviews. The idea was always that this would be a magazine by filmmakers and for filmmakers, and we wanted our film criticism to be implicitly — and perhaps subtly — embedded in our discussion of film practice. Which isn't to say that we didn't appreciate the value of film criticism. I probably owe half my film knowledge to religious readings of J. Hoberman every Wednesday during my college years. It's just that a) there were plenty of other outlets doing it back then; and b), we wanted Filmmaker to be a space where filmmakers were in dialogue with people who shared their experience with film art and craft.
From the beginning, though, we've pushed at the limits of this policy. Early on I realized that we couldn't cover festivals without allowing writers to write whatever they wanted about films, so our festival coverage does contain reviews and critical writing. More recently, we've been including critical essays, like those by Zach Wigon, that look at films through broad critical lenses. And, of course, the selection of what we cover contains its own critical biases. But, reviews, per se? Particularly the kind that have stars next to them? We haven't done them.
In recent years, I've felt the need to more seriously rethink that policy because it's obvious to me that what many filmmakers want — even need — most are reviews. More and more films are being made, being released through DIY channels, and many of these films are receiving negligible critical support. So, while we like to use our feature coverage to be huge and early supporters of films like, for example, Medicine for Melancholy, Frownland, Tiny Furniture, and Gravity Was Everywhere Back Then, we look for ways to do more.
This is a long precursor to me saying that I've very happy to announce a new partnership with the great website Hammer to Nail, which is all about reviews. Hammer to Nail has carved out a respected and distinct identity as a site for thoughtful film commentary and criticism that, yes, is written by people in our filmmaking community. Editor Michael Tully was, in fact, one of Filmmaker's 25 New Faces in 2006 and he most recently premiered his new film, Septien, at the Sundance Film Festival. If you head over to the site you may also notice other bylines familiar to you from our pages. Beginning tomorrow, each Thursday we'll debut at Filmmaker a new review from Hammer to Nail of a film premiering that weekend. (This review will appear on their site the following Monday.) For us, it's a way for us to include more critical coverage in these pages, and for Hammer to Nail it will hopefully be an introduction to readers of this site who haven't checked out the rest of their great content yet.
But aside from this pontificating about reviews and the critical voice, I'm just happy to have regular Hammer to Nail content over here because they've got great writers. Their coverage is smart, passionate, it goes deep, and it's always beautifully expressed. I've just posted their first review for tomorrow morning at 10:00AM. Check back then, and I hope you enjoy this new feature as much as I do.