Back to selection
MARTIN SCORSESE AND PAUL SCHRADER TALK "TAXI DRIVER" AT 35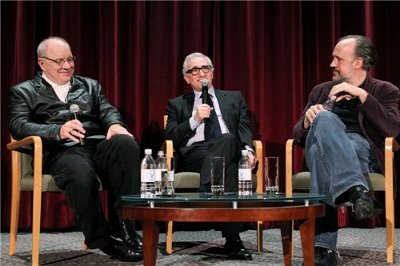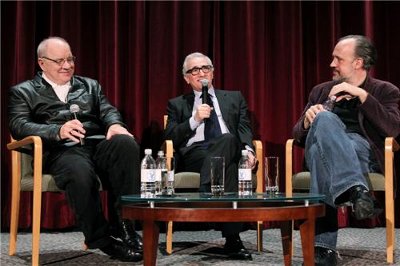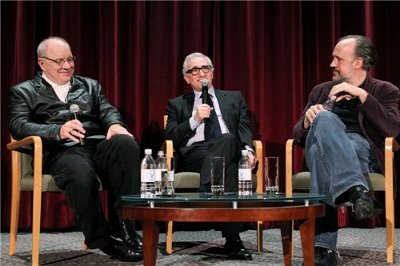 Celebrating the 35th anniversary of Martin Scorsese's seminal film Taxi Driver, Sony Pictures and The Film Foundation, Scorsese's film preservation non-profit, held a premiere screening of their 4k restoration of the film at the DGA in New York City last night, which also included a conversation with Scorsese and Taxi Driver screenwriter Paul Schrader moderated by critic Kent Jones.
The restoration, which will be available on Blu-ray on April 5 and screening theatrically at AMC theaters beginning March 19 (NYC's Film Forum will show a new 35mm print starting the 18th), took most of 2010 for Sony to accomplish. According to a flier given to audience members last night, the original Taxi Driver negative was scanned with a specially designed wetgate 4k scanner at Cineric in New York with color correction completed at Colorworks (which also created the new 35mm negative), all under the supervision of d.p. Michael Chapman and Scorsese. Scorsese said last night he strived to have the restoration look as close to its premiere in 1976, going as far as making sure the Columbia logo at the start of the film looked as grainy as it did back then.
Being a part of the VHS generation, I jump at the chance when I can see one of my favorites on the big screen. The digital 4k projection is fantastic. The neon signs in dingy Times Square circa '76 (Scorsese says he doesn't miss how Times Square was back then, but doesn't like what its become either) really pop and you can notice more the strain on Travis Bickle's sleep deprived face, particularly the bags under his eyes in some scenes. But where I felt the biggest difference was (and what I can never appreciate fully watching on my TV) is the desaturated look for the film's gruesome finale (one of the tactics Scorsese needed to do to get the film from an X rating to an R). The striking difference in color made me see the scene in a disturbing new light.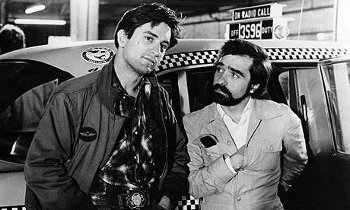 During the conversation portion, which happened before the screening, Schrader talked about how Robert Bresson's Pickpocket was a big inspiration in him writing the script, while Scorsese recalled how he got legendary composer Bernard Herrmann to do the score. "I called him and said the film is called Taxi Driver, and he said 'I don't do taxi movies'…. I sent him the script and the scene he really liked was where Travis pours the Brandy over his bowl of cornflakes." (Actually, it's a bowl of chopped up bread.)
When Jones asked what they think of most when they watch the film now, Scorsese and Schrader both admitted they can only think of how they could have made the film better so they try not to watch it. Scorsese added that it's hard not to revisit the moviemaking experience without also thinking about things that were also going on outside of the film. "All those pictures you see of Bob [De Niro] and I talking on set, we're never really talking about the film, it was often something that had nothing to do with the film."
Schrader summed it up by calling the convergence of the film's main creative figures — Scorsese, De Niro and himself — as being  "a serendipitous moment where three people came together during a special moment in time."
[AMAZONPRODUCT=B004IFYMYI]
Top Photo: (L-R) Paul Schrader, Martin Scorsese and Kent Jones. Photo by Marion Curtis.