Back to selection
CHICKENS, VINYL AND LOST & FOUND IN AUSTIN: JEANIE FINLAY AT SXSW
My name is Jeanie Finlay and I'm an artist and filmmaker from the U.K. I'm in Austin for my very first SXSW and the world premiere of the feature documentary Sound it Out which I produced and directed.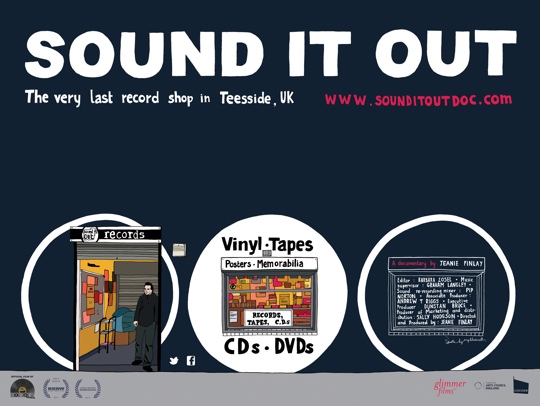 Sound it Out is a documentary portrait of the very last record shop in Stockton-on-Tees in Teesside, my home town. It's a small shop in a small town. It's a film about men and music and passion and the North East of England. It's the most personal film I've ever made for the lowest budget and I'm frankly still a bit gobsmacked that my DIY microbudget film with a big heart will be premiering later on today at SXSW.
It was an adventure just getting here — one lost (and then found again) passport at LAX, one missed flight, one unscheduled evening in LA, two standby flights and I finally arrived. I'm so relieved to be here after my epic journey and getting here is just the start of it all. There are chickens in the yard of our apartment so we must be in Austin!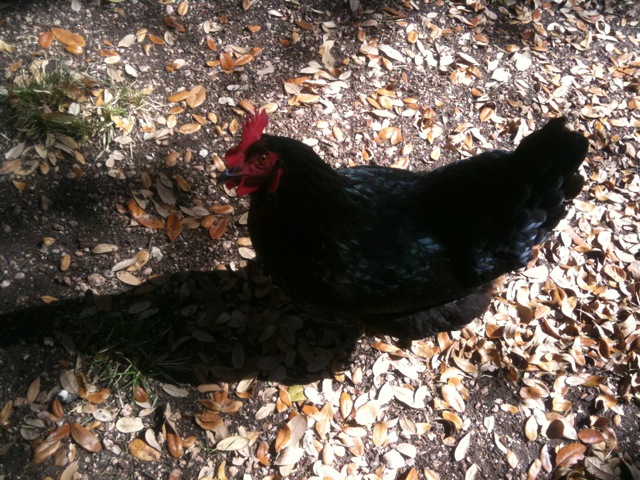 I am full of expectations — do audiences really queue that long to get into cinemas, will anyone be able to understand the strong, sometimes very strong, North East accents in my film, can we make a splash in this enormous festival. I'm really not quite sure what to expect — Glastonbury for geeks, musos and filmophiles…?
Of course I know of the festival, I've always wanted to come and have seen a glimpse of what it might be like. One of the realities of Twitter/Facebook et al is ten days straight of festival envy as your friends and associates update you in 140 character chunks about the "awesome" thing they've seen and you haven't. But there's nothing like experiencing it first hand.
The Austin Convention Center is like a small city — the overlap with the interactive conference means that when the panels kick out it's almost impossible to walk from one side of a lobby to another and the internet surges and wanes depending on the social media pull from the interactive rooms. I imagine that the new Twitter or locative technology is being launched behind a closed door right now, somewhere in this building.
My film was crowd-funded in three campaigns on IndieGoGo — (I wrote about my experiences for Directors Notes). It has been the best filmmaking experience I've had and also the most work. The exhilaration of just getting on with it and making the film, rather than waiting for funding applications, pitches and rounds of meetings to go through has felt incredibly liberating and incredibly "unBritish." I've been working with PMD Sally Hodgson and it's been so rewarding to connect directly with the audience of the film, before it's even made.
We've tried to take the same independent approach to getting the word out about the film. Before coming out we were advised to get a publicist but to be honest it's just not been an option on our budget. So, we're making a DIY splash, in the same spirit that the film was made. We have stickers, flyers and the Sound it Out personal jukebox — we're bringing the soundtrack of the film to the streets of Austin, one record at a time and it feels like a good fit.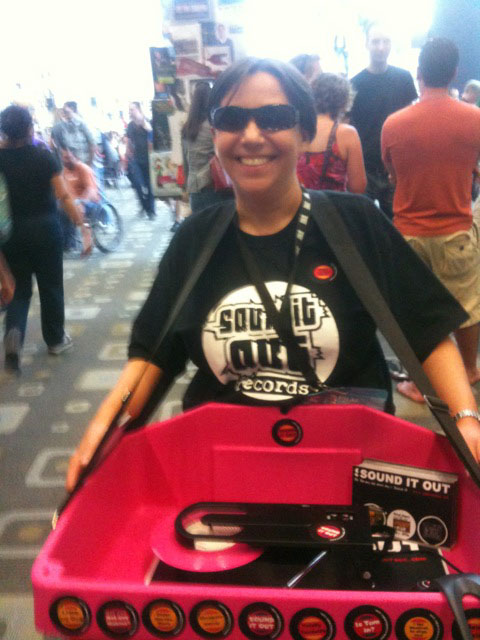 Saint Saviour the singer who features in the film has also come over to sing at the premiere and to do an in-store performance at a End of an Ear Records. No band, no backup, just a keyboard and an incredible, mesmerising voice in just the kind of store that Sound it Out Records is.
Sound it Out has its world premiere later today at the Alamo Ritz. I am nervous, incredibly excited and cannot wait to see the film with an Austin audience and send it out into the world. Wish me luck.