Back to selection
TIM HETHERINGTON, R.I.P.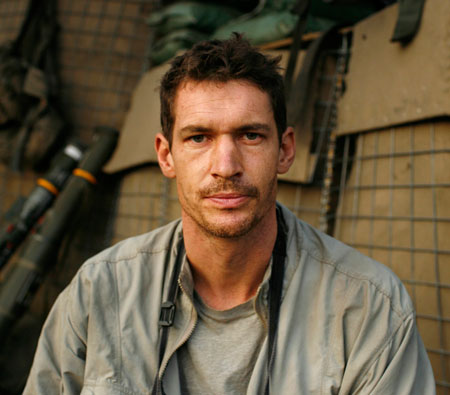 While traveling today I heard the very sad news that photojournalist and documentary filmmaker Tim Hetherington, winner of the Sundance Documentary Grand Jury Prize, with Sebastian Junger, for their documentary, Restrepo, was killed while covering the conflict in Libya.
Lauren Wissot interviewed Hetherington and Junger earlier this year for Filmmaker, and she began her piece like this: "Most documentary filmmakers attempt to see the world through the lens of the subjects they're shooting, but few put their lives on the line to do so." Of the film, which looked at the conflict in Afghanistan through the viewpoints of U.S. soldiers stationed there, Hetherington said:
Well, one of the things I think we knew after awhile was we had such a profound and intimate experience with the soldiers that the bond, at least for me, became more interesting than the actual fighting. People like to think that the war machine is about bombs and guns and helicopters since that is the way the media portrays the war machine. But there's also these interpersonal relationships between soldiers. Take a small group of soldiers, platoon size, train them together, put them together in extreme circumstances and they will kill and be killed for each other. That is the heart of the war machine. And that's really what our film became about.
His final posting on Twitter from one day ago is as follows: "In besieged Libyan city of Misrata. Indiscriminate shelling by Qaddafi forces. No sign of NATO."