Back to selection
Out of the Blue — A Hammer to Nail Review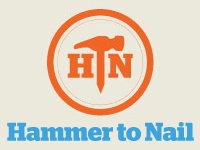 (Out of the Blue opens at Anthology Film Archives for a one-week run on Friday, July 3rd, 2011. Its home video availability is spotty, though hopefully that will change soon.)
American cinema has spoken quite well for itself in the first half of 2011, but watching a new 35mm print of Out of the Blue makes even the most graphic new releases seem so utterly tame. As disturbing today as Dennis Hopper's 1980 drama presumably was back then, Hopper's long-overdue directorial follow-up to his grand folly The Last Movie unflinchingly depicts the loss of one young girl's innocence while simultaneously existing as an explosive time capsule of the burgeoning punk rock scene of that very moment. While it's admittedly silly to bitch about the "glory days" and whine about how they "don't make 'em like they used to," in the case of Out of the Blue, they really don't.
In a performance as iconic as — and perhaps even more unforgettable than — her big-screen debut in Terrence Malick's Days of Heaven, Linda Manz plays Cebe, a brash adolescent who's got a serious Elvis obsession. In a balls-to-the-wall sideswipe of an opening scene, we learn why Cebe currently lives alone with her mother. However long ago — this sequence is a dream, though it's likely it went down this way — a clown-faced Cebe is riding in the passenger seat of her father's big rig as he barrels forward, taking swigs of liquor, laughing, and kissing her on the lips. Cebe seems to be in her glory. While it's obvious that this isn't going to end well, it ends way worse than that. Mind you, this all happens before the opening credits have even begun to scroll.
From there, things calm down a bit as the film's namesake and theme song, Neil Young's "My My, Hey Hey (Out of the Blue)," sets its desolate tone. We get to know Cebe, who wanders around her deadbeat town obsessing over Elvis, smoking cigarettes, and putting on such a convincing tough girl act that one might begin to forget just how young she actually is (unless I missed it, this is never specified, but I would venture to say she's 13 — certainly no older than 15). Cebe's dad, Don Barnes (Hopper), is about to get out of jail, and her mother Kathy (Sharon Farrell), a waitress, is excited. She's also addicted to heroin.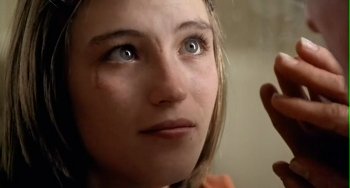 When Don gets home, Kathy throws him a party, where he reunites with his good buddy Charlie (Don Gordon). Alcohol is guzzled profusely. At one point late in the night, when a few stragglers are gathered in the kitchen, a stranger walks in (it should become clear to the viewer who this is long before Don and Charlie figure it out). Don finally gets hip to what's happening, and unleashes a furious, impassioned tirade that sends his angry, unwelcome visitor packing. But this moment also opens a window into a new, deeper layer of pain and sadness contained within this blistering film.
After such an emotionally honest scene such as this one, with Don apologizing for his actions but stressing that he can't do anything to fix what he did, just as we're beginning to feel sympathy for his character, what does Hopper do? In the very next scene, he has a drunken — check that, currently drinking — Don pick up Cebe from school and drive her home, talking half the time without paying attention to the road. So much for sympathy — or, at the very least, so much for the more frequently seen filmmaking tendency to guide us toward some sort of light. Don might not be outright evil, but he also doesn't have the courage or desire to clean up his life. Dennis Hopper certainly isn't going to be the one to help him do it.
One night, Cebe wanders into the nearest city's downtown (the film was shot in Vancouver), at which point Hopper throws narrative caution to the wind. For the next several minutes, Out of the Blue becomes a full on punk-rock assault. Cebe makes her way into a Pointed Sticks show, where she watches a performance, hangs out with the band backstage, and even stands in on drums. As Cebe pounds away on the kit, smiling, electrified, she has bridged the gap between Elvis and punk.
Before all this punk rock anarchy, as well as Cebe's glimpse later that night into a much seedier downtown world, there's a moment that perfectly expresses what makes Out of the Blue so viscerally alive. Cebe drifts through the dirty downtown streets at sunset, passing a crazy street musician who is accompanied by a strange figure on crutches. Director of photography Marc Champion's camera begins to wander with these characters before stopping to let them drift away. Yet when the song — and, presumably, scene — finishes, the singer turns and walks back to the camera, looking beyond it to ask the crew if he did okay. This shot should have been cut seconds before but now it's too late. The fourth wall has been shattered. At that moment, all bets are off. All rules are discarded. Hopper's film isn't just a narrative. It's a documentary. It doesn't just contain punk rock. It is punk rock.
Speaking of punk rock, in one of the film's most memorable moments, a cigarette smoking Cebe stands up, storms onto her school's football field, stomps through football players who are practicing, marches past band members who are rehearsing, and literally pushes her way through cheerleaders as they rehearse their stale routines. In this one shot, Hopper has rubbed his metaphorical cigarette out on the smooth, acne-free face of privileged, complacent America.
Technically, Out of the Blue is far from perfect. There are dubbing issues. In a general sense, it has the feel of having been taped back together after being discovered in a pile of burned wreckage. But that's what gives Hopper's coming-of-age tour-de-force its furious, raw power. Then there's Manz, who is unlike few presences the screen has ever seen. She can seemingly do no wrong, even when flubbing a line reading or doing something entirely out of character. But it isn't until the film's climax that the depth and power of her performance screams through. It's an excruciatingly painful sequence that brings Hopper's point home, and although it isn't pretty, it's a blunt reminder that for many unfortunate kids in the world, their adulthoods are cruelly obliterated before their childhoods have even begun.
Filmmaker has partnered with our friends at Hammer to Nail for a weekly "Pick of the Week" post that will be exclusive to our newsletter and blog for a long weekend, at which point it will go live over at Hammer to Nail as well. In the meantime, be sure to visit www.hammertonail.com for more reviews and lots of other great editorial.