Back to selection
A SUMMERTIME PREVIEW OF ROOFTOP FILMS
Summer has long been my favorite time of the year in NYC. When the temperature skyrockets the crowds head for the shore, leaving only us sweaty diehards to sip iced coffee in sidewalk cafes in the afternoon, and attend al fresco screenings in the heat of the night. This year, though, I'll be getting my caffeine fix alongside De Herengracht rather than anywhere near the Hudson, and seeing outdoor cinema courtesy of Pluk de Nacht rather than Rooftop Films. But if you happen to be lucky enough to be reading this from any of the five boroughs, I suggest marking your calendar for the following Rooftop events.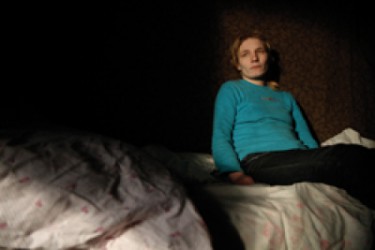 Sunday, June 26th. Family Instinct (pictured) has been creating a stir at several doc fests recently — and for reasons that have little to do with the sensationalistic brother-sister marriage at the heart of Andris Gauja's patient, slow-boiling portrait of what might best be described as the Latvian kinfolk of The Wild and Wonderful Whites of West Virginia. Similar to the slew of nonfiction work coming out of Denmark these days Family Instinct plays like riveting fiction (and, in fact, which scenes are staged and which are "pure" verite is often unclear). Gauja's film follows Zanda — a sort of Hester Prynne for the community (her cry of "Everyone blames me for everything!" is met with "Who else is there to blame?") — in the year leading up to her abusive husband/sibling's release from prison. Tension mounts as the twenty-something struggles to care for her two young children while facing brutal economic and emotional obstacles at every turn. Talk about hopeless — when Zanda asks her mom, "Don't you love us?" she nonchalantly replies, "Why should I? What's there to love?" Zanda then wonders, "So why keep on living?" To which her mother answers, "What else can we do?" And yet these characters — seemingly so unaware of the camera it's uncanny — do keep on living and searching for a way out of their desperate hardscrabble existence. Family Instinct becomes less like a doc and more like a Dardenne brothers film with every frame.
Saturday, August 6th. According to the Rooftop program, "In Italian La Bocca Del Lupo means "mouth of the wolf." It is also the name of the bay of Genoa, as well as being slang for finding oneself in hard times or behind the barred windows of prisons." Add to that shortlist the title of Pietro Marcello's exquisite nonfiction film that captures the most beautiful of love stories to blossom in a seedy underworld. (Not to mention a cinematic one. "He could've been an actor with that face of his," Mary in voiceover says of her leading man Enzo, who's got a physiognomy straight out of a classic gangster flick.) With gorgeous cinematography shot seemingly from every angle then wedded seamlessly to archival footage, and a voiceover that segues effortlessly into religious-sounding hymns, Marcello has created a visual avant-garde feast with inflections of Marker and Maddin. Evocative and atmospheric, flowing from past to present with the rhythm of a dream, La Bocca del Lupo takes its time easing into its touchingly sweet romance. Towards the end of the doc the non-intrusive narrator makes mention of "small great stories." And certainly this is one of them.
Several animated shorts, though screening individually, also caught my eye. ichael Gagne's surprisingly engrossing Sensology, based on a famous jazz improv, is akin to watching music on a heart monitor, while Gina Kamentsky's House Bunny uses a cute sticklike rabbit to lead us on a walk through a Big Band sound. Then there's Felix Massie's The Ongoing Life of Peter Peel: Can, Can, Can't (which already screened Friday, May 20th), an oddly hilarious indictment of dead-end, low-wage jobs via a Casper the Friendly Ghost-type character that stacks cans for a living. And Peter Peel is trumped only in its weirdness factor by Beomsik Shimbe Shim's excitingly inventive The Wonder Hospital. Think Pixar performs plastic surgery at Lars Von Trier's The Kingdom. (Then kick back, relax under the stars, and don't ask.)