Back to selection
Apple Releases New Final Cut Pro X; Our Review To Follow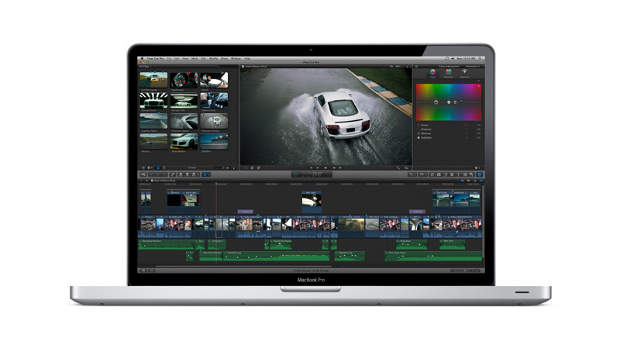 UPDATE: Read David Leitner's first take on Final Cut Pro X here.
This morning Apple released its long awaited, ground-up rethink of its professional editing software, Final Cut Pro. Available for $299 from the Apple Store, the new FCP is both drastically lower in price than the previous version and contains numerous improvements, including, wrote David Leitner at NAB this Spring, a "dramatically revamped interface, 64-bit processor capability, no more RAM ceiling of 4GB, and continual background rendering by means of unused CPU cycles." Leitner's takeaway then:
With FCP X, Apple is returning to the one-size-fits-all ethos of the original FCP. In other words, no more FCP Express. I think it's revolutionary, in a democratic sense, to spend years to overhaul an epochal product to make it more powerful, more protean, yet more accessible, with the goal that my teenaged daughter and Walter Murch would both edit with the same software.
Apple® today announced Final Cut Pro® X, a revolutionary new version of the world's most popular Pro video editing software which completely reinvents video editing with a Magnetic Timeline that lets you edit on a flexible, trackless canvas; Content Auto-Analysis that categorizes your content upon import by shot type, media and people; and background rendering that allows you to work without interruption. Built on a modern 64-bit architecture, Final Cut Pro X is available from the Mac® App Store™ for $299.99.

"Final Cut Pro X is the biggest advance in Pro video editing since the original Final Cut Pro," said Philip Schiller, Apple's senior vice president of Worldwide Product Marketing. "We have shown it to many of the world's best Pro editors, and their jaws have dropped."

"I'm blown away by what Apple has done with Final Cut Pro," said Angus Wall, Academy Award-winning film editor. "Final Cut Pro X is incredibly modern and fast, but most importantly it lets you focus on telling your story in the most creative way, while it actively manages all of the technical details."
Filmmaker was given an advance copy of the new Final Cut Pro, and Leitner has been test-driving it for the last week, even using it to cut a new short project he's working on. Check back to this blog over the next few days for his initial impressions and a more fully considered review. In the meantime, you can listen to the podcast I did with David as he left the Final Cut Pro User Group Super Meet Up at NAB this year following Apple's FCP presentation.
David Leitner on Final Cut Pro X by FilmmakerMag
David Leitner on Final Cut Pro X by FilmmakerMag