Back to selection
AZAZEL JACOBS ON "TERRI"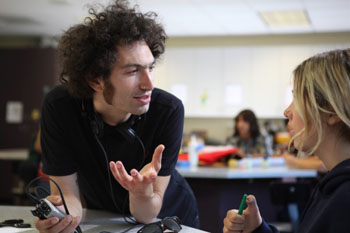 Originally posted on July 6, 2011. Terri is nominated for Breakthrough Actor.
Azazel Jacobs' idiosyncratic and homespun Terri is caring riff on the alienated teenager film, making its plus-size hero a stand-in for the trepidations we all fear when our slow-motion lives begin to move just a little too fast. Here, in this video shot at Sundance 2011, Jacobs discusses how he moved from his previous feature, Momma's Man, to Terri, and why he's not like Alfred Hitchcock.
Photographed by: Jamie Stuart. Edited by: Daniel James Scott. Music: T. Griffin.
For more, read Nick Dawson's longer interview with Azazel Jacobs about Terri here.