Back to selection
MEDIA CURRENT: NEWS AND ANALYSIS FOR INDIE MAKERS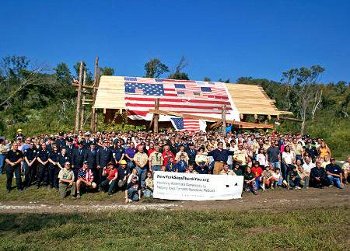 The world of indie filmmaking is forever colliding with the larger worlds of technology and giant media conglomerates, regulatory and legal developments, non-profit groups and a fickle consumer who loves indie film and other indie media.
Indie-Current is a monthly heads-up tracking these developments. It's a big — and forever getting bigger – world out there, so readers are encouraged to e-mail me stories I've missed or something you believe is important for others in the indie community. I can be reached at drosennyc AT verizon.net.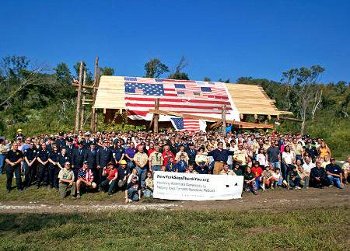 Remembering 9/11
September 11, 2011, will commemorate the tenth anniversary of a day that changed America. Many docs will likely be shown in theatres and movie houses to commemorate the events surrounding the catastrophic occurrences.
Indie filmmaker Scott Rettberg has taken a different tack with his heartfelt feature doc, New York Says Thank You (pictured). It chronicles the foundation that brings New York firefighters and volunteers to California, Illinois, Louisiana, Indiana, Texas and Kansas to help rebuild communities suffering natural or man-made disasters, and thus repaying the nation that came to the city's aid during the 9/11 crisis.
AT&T Merger Update
AT&T's push to acquire T-Mobile hit a major road bump when the Justice Department came out against the deal. As Deputy Attorney General James M. Cole pointed out, "The combination of AT&T and T-Mobile would result in tens of millions of consumers all across the United States facing higher prices, fewer choices and lower quality products for mobile wireless services." While the DoJ decision does not kill the deal, but represents a major set back. Stay tuned.
For more, see Wired's coverage.
Wireless Squeeze Play
In keeping with Mark Twain's adage, rumors about the end of wireless capacity are premature. Nevertheless, AT&T and Verizon wireless services are aggressively replacing unlimited data plans with tiered data caps as broadband becomes increasingly more popular.
For a remarkably uncritical analysis of this scheme, see the New York Times.
Killing Cable
The Internet is changing everything, particularly the media universe. Amidst this change, cable TV is getting hit, big time. According to analysts at SNL Kagan, 10 percent of U.S. homes will cut their pay TV subscriptions by 2015. Another shop, Leichtman Research, estimates that nearly one-third of households already connect their TVs to the Internet.
For a good discussion of this issue, see Mary Collins' piece at TVNewsCheck.
Film Financing During Hard Times
Dennis Toth, a film industry analyst at R&R Consulting, opines, "Making a movie is often compared to crawling through broken glass." He argues for what he calls media "co-evolution" to make sense of the new media technology and business climate.
For more on this and other film-industry issues, see Toth at R&R Consulting.
Crowd-funding in Hard Times
Crowd-funding is earning a lot of attention as a financial strategy for indie filmmakers. A recent three-part series by Peter Hamilton profiles how Tom Bean and Luke Poling are successfully employing the angel fundraising platform, Kickstarter, to finance their feature doc, Plimpton!: Its monthly "pledges" rocketed from zero in April '09 to more than $9 million in April '11! Hamilton's profiles are at DocumentaryTelevision.
David Rosen is a writer and business-development consultant. He is author
of the indie classic, Off-Hollywood: The Making & Marketing of Independent Films (Grove), originally commissioned by the Sundance Institute and the Independent Feature Project. His most recent contribution to Filmmaker Magazine is "TV Wars" (Spring 2011). For more background information, check out DavidRosenWrites and DavidRosenConsultants.