Back to selection
Five Questions with Jeff, Who Lives At Home Writer/Directors Mark and Jay Duplass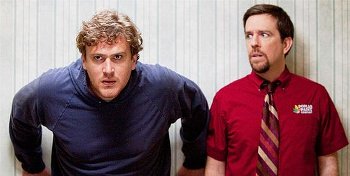 Last year Mark and Jay Duplass ventured into the world of studio filmmaking when they made the dramedy Cyrus for Fox Searchlight. At this year's TIFF the Duplass brothers and Searchlight will premiere their next effort, Jeff, Who Lives at Home, starring Jason Segel, Ed Helms and Susan Sarandon.
Filmmaker: Tell us a little about what your film is about?
Duplass Bros: It's about a 30 year-old guy named Jeff (Jason Segel) who believes, heavily, in fate. He bides his time in his mom's basement, eagerly awaiting the day that the universe will deliver his destiny upon him. When his mom sends him out one morning to get some wood glue, Jeff starts getting some signs that today might be his big day.
Filmmaker: What were the motivations behind telling this story?
Duplass Bros: We've always loved the idea of what we call the "epically small" in movies… that there are big, funny, beautiful things happening in the most boring and unexpected of places. In many ways, Jeff is a grand, sweeping adventure story about two brothers (Segel and Ed Helms) finding themselves and their place in the world. It just happens to be set in the banal strip malls of middle america instead of in space (or Narnia).
Filmmaker: Did you always have Jason Segel in mind to play Jeff?
Duplass Bros: Jason came to mind very early on. The character of Jeff is very unique. Yes, he's a stoner. But he's a believer, and he's sad, but he also needed to be inherently funny to watch. Jason is such a complex and wonderful person. He really got that combination of "funny sad" that was required for this character.
Filmmaker: What do you hope audiences will take away from your film?
Duplass Bros: Life can be awesome. It may suck and disappoint most of the time, but sometimes it's fucking awesome and full of incredible surprises.
Filmmaker: What's the biggest lesson you learned from making Cyrus and how did it help you with making Jeff, Who Lives at Home?
Duplass Bros: Our movies are about the people in them. Whether our movie costs $15,000 or $15 million, at the end of the day it's about what those people are doing and feeling in close-up. Jeff is in many ways a big adventure movie, and you can see that it was expensive to make when you watch the film, but at its core it's still about what's going on in those faces. And you can't lose sight of that, even when there are 80 crew members around.