Back to selection
VOD PORTAL MUBI GETS MOST VIEWERS FROM GAME CONSOLES

I had a chance to interview Efe Cakerel, founder of MUBI recently. Formerly known as The Auteurs, MUBI is a VOD portal/social network for cinephiles. It's well known for its international library. What's really interesting to me about MUBI is their strategy for film distribution, targeting not just PCs but game consoles as well. Their game console bet has paid off as you'll see below. What you'll find interesting is how to get your film in front of MUBI's international viewers.

Filmmaker: How do you select the films that are added to MUBI's library? Do you work with filmmakers directly or through a distributor? Are you aggregator only? If aggregator only, are there any plans to work with filmmakers directly at any point?
We do all that we can to select films to show on MUBI, be it acquire new film festival releases, select choice titles from back catalogs, work with distributors on their current titles, and more.  Similarly, we work with a wide range of rights holders, from international sales agents all the way down to individual filmmakers and producers.
Filmmaker: Are there certain criteria a film needs to meet before being added?
If by "added" you mean acquired for our VOD platform, our criteria is simple: we want great films our audiences will be interested in.
Filmmaker: What is MUBI's business model? Advertising/sponsorship or strictly from movie rentals?
The VOD platform has pay-per-view and subscription model options for renting films.
Filmmaker: How do filmmakers on MUBI make money?
MUBI splits revenue 50/50 with rightsholders.
Filmmaker: From where do your visitors buy mostly? Game console? The web? Other?
Game Console.
Filmmaker: Do you notice a particular genre does better on your site than other? What kind of movies do best?
Because MUBI is uniquely a global platform, and our library offerings different from country to country (we have a different library in every country in the world), it is impossible to say which film or genre does better than others, as they are so dependent both on local audiences and on local offerings.
Filmmaker: What advice would you give to filmmakers to help their films stand out on a video sharing site?
Choose your platform wisely, as films can get lost in the shuffle, and bring to the table your own ideas on how to get your films seen. The trend in media consumption is getting more and more about "all access, all the time," and work needs to be done to get the word out on smaller, lesser known titles.
Filmmaker: Do you do any active outreach, audience building for the site?
It's all organic and viral.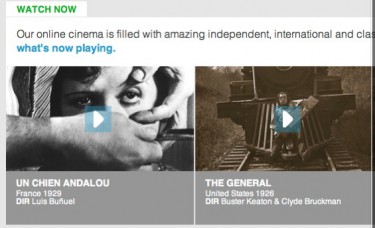 Filmmaker: Do you do anything to promote particular films?
Indeed, we have several editorial outlets to spotlight and highlight films and film series on the platform, via our web application, PS3 application and through our newsletters.
Filmmaker: MUBI is part VOD portal, part social network. Do you think the social networking causes people to make fewer or more purchases?
Not at all, the social network retains a community that is essential not only to audiences watching films on the platform but creating an atmosphere of cinephilia, continuing interest and interaction (reviewing, discussions, debates), all of which encourages purchases.
Filmmaker: What would you say to filmmakers who are concerned about their films being on the internet?
It depends on their concern! Piracy is a non-issue with us, as is the idea of VOD offerings cannibalizing sales in other media (theater, DVDs, etc.).
Filmmaker: Any plan to make MUBI available on any other devices?
Absolutely, we have several such plans in the works.
Do you have a film on MUBI? If so, how has your experience been? If not, would you consider it?