Back to selection
IFP to Run New "Made in NY" DUMBO-Based Media Center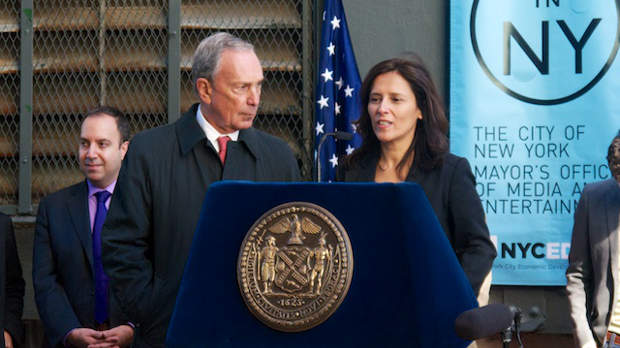 UPDATE: The IFP has created this page to answer questions about the new Media Center.
The Independent Filmmaker Project (IFP) will develop and operate a new Brooklyn-based "Made in New York" Media Center, spanning both traditional and new media practices, set to open this coming Spring. The announcement was made an outdoor press conference at 20 Jay Street in DUMBO, the site of the center.
Said Mayor Michael R. Bloomberg, "New York City stands at the forefront of the media and entertainment industries. The 'Made in NY' Media Center will allow us to continue to evolve and meet new challenges in the changing media landscape. By providing affordable workspace, networking events and educational seminars, New Yorkers will be primed to compete for new jobs emerging from this field." Commented IFP Executive Director Joana Vicente, "The Media Center will be an incubator for great stories and a showcase for new works whether they're told through film, digital, games or apps. Regardless of what tools are used, we'll be doing what we've done for 30 years: curating stories, supporting artists and connecting storytellers to investors, audiences and other artists. At IFP, we are thrilled."
IFP will implement, manage and market the new space, which will include shared workspaces, a theater and a cafe. Intended as a magnet for start-ups, tech and media entrepreneurs, the Media Center will house and cross-pollinate professionals from the filmmaking, technology, gaming, mobile apps and advertising worlds. Commented Media and Entertainment Commissioner Katherine Oliver, "The goal of the 'Made in NY' Media Center is to connect filmmakers, producers and storytellers to a rapidly changing world that is full of mobile apps, cross-platform distribution and social media. IFP's decades-long work in promoting and supporting independent filmmakers makes it the ideal choice to develop the 'Made in NY' Media Center into a thriving source of new content and collaboration in the City."
The IFP — also the publisher of Filmmaker — has partnered with General Assembly, who will provide at the Center and open to the public classes, workshops and long-form educational programming on such topics as technology, entrepreneurship and design.
For IFP, the Media Center marks an extension and expansion of its mission as it takes an active role with the Media Center in facilitating the transmedia experimentation that is invigorating discussions about the future of independent media. From the IFP's press release: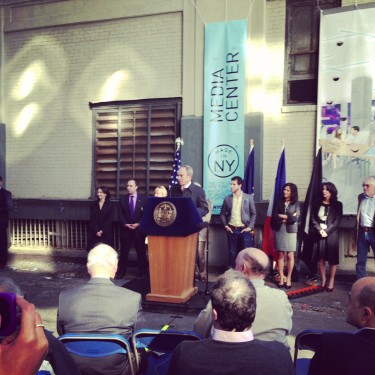 At this crucial juncture where filmmaking is vastly expanding beyond traditional media and platforms, today's storytellers face increasingly complex obstacles to navigate this ever-shifting media space, and with the Media Center IFP aims to guide them through this new media environment. The Media Center will offer memberships to multimedia professionals at various levels, and also house a Transmedia Incubator, the nation's first dedicated transmedia incubator to jump-start and support innovative projects from idea to conception and beyond. A Cross-Media Lab will assist aspiring digital marketing producers, who will be trained and paired with Incubator projects to devise the financial, creative, technical and strategic visions necessary for audience engagement across multiple platforms. A Digital Agency Academy will convene as a think tank within the Media Center to help solve real-world brand marketing challenges each year.
A new Advisory Board for the Media Center will be headed by Jon Miller, former Chief Digital Officer, Chairman and CEO, Digital Media Group for News Corporation and former Chairman and CEO of AOL. IFP will partner with a number of other companies and institutions, including MIT, CUNY, Parsons New School for Design, Playmatics and Starlight Runner.
Speaking personally, I'm incredibly excited by the possibilities this new center holds for the New York independent community. Congratulations to Joana Vicente and the entire staff of the IFP for this achievement, and we at Filmmaker look forward to bringing you more news about it in the days ahead.