Back to selection
BALANCING ACT: AZAZEL JACOBS' "TERRI"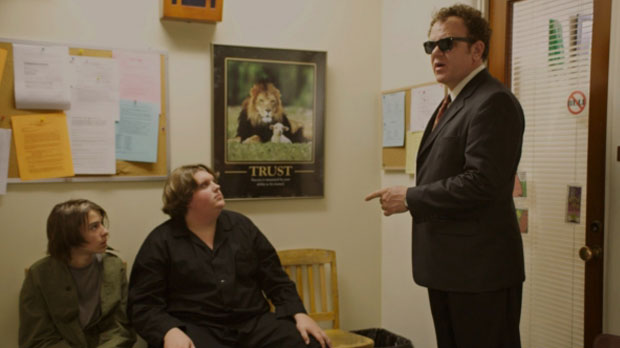 Originally published in the Spring 2011 issue. Terri is nominated for Breakthrough Actor.
There's a lot of time to talk when you're driving a U-Haul from Los Angeles to Portland. And when Azazel Jacobs decided to tag along with his friend, the novelist Patrick deWitt, for the multi-state road trip in 2008, it was only a matter of time between rest stops, refills and a break from traveling to ride ATVs that the topic of deWitt's latest manuscript would come up. What neither knew then was that deWitt's story about an overweight high school kid would open new possibilities in how they both tell stories.
Jacobs and deWitt had formed a strong friendship since their girlfriends introduced them in 2003. Both were living in L.A.'s Echo Park. Jacobs, the son of legendary avant-garde filmmaker Ken Jacobs, was beginning to develop his own career with shorts such as his Slamdance award-winner Kirk and Kerry and debut feature Nobody Needs to Know; deWitt was writing short stories while barbacking at a dingy Hollywood watering hole, which he eventually shaped into the subject of his first novel, Ablutions: Notes for a Novel.
"I just kept going to that bar more and more to talk to him," Jacobs recalls. "We connected on music, and I just wound up liking him as a person." DeWitt says: "I saw some of his work, liked it very much and our friendship grew." The conversations soon turned to their professions when deWitt handed Jacobs a rough draft of Ablutions.
"I got very afraid because it could be the end of the relationship," Jacobs admits. "That happens a lot in Los Angeles where somebody wants to give you their thing and then suddenly you have this other side of them that you have to judge. There can be a lot of resentment. But I read it, and I was like, man, this is exactly the writer that I love."
Ablutions follows the whisky-filled antics of an unnamed bartender. Amused by the down-and-out patrons that frequent the bar, he often takes notes of the evening's goings-on for the novel he will someday write. However, his hard drinking and lonely life away from the bar soon get to him, and he hatches a plan to escape his nocturnal world.
"It was extremely personal," says Jacobs when asked what he liked about deWitt's writing. "I felt like he was risking things and exposing things that weren't easy."
Jacobs couldn't put the manuscript down and even contemplated adapting Ablutions for the screen himself. But he couldn't find a visual entry point to match the words he was moved by. "I literally couldn't think of an angle that hadn't been covered in a bar," says Jacobs. "I couldn't see a way into the story. But from that point on I did have an intention of us working together." Although Ablutions wasn't the right project to collaborate on, Jacobs did soon find a way to work with his friend. He shot the bar scene for his next film The GoodTimesKid at deWitt's bar and cast him as the bartender.
After Ablutions was published (by Houghton Mifflin) and his son was born, deWitt decided he had to get out of L.A. He moved his family to Bainbridge Island, Washington in 2006. With the new setting he began thinking about a second novel but didn't want it to be autobiographical. "Ablutions was very much something that was taken from my life, and I didn't want to be one of those people who had to rely on their own exploits to get a book finished," he says. While having coffee at a local store on the island one morning, deWitt was taken aback by what was in front of him: a very large kid walking in pajamas and clogs down the middle of the road with a bedraggled older man trailing closely behind. He couldn't get the image out of his head.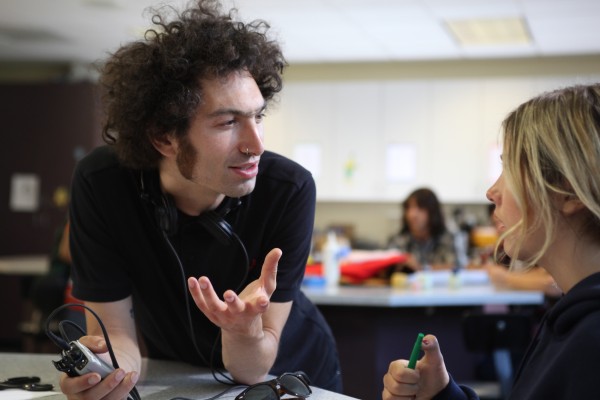 At the same time deWitt was trying to free himself from the internal creative process that produced Ablutions, Jacobs was going headfirst into a journey into his past for his new script, Momma's Man. That story follows a middle-aged man named Mikey as he returns to his boyhood home in New York from Los Angeles. Hanging out with his parents and sleeping in his old room, it becomes evident he's trying to shut out the responsibilities back home of a wife, mortgage and infant daughter. (Jacobs himself flew back to his hometown of New York City in early 2007 to make the film in his parents' Tribeca loft and also cast them as Mikey's mother and father.)
While Jacobs was writing the script, he and deWitt often traded pages of what they were working on. Jacobs was intrigued by an overweight kid named Terri, one of three characters deWitt was fleshing out for what he hoped would be his second novel. DeWitt spent a year and a half writing the story of three characters — two adults and one teenager — whose lives intersect, but the longer he worked the more Terri was becoming the most intriguing of the three, and Jacobs felt he could make a movie based around him. "I'm not a big drinker or bar person so I couldn't figure out a bridge into Ablutions," he says. "I'm more of a high school, coming-of-age person so I could see a way into Terri."
"He had to film Momma's Man, but he kept bringing it up," says deWitt. "He would be like, 'You know, the next thing I want to do is Terri.' It seemed so far-fetched to me, I never really thought of working with him, but the idea was instantly appealing."
Jacobs admits that making Momma's Man took its toll on him and once it was in the can (it received rave reviews at the 2008 Sundance Film Festival) he was ready for something new. "I wanted to go in the opposite direction," says Jacobs. "I really felt that I had not only gone as far into this kind of personal story that I wanted to tell, but I didn't feel like I had another story in me."
The idea for Terri as a screenplay crystallized in 2008 when deWitt's two-year exodus from L.A. was complete and he took that U-Haul trip with Jacobs to his new home in Portland. "That was a good time, that trip," deWitt recalls. "And we talked about Terri quite a lot."
Although deWitt was disappointed he spent a year and a half on a manuscript that would never see the light of day, he did feel some satisfaction that at least the strongest part of his work would survive. The two agreed they'd co-write the screenplay, and deWitt began transforming his literary version, an internal monologue, into screenplay form.
Jacobs and deWitt say the screenplay is pretty true to the Terri parts of the manuscript. Terri Thompson (played in the film by newcomer Jacob Wysocki), an overweight high school kid who likes coming to class dressed in pajamas and clogs, spends his days being the subject of bullying and taking care of his senile Uncle James (The Office's Creed Bratton). The constant teasing coupled with his stressful home life have affected Terri's class work, which leads to him having to report to the assistant principal, Mr. Fitzgerald (John C. Reilly). But instead of reprimanding Terri about his constant tardiness, Mr. Fitzgerald becomes his friend and schedules weekly meetings so they can talk about life. Things begin to look better for Terri when the young hottie in his class, Heather (Olivia Crocicchia), is involved in an incident that lowers her social status, making her an outcast just like him; they quickly become friends. Terri also befriends Chad (Bridger Zadina), a fellow delinquent. But the person he puts the most trust in is Mr. Fitzgerald, who tries to be a father figure while admitting that his own personal life isn't perfect. As he learns about Mr. Fitzgerald's troubled marriage, Terri realizes he's not the only one going through a rough patch.
As the first pages began coming to Jacobs in early 2010, one thing was clear: there was little that needed tweaking. "I thought, he's never written a screenplay, I'll really have to get my hands in there," says Jacobs. "And then I read the first five pages and I was just adding a comma. I started suspecting this is not going to be the way I thought." Jacobs's biggest concern was if deWitt could translate the honesty and originality of Terri as a novel into the pacing and character development that a script would need for the story to work onscreen. DeWitt's savant screenwriting abilities quickly made Jacobs realize he didn't have to be concerned. He told deWitt he wanted to take his name off the project as a co-writer. But deWitt appreciated Jacobs's presence during the writing process. "Aza just understands movies in a way I don't," deWitt says, "so if something was missing or there was too much of something he would be there to comment." (Jacobs still has a "story by" credit).
DeWitt says the biggest thing he had to keep reminding himself was that writing less is a good thing when it comes to screenwriting. "You can add as much as you want in novels," he says, "but screenwriting is much more about what isn't there. It's much more about subtractions, telling the story in as few words as possible. I enjoyed having that difference." Another difference from writing a novel: the collaborative process needed to make a film. "Writing fiction is a hermetic, private thing for me," he says. "To have to share [the screenplay] not just with Aza but with the producers and the actors, it's a big difference. But everyone's hearts were in the right place so whatever fears I had were unfounded."
However, for Jacobs, directing a script he didn't write brought its own worries. "I constantly was thinking to myself, I don't want to fuck this up," he says. "It was the same way I felt shooting my parents [for Momma's Man]. I thought, they don't allow anyone into their house — do not mess this up! Also, I felt I was on shaky ground. Making a film like Terri was something I had never done before. I was worried, I was having sleepless nights, but there was also something telling me to keep going." Jacobs was comforted by the fact that he would once again be working with d.p. Tobias Datum, who also shot Momma's Man, and for the first time he would have a script supervisor, which he says allowed him to fully concentrate on performance for the first time on set.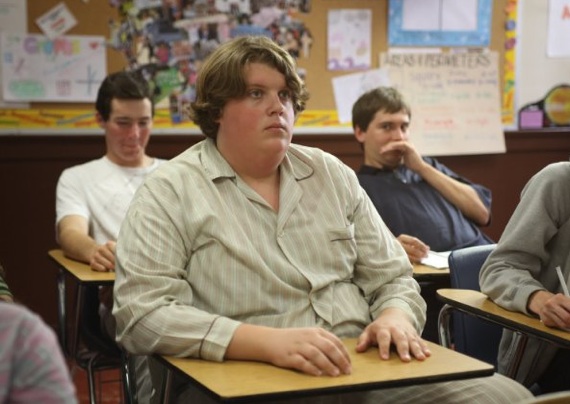 In ten months deWitt had finished the script, but not before he and Jacobs had a disagreement about the ending. In deWitt's manuscript the story ends with Terri, Heather and Chad hanging out in Terri's shed drinking whiskey and taking his uncle's pills. Heather offers herself to Terri, but her sexual advances overwhelm him and he begins to sob. DeWitt felt this is the way the film should end. "I remember being very adamant," he says. But Jacobs didn't want to have the audience feeling depressed as they left the theater, a lesson he learned from his father when he was figuring out the ending to Momma's Man. "There's the shot in Momma's Man where the baby crawls to the toy Mikey brought from New York," says Jacobs, referring to the final shot of the film. "It's subtle, but it means a lot. And that was something that my dad strongly urged: 'After going through all of this, give us something to want to get us out of our seats.'" The scene in the shed is still in the film, but the two worked out a more uplifting conclusion to Terri. "Looking back now I'm really glad I was steered away from that — I think it hit the wrong note," says deWitt, though he adds that Terri is still "very much in the thick of it" when the film is over.
For most films, delivery of the script and its rewrites is where a screenwriter's job ends. But Jacobs wanted deWitt to feel that the story was still his and asked for his guidance in other aspects of the filmmaking process. One of those was the casting of Terri and the other child actors in the film. Jacobs would send deWitt head shots and audition tapes for his opinion. The respect Jacobs showed his friend throughout the making of the film is something deWitt will never forget, but Jacobs says he couldn't have imagined doing it any other way. "He's one of my closest friends, but also I wanted his blessings," says Jacobs when asked why he had deWitt involved in the casting. "I feel 85 percent of the job for me in directing is having people excited about what they're contributing to. Then they will be much more giving in terms of making the film better — a much better film than I can do on my own."
It's not lost on deWitt how rare of an experience he's had in making Terri, and his friends won't let him forget it either. "I have friends who understand the business and they're like, 'This is so annoying, you don't even want to write screenplays and now you get to make a film out of your first one and talk about casting!'" says deWitt with a chuckle.
DeWitt admits he would have never written a screenplay if it weren't for Jacobs initiating the idea, and now he's working on another one (though he can't go into specifics on what it's about) and hopes to do more. "I'm seeing now that a lot of ideas that don't work in the short story format or couldn't sustain a novel can be utilized in screenplays," he says. "It's become an option in my process."
For Jacobs, the process of making Terri (which premiered at this year's Sundance Film Festival and will be released by ATO Pictures in early July) solely as a director was liberating, and he plans to continue his mantra of doing projects that are different and challenging. He's currently developing a Raymond Chandler detective story for the screen with scribe Gill Dennis (Walk the Line), who was his teacher at AFI. When asked if he's opposed to taking on scripts that are already developed or doing a purely for-hire directing job, he says he's interested in either — "as long as I can keep trying different things."
Jacobs and deWitt both say they can't wait to work with each other again. "I would love to tell those other stories at some point," says Jacobs, referring to the other characters in deWitt's manuscript that featured Terri. "They take place in the same town, and I just love the idea of Terri passing by in a shot." DeWitt also has an idea: "I'm trying to start a new novel now and I think it could make for a good movie."
Perhaps another road trip is in order.