Back to selection
FROM REBEL TO REVENUE
With Steven Soderbergh's two Che films on deck at Cannes, Tribeca had the perfect appetizer with Chevolution. This impressive doc chronicles the unlikely journey this image of Che Guevara from the La Coubre explosion funeral march in 1960 evolved into a beacon of capitalism.
Directed by Luis Lopez and Trisha Ziff, the doc, which is making its World Premiere at Tribeca, is produced through Netflix's Red Envelope Entertainment.
Starting off with a brief history of how Ernesto Guevera became "Che," the doc then examines the man who took the famous shot, Alberto Korda. A fashion photographer turned news photog during the revolution in Cuba, not until the '90s was he recognized as the person who took it. Filing away the film negative after the newspaper didn't run the shot, it stayed hidden from the world until the late '60s when the shot appeared in a French magazine after Che fled into the Congo. Though the image wasn't appropriate for a news piece at the time Korda shot it, his fashion photography background made the image perfect for reflection, especially for a man who after his death would become immortal.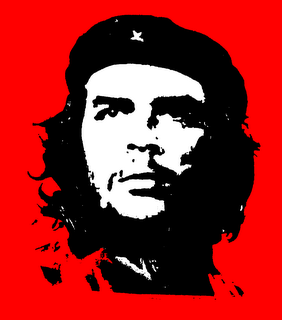 Considered the most reproduced image in the history of photography, a major reason for that is because Korda never had a copyright on it. This lead the Che shot in public domain (until recently) and evolve through the decades from being on posters at rallies to sparking inspiration for artists like Jim Fitzpatrick to create pop art out of it (right) and inevitably used for corporate gain as it gets plastered on T-shirts, coffee mugs, cigarette packs, beer bottles and even bikinis.
Interviews in the film range from people who knew Che, like his motorcycle diaries mate Carlos Calica Ferrer, Korda's daughter Diana, photographers who knew Korda, and Che historians. Rage Against The Machine's Tom Morello even tells how Diana's lawyers went after the band for using the Che image on the cover of one of their singles.
But Lopez and Ziff don't ignore the awfully large elephant in the room: Che's controversial reign in Cuba. Known to be a violent disciplinary, many interviewees speak out how youngsters should learn about the Cuban revolution and the acts of Che before idolizing the man by wearing a T-shirt or get his face tattooed on your arm, as one person does while being interviewed.