Back to selection
"THE EXTRA MAN" | co-writers-directors, Shari Springer Berman and Robert Pulcini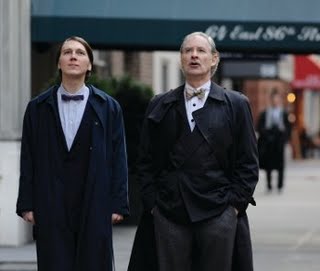 [PREMIERE SCREENING: Monday, Jan. 25, 9:30 pm — Eccles Theatre, Park City]
Long before the cameras rolled on The Extra Man, we faced a decision of Sophie's Choice proportions: whether or not to sign off on an impossible production schedule or pull out of the movie completely. We had expected to make the film on an incredibly challenging 30-day shoot. However when everything was budgeted out, we were left with only 27 shoot days, a rather extreme difference. When our a.d. nervously handed us this document, there were many days that were literally unmakeable. No matter how quickly we moved, how minimally we designed our lighting or how limited we planned our coverage, there simply weren't enough hours in the day to accommodate the work. While we endured a similarly short schedule on American Splendor, that movie wasn't set in posh Manhattan locations, and it was also a considerably shorter screenplay. Still that experience was terrifying and exhausting — a situation we hoped we'd never have to face again.
Despite this 27-day dilemma, so much of preproduction had fallen into place: the locations, the amazing cast and the wonderful crew that we were fortunate to have assembled. In the end, we decided that if we could get one more shoot day, we could pull off the impossible by viewing our script as a living organism — -one that would have to change and adapt with each day's challenge. We also convinced the producers to budget a second camera for many of the hardest days. This allowed us to shoot a variety of angles simultaneously which saved time. Since our cast was comprised of actors with major theater experience, they actually preferred this more natural way of shooting. We also beefed up our second-unit days to include key plot moments with our actors rather than just the requisite beauty shots. This gave the entire production a breathless pace and an energizing momentum, but it also turned the set into a potboiler of tension. Certainly our coverage suffered and it was a less than ideal environment for the actors and crew, a situation no director wishes to inflict on these hardworking people. But in the end we won our campaign for that extra day, which eased the pain a bit.
And because we chose to move forward, we actually got The Extra Man in the can rather than having it end up as yet another sad story about a production falling apart.